Is 2018 the year you'll enjoy the kitchen remodel you've dreamed about? If so, you'll be excited to learn about current and projected cabinet trends. Keep in mind that while trends certainly provide a scaffold of sorts - a kitchen remodel should ultimately reflect your personal design preferences.
And, of course, if you're planning to sell your home in the next five-years or so, there are future buyer tastes to consider as well.
Tailor Your Kitchen Design via 2018 Style, Finish, Hardware & Material Trends
First, it's important to note that there is no one, single "trend" that stands out. That's because while contemporary simplicity, straight lines and minimalism continue to reign, kitchens are also a place where eclectic style and personality-rich flair have a chance to shine.
Here are some of the trends worth considering as you begin designing your dream kitchen:
Simple styles can go any direction
While traditional kitchens hold to raised and more ornately paneled door styles, the general consensus in the kitchen design world is that simple styles are best. This is because the clean lines of a flat paneled door can be made more bold - or not - via color, glazing and/or hardware choices.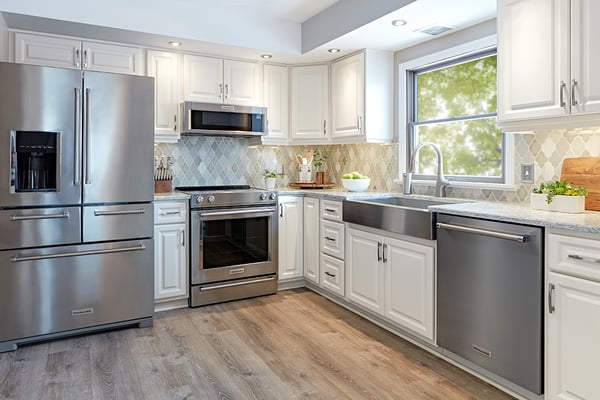 Thus, it's no surprise that Shaker-style doors are are almost always on-point, whether your kitchen is post-modern or traditional farmhouse. And on that note, it follows that transitional kitchen designs are the "sweet spot" of the kitchen design world, since they blend the best of traditional and modern+ design elements.
Tips for extra features that showcase your design include:
The right finishing touch
Cabinet style and finish are the backbone of your kitchen design because cabinets comprise the greatest amount of visible square footage. Current cabinet finish trends include:
Timeless white. White cabinets never go out of style and work well with any design style. If you're worried about the cool or stark effects of white, talk to your kitchen designer about warmer shades of white or glazing options.
Warm wood tones. Believe it or not, oak is back - along with other warm, wood tones. This is due to the simultaneous trending of natural, textured, and rustic/eclectic looks.
Bleached wood and reclaimed barnwood. For those same reasons, bleached and reclaimed barnwood looks are also popular. Check out this Kitchen Magic Barnwood Redesign.
Two-toned and/or multi-finish cabinets. Can't decide on a favorite finish? Need to find an area to compromise with your mate? Two-tones or multi-finish cabinet options are A-OK in kitchen designs. Achieve this via contrasting upper- and lower-cabinets or choosing some different finishes for perimeter and island cabinets.
Some popular color contrasts and compliments include:
The power of hardware
Hardware may seem like an afterthought, but it packs a powerful punch. Some of our most popular hardware options are:
Material matters
There are always hardwood die-hards, but continuing innovations make laminate the most durable, low-maintenance option available - and it can look just like "real" wood.
In addition to aesthetics and a zero-worry finishes, laminate cabinets come with exceptional warranties - something hardwood cabinetry can't match.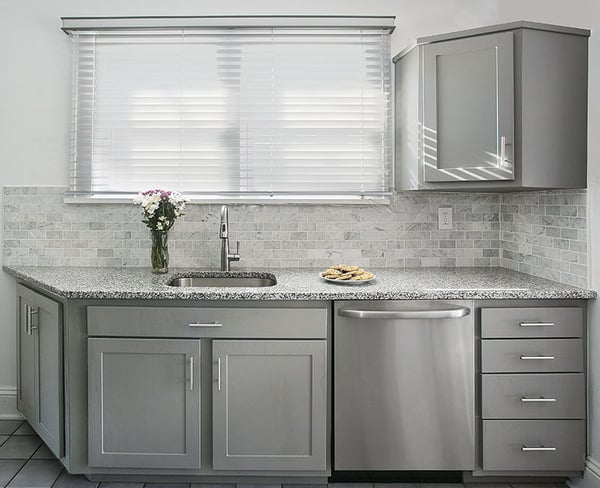 Looking for more kitchen trends for 2018? Read our blog article, 2018 Kitchen Decor Trends for Winter. Ready to start planning your kitchen remodeling project? Schedule a Kitchen Magic design consultation to pair current trends with personalize preferences.