Most kitchen trends come and go, but we suspect the open shelving trend will become the norm. Open shelves are mounted securely to the wall and typically come in two forms: plank-style shelves or stacked open boxes. We've even seen thrifty kitchen remodelers convert their upper cabinets into open shelves by removing the doors and refacing, refinishing or repainting the cabinet box trim to match their new kitchen design.
Make Open Shelving Part of Your New England Kitchen Design
In any case, open shelves are a smart design move for so many reasons, we'll cut right to the chase and share them with you.
Organization
Some people fear that open shelving will put their behind-the-scenes chaos on display. However, when you think about it - the majority of the cabinets used everyday to house mugs, glasses, plates and glasses are kept pretty organized out of necessity and constant use. Use the shelves for these items and you'll still have plenty of cabinet space available if you need a hideaway for the less-organized kitchen accoutrement.
Accessibility
Open shelving is highly recommended for those interested in designing an accessible - or livable - kitchen. Opening and closing cabinet doors can get in the way of wheelchairs and walkers, and it adds "one more thing" to the mix. When everyday items are stored on shelves, they're easily accessible to all.
Versatility
Unlike specific cabinet styles, which are often pegged in a certain design category, open shelves work in any kitchen. Traditional kitchens can embellish the edges with decorative trim while modern kitchens can leave them straight-edged and sleek. Transitional kitchen designs can use un-styled open shelves to counterbalance a penchant for raised-panel cabinet doors.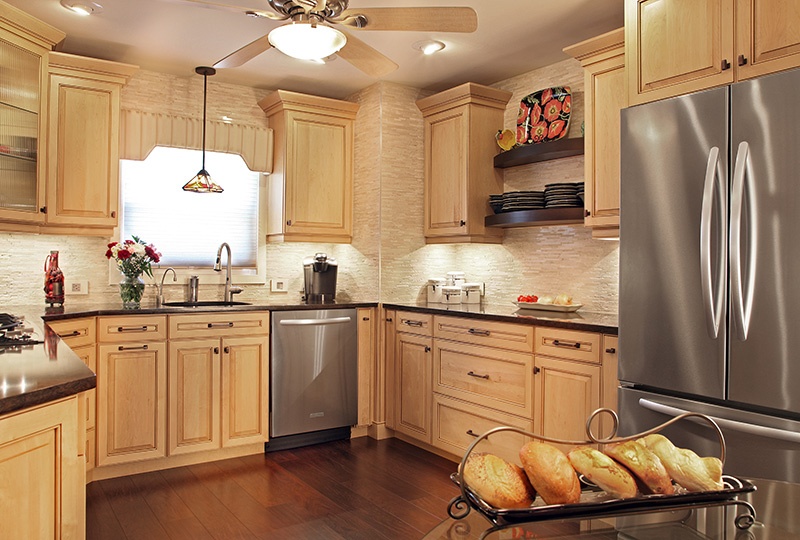 Spaciousness
Cabinet boxes take up quite a bit of air space. Consider that the average upper-cabinet box is about 12-inches deep plus the added inches for trim, face frame and door panel. All that space is invisible to the eye, shrinking the kitchen. With open shelving, the airspace is visible again - making a kitchen seem larger and more open. If you have a small kitchen, swapping the bulk of upper cabinets for open shelving will make a dramatic difference.
Color
Using your cabinets to add color is a bold move; if the color trends shift or you tire of the color, you're stuck re-painting the cabinetry and that's a big job. Shelving, on the other hand, is easier to remove and repaint. Using open shelves is a simple way to add a burst of color in an otherwise neutral kitchen. Similarly, you can go neutral with shelves and use colorful dishware, servingware or pantry items to add transitional color to the space.
Un-Blind Corners
A blind corner occurs when a single, straight cabinet is installed into a corner. This is the cabinet that practically requires you to crawl inside of it in order to access items stored in the back reaches. Pull-out shelves and lazy-Susans help, but open shelving eliminates the problem altogether. Plus, it opens up all that visual space.
Island Enhancement
Kitchen islands are handy, but they can also look sort of boring. Adding open shelves to the end of an island lightens things up a bit, gives you a place to house cookbooks and decorative items and also enhances the kitchen design.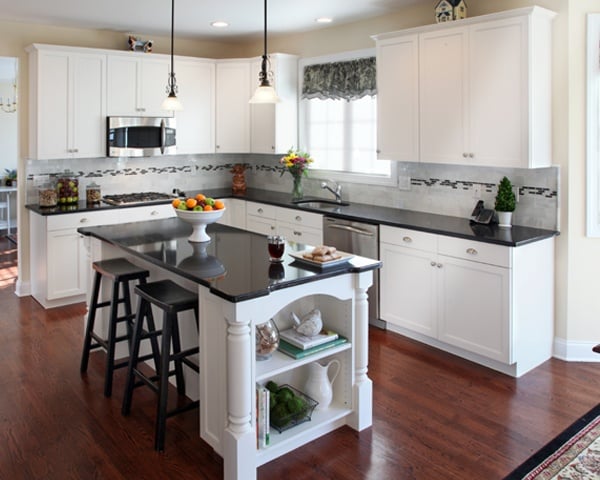 While it's true that some homeowners are replacing the entirety of their upper-cabinets with open shelving, most choose to integrate it with cabinets, using their kitchen layout as a guide.
Come on in to Kitchen Magic and our design team will help you decide the best way to use open shelving in your upcoming kitchen remodel.