We've been thinking quite a bit lately about interior design rules, and how they've changed over the years. For example, we recently posted a blog about the stated rule that light fixtures and cabinet hardware should always match in kitchen designs (we disagree, but you can read our post to find out more about that).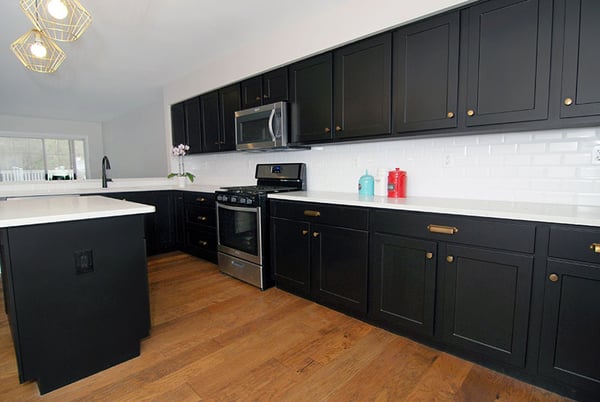 Another rule is that small spaces should never be decorated using dark colors, because dark colors shrink a space. While that's true in some cases, we've found there are plenty of ways around this rule when clients have a small kitchen space but are innately drawn to dark cabinetry - or all-black cabinets - in their design ideas.
Quick Note: Never forget the power of natural lighting. Try to expand or add windows, skylights and/or solar tubes to make any space appear more spacious.
Ideas For Using Black Cabinets in a Small Kitchen
The following are clever concepts for tastefully using black or dark-stained cabinetry in smaller kitchen spaces, without making them feel cramped or crowded.
Create contrast with a black kitchen island
Kitchen islands are one of the most convenient design ideas because they add extra space for food prep and seating - two benefits in a smaller kitchen space. The picture below demonstrates how a black kitchen island helps the island to fade into its surroundings, making the room look larger.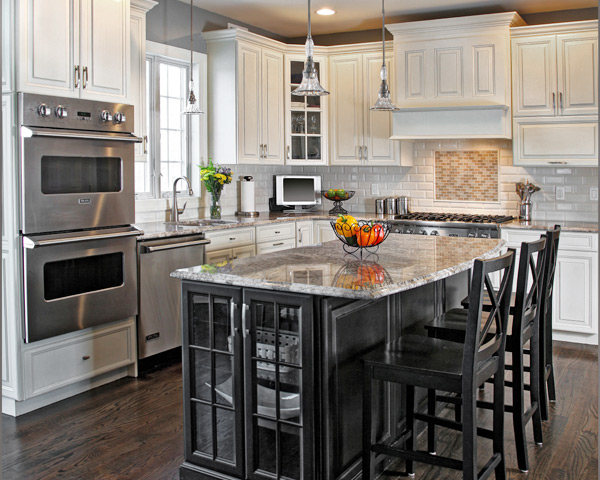 If the island was painted a lighter color, it would stand out more, obstructing the eye and potentially shrinking the space. Also, notice the use of glass cabinet doors for the end of the island; that's a brilliant trick for adding light and a visual representation of more space.
Helpful Hint: think about building a mobile island space if your kitchen is tiny. That way, it can be wheeled in when needed and moved back out when not in use.
Use Glass Door Inserts
Back to the idea of creating a visual representation of more space than there actually is, our next suggestion for how to embrace black cabinetry in small spaces does just that! Give glass panel inserts a try, rather than solid wood versions. Glass cabinets allow the eye to see all the way back into the cabinet boxes - which adds at least a foot of extra "visual" space in upper cabinetry. That's a lot of square footage when you consider the total length of the cabinets. If you don't like the idea of clear glass, check out frosted or etched versions which hide the contents a little better but still look lighter and brighter than cabinet doors.
Intersperse Open Shelving
Another trick for opening up your kitchen, that will certainly help if you opt for black or darker-finished cabinetry, is the addition of open shelving. This breaks up the monotony and serves to open up the space even more than glass doors since the shelves aren't enclosed within a cabinet box. When combined with lighter-colored accents, like wall colors and backsplash (more on that next), the room won't feel so small.
Implement Lighter Transitions
One design tenet is that lighter, brighter features make small kitchens look larger. Using all-black cabinetry doesn't mean you can't implement that tenet - you'll just do it differently, using light transitions. For example, pair dark cabinetry with light countertops - preferably a pattern that incorporates the cabinet color. The "brightening" effect is continued by designing a light backsplash - glass tiles are great for adding a light color(s), along with literal light, because of their inherent shimmer and luminosity. Selecting a light wall paint is the finishing touch.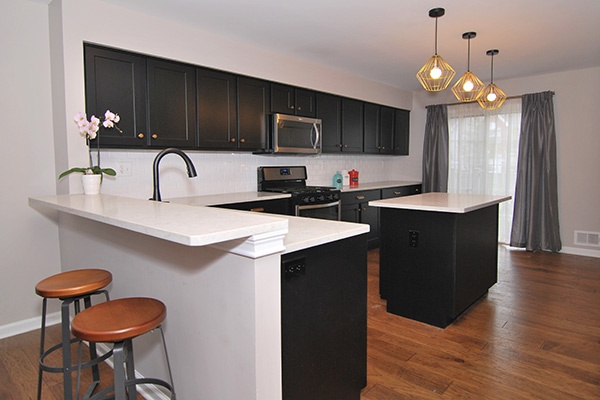 Don't sacrifice your design preferences as the result of a "rule". Instead, work with a professional kitchen designer who will help you break design rules in style. Our expert design consultants will bring the showroom to you, schedule your FREE in-home design consultation here.