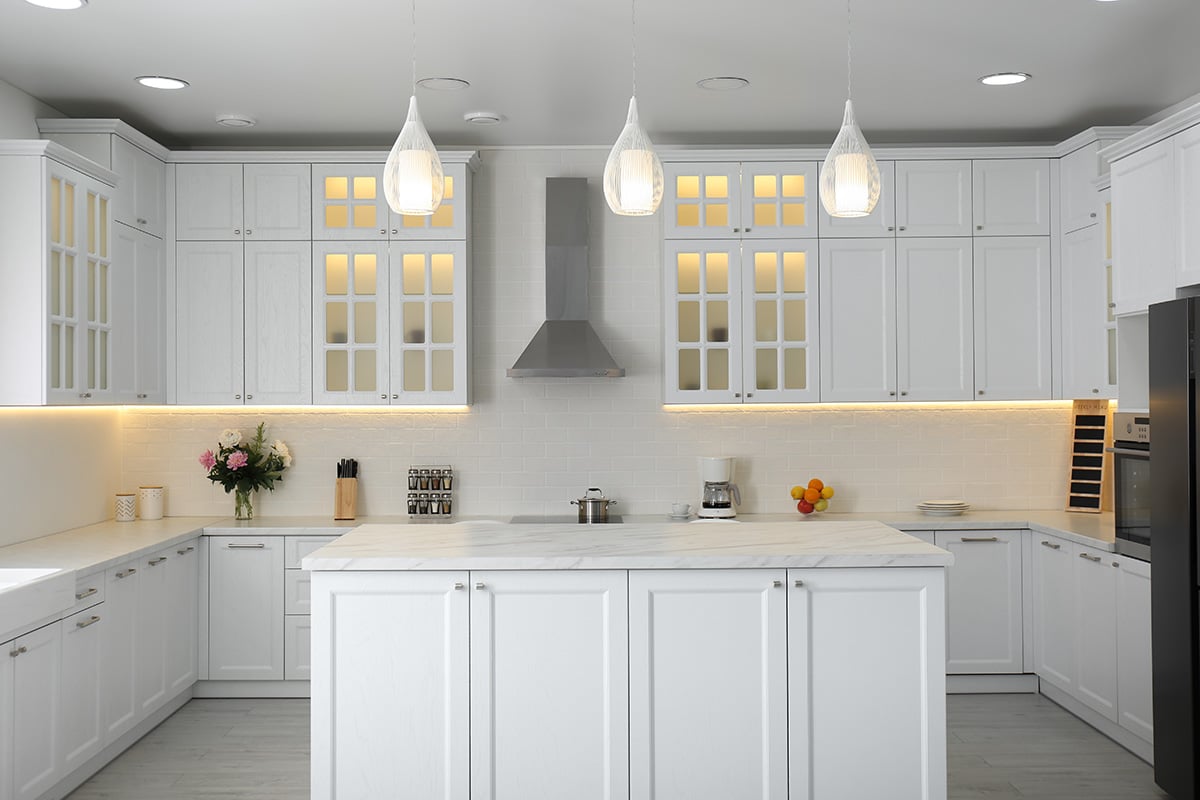 Popular white kitchen cabinets gleam with pizzazz, do you agree? If you're considering white to reface your existing kitchen cabinets, or for new cabinetry altogether, you are not alone in your color choice. From HGTV to Pinterest, editorial style guides feature white cabinetry that appeals to many individual preferences and tastes.
From traditional to contemporary, rustic farmhouse, shaker, or sleek and streamlined transitional looks, a kitchen anchored with versatile white cabinetry brings a crisp, fresh appeal to a range of design styles. Additionally, white enlarges the appearance of a space and helps reflect available light — all a plus in prep areas. Plus, aging eyes will appreciate the extra boost of brightness, especially in a kitchen workspace.
In case you're not sure where to start, hiring reputable kitchen remodel contractors from Lehigh Valley, PA, will ensure you get the kitchen that you've always dreamed of.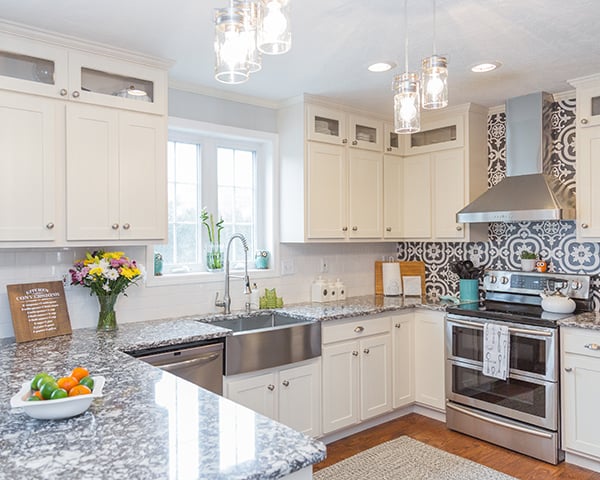 Maintenance-free laminate Prestige Statesman refaced cabinet doors in Satin White, and exterior Cambria® quartz countertops in Berwyn. The Arctic White subway tile backsplash also adds a subtle textural interest.
How do I match my countertop to white cabinets?
Deciding on warm or cool tones in your color palette is an essential first step. However, equally important is the overall look and feel that you want to achieve, as well as the functional preferences of your household, i.e., countertop maintenance, eco-friendly materials, seamless finishes, textural elements, heat and scratch-resistance, etc.
Not surprisingly, budgets play a significant role in the type of countertop a homeowner chooses too. Laminate is an excellent countertop material, along with granite and quartz.. But, here is a simple style overview of how to choose the best countertop for your white kitchen cabinets:
Decide on an overall design theme and

choose a cabinet door style and color

— whether refacing, getting new cabinetry or going custom.
Select your color palette, and decide on warm or cool tones. This will make it easier to

select the right countertop color

and thoughtfully complement or contrast your design.
Then finalize budget options, and choose a countertop material based on the performance that best suits your personal use and needs. A mix of countertops is also a sought after design option to consider.
What kind of countertop goes with white cabinets?
1. Go for granite countertops
New Vintage style cabinets in Frosty White contrast with the stately grey-black granite countertop. The natural stone's organic characteristics offer a glistening, fanciful pattern, and random veining to create a sophisticated, yet traditional feel.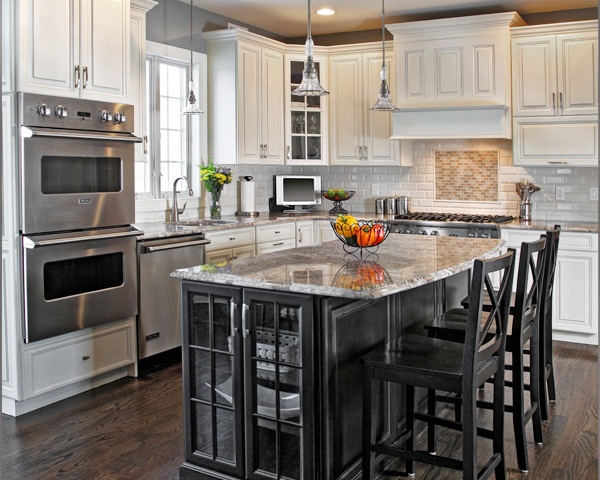 2. Consider high-end laminate
Wilsonart® HD laminate is an innovative and affordable countertop option noted for its strength and textural interest. Shown here, the high-definition laminate countertop mimics finished wood. Other available finishes include stone, fabric, and metallic.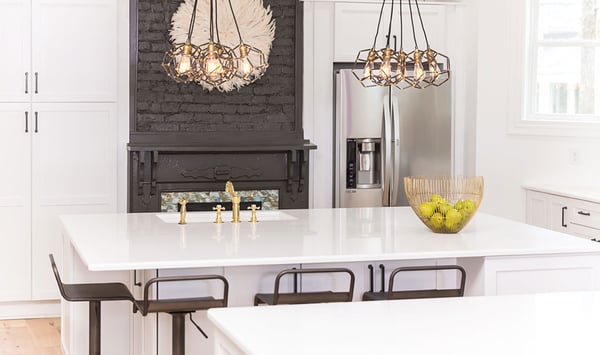 3. Add contrast with low-maintenance quartz
If going for a high-contrast look, eclectic accents complement the simple and elegant style of this durable Hanstone® Quartz countertop. More resistant than natural stone, Hanstone quartz countertops offer long-lasting performance, no maintenance, and an ultra-hygienic surface with germ and bacterial resistance.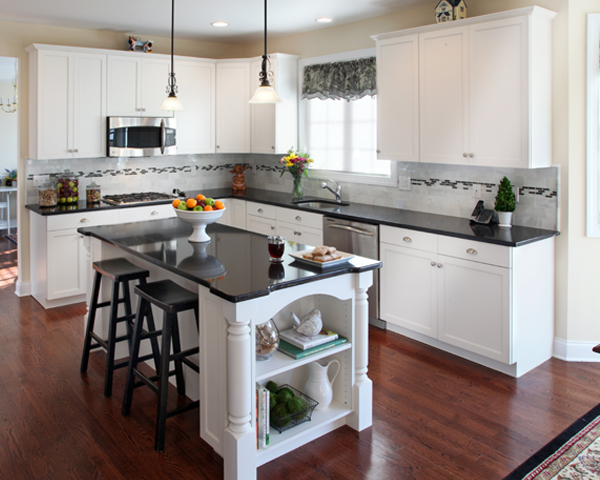 4. Try out resistant Corian countertops
Stunning Corian® quartz countertops, not to be confused with high-quality Corian Solid Surface, is made up of 93% pure quartz — one of the strongest and most durable natural materials. Shown here, DuPont's® Corian quartz is beautifully paired with traditional raised panel white cabinets. The use of contrasting dark and light quartz countertops offers the ultimate material in strength, function and design interest.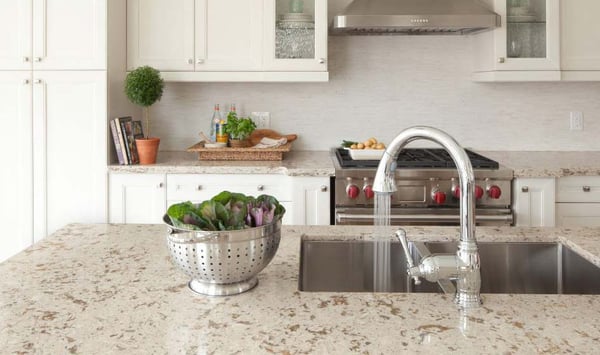 5. Embrace natural-toned surfaces
Simplicity can often be the best design inspiration. Here, a Cambria® quartz countertop in warmer, natural tones blends perfectly with white cabinetry and stainless steel fixtures and appliances.Looking to infuse a natural-inspired fee, bring the outdoors in.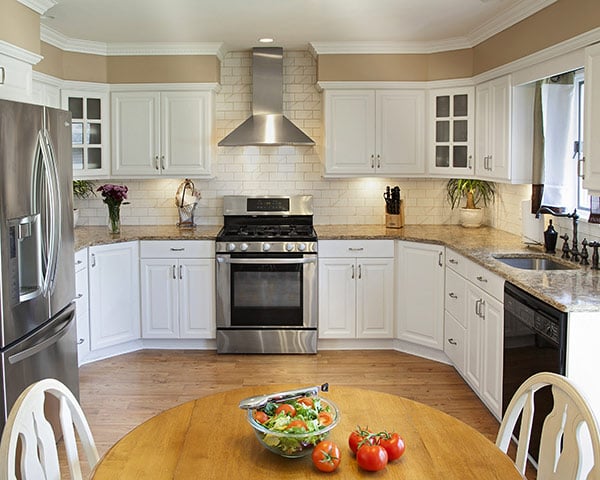 6. Stay on trend with shaker style
Refaced Satin White shaker style kitchen cabinets enabled this homeowner's budget to afford quartz countertops! This fresh, contemporary kitchen remodel features stainless steel accents, modern lighting, and quartz backsplash.
Where can I find reliable kitchen remodel contractors in Lehigh Valley, PA?
At Kitchen Magic, we assist homeowners like you with every aspect of the kitchen design — from cabinetry to countertops, backsplashes, tiles, flooring, hardware and a myriad of kitchen accents. As a result, you become an integral part of our team and process from the very beginning. Whether you live near the Rose Garden or elsewhere in the area, we're at your service.
Our experts agree that the choices are endless when it comes to matching white kitchen cabinets with countertops. Why not see what Kitchen Magic can do for you? Schedule your free in-home consultation today and watch your new kitchen come to life!