Cabinets and countertops create a pairing—and the goal is to create complimentary or contrasting pairs, depending on your preference. With some cabinet colors—like white—there are plenty of options to choose from because just about anything can be paired with them. Other cabinet options, such as cherry or gray, are trickier to work with.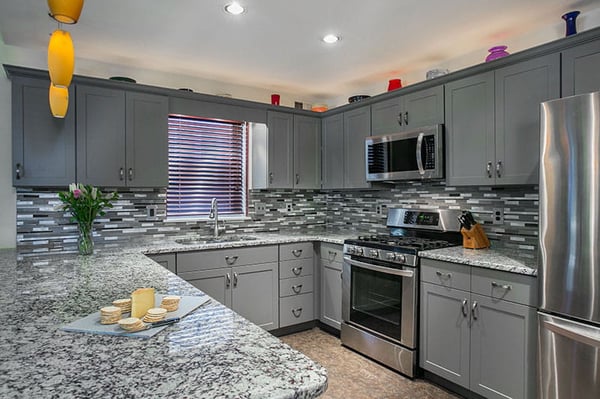 That's why today's post focuses on how to pair the perfect countertop with gray cabinets, and we've divided it up by various color groupings: Cool, Warm and Bold.
Seeking a Cool Countertop to Go With Your Gray Cabinets
Gray is considered a cool color, so the cool color palette is the easiest to work with when selecting countertops.
White kitchen countertops are a natural choice
The easiest option is to go with a white countertop. One that has plenty of white or off-white in its background will coordinate beautifully with gray kitchen cabinets. As we mentioned above, white works with just about any cabinet color. Plus, white also brightens things up if you're worried about a too-dark effect.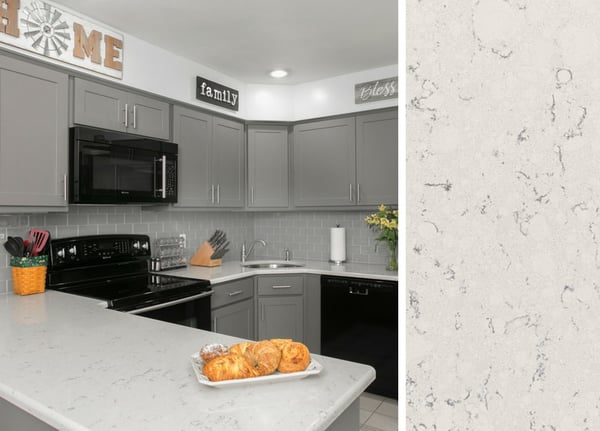 Many of the white-based countertops out there display flecks of gray, black or other neutral colors because they're replicating (or they are!) natural stone. That's great news for those pining for marble, because our marble-like quartz options look stunning with gray cabinets. The gray kitchen with white countertops shown here just made our Remodel of the Month with it's well-coordinated style!
Make that a suave gray-on-gray kitchen
If you like the look of a monochromatic design foundation, gray-on-gray is a smart choice. It streamlines the overall look of the kitchen and allows you to build other colorful accents or finishes via walls, appliances and/or countertop accents. If you like a little movement or flash, you can work that into the backsplash.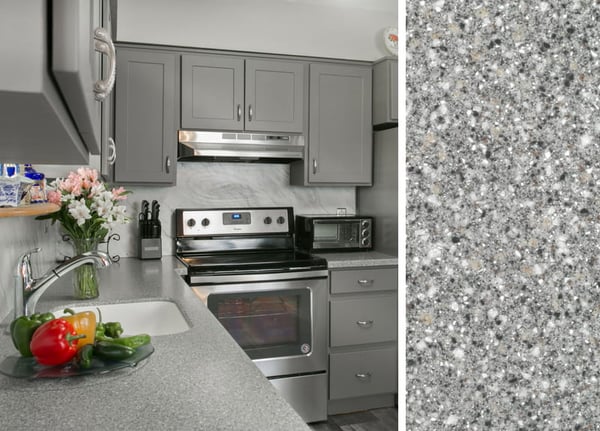 How about a classy black meets white?
Black and white kitchens are a timeless design standard and they happen to be trending this season. And, of course, since black + white = gray—the black-and-white countertop is a perfect transition between your gray cabinets both above and below. In this kitchen, the quartz countertops mimic a typical granite slab, with even proportions of black-and-white.
The sophisticated, all black countertop look
If you're aiming for more dramatic effect, or you're cabinets are on the lighter side of gray, all-black countertops (or mostly black) make a classy and punchy statement. In this kitchen, you see the exciting combination of gray-toned rustic barnwood cabinet doors with an almost all-black countertop that has a hint of lighter flecks peeking through.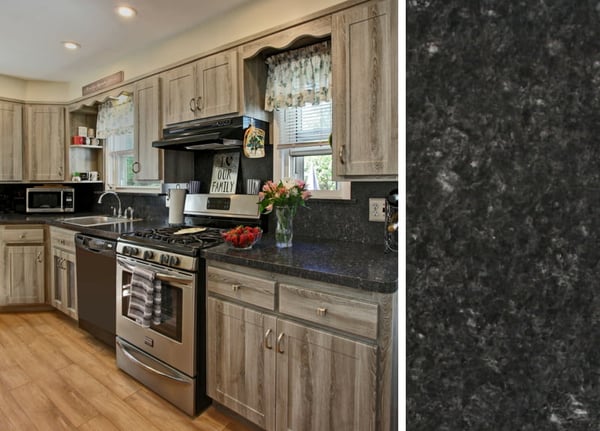 Prefer a Kitchen Countertop That's on the Warmer Side?
Since gray is a cool color, it takes a little extra effort to pair it with warmer tones. Most often, we look for warmer countertop options that have gray in the design, which creates a smoother transition between the two color temperatures.
Cream or beige cozy kitchens up
A countertop with cream or beige-y hues creates a cozier feel than something from the cooler shades. In this case, you'll want to find a countertop with a pattern that includes or is reminiscent of the gray countertop color. Here, you see how the gray flecks embedded in the cream countertop help the two blend, and a mosaic backsplash continues to transition the cabinets and countertop surfaces.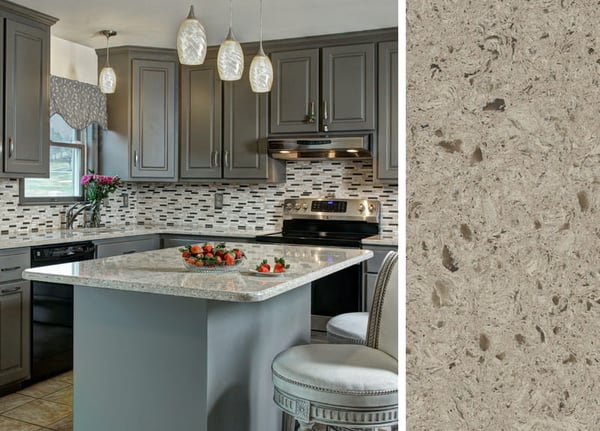 Beige—or really we should say greige (a color that combines gray and beige tones) is trending right now, and it's a reason why beige countertops pair well with gray cabinetry. In this beautiful beige countertop, the swirly tones include all manner of neutral hues—and so it inherently creates a beautiful compliment to stone-gray cabinet finish.
Drawn toward earthy browns?
Do you like the rich, earthy look of brown hued countertops? To make that look work with gray cabinets, you're best off choosing cabinets with a warmer gray tone. Or, vice versa—choose a countertop that melds cool grays with warm browns. The example below pairs our Suede Gray cabinets with a granite countertop that perfectly blends hues of gray with a warm, ruddy brown.
Suggestions for a Splash of Countertop Color
Were you hoping to add a countertop with a little color into the mix? Again, you'd want to steer more towards the cooler tones to work well with the gray—although there are always exceptions.
Throw in a little aqua
Cambria's Kelvingrove is a stunning slab choice, including hues of gray, beige and a graceful aqua. This is a great choice for those who enjoy the idea of color but prefer a understated—rather than dramatic—effect.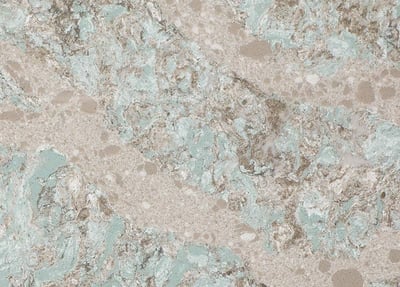 Gold and amethyst glam
Want to add a bit of glamour to your gray kitchen? Check out Cambria Quartz's Annicca slab. It's a marble-inspired design that has delicate swirls comprised of subtle amethyst and gold flecks, amidst a gray and cream backdrop.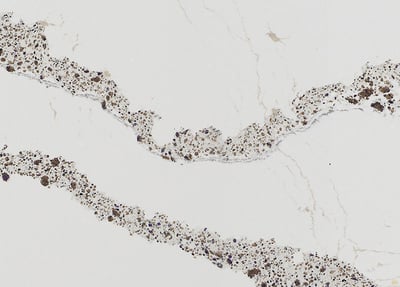 Natural greens and blues
Do you prefer greens or blues? Softer shades are the way to go with most gray cabinet options. For example, Corian Solid Surface's Cilantro or Juniper are beautiful options.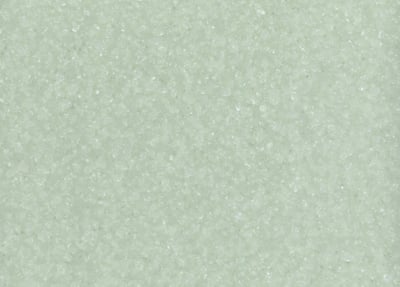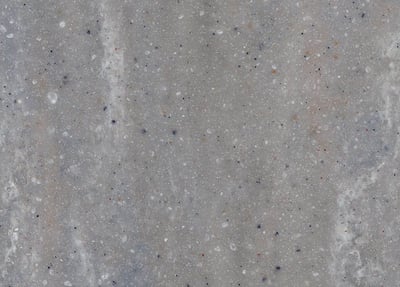 If you're feeling adventurous, Wilsonart Laminate's Blue Iceburg is also a contender.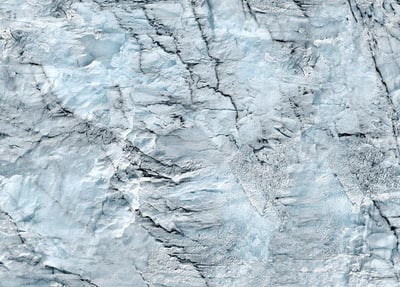 Rosy and cozy
If you really want to warm things up, take a look at Formica Laminate in Tuscan Marble. The warm, rosy tones in the foundation will keep your kitchen from feeling too "cool," and those gray striations will work with virtually any shade of gray you'd choose. Plus, it's a major budget saver, too!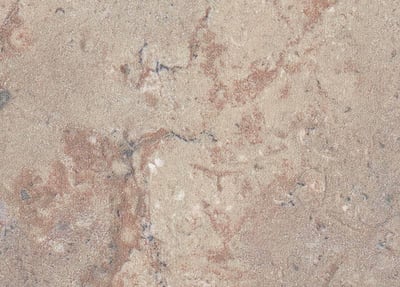 Having a tough time pairing your ideal gray cabinets with the right countertop? Schedule a free, in-home consultation with the Kitchen Magic design team and we'll help you sort it out in no time.