Although interior design trends are moving away from all-gray kitchen cabinets, the color remains a popular choice for homeowners who prefer something other than white, but still want to enjoy a neutral color palette. The key to selecting a countertop that complements your gray cabinets is creating contrast, and our experts are here to show you how.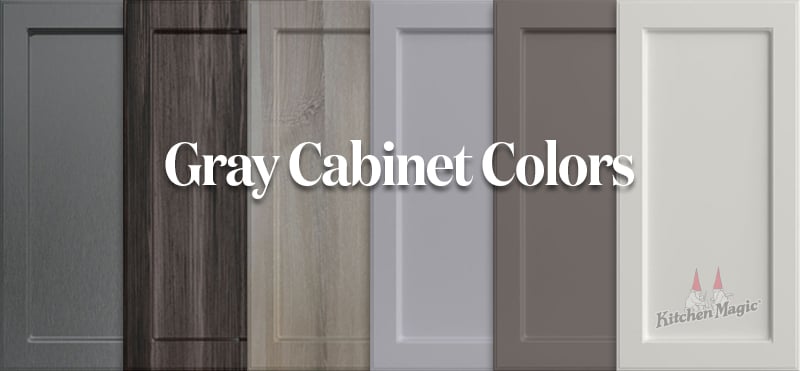 What countertop color goes well with gray cabinets?
"Lighter colors tend to work best with gray cabinets, but overall we're seeing more blues, greens and earth tones in interior design" according to James T. Norman, Director of Business, Design and Product Innovation at Kitchen Magic. For this reason, we love the beautiful variations and color veins in stone countertops, such as uniquely patterned granite or sleek and elegant quartz, because they can offer a neutral background while still giving homeowners the opportunity to highlight the color(s) of their choice.
Here are 5 timeless countertops and cabinets combinations that will add style to your home:
1. Think of matching accent countertops
Countertops that have a stark white or off-white background work well with just about any kitchen cabinet color. Plus, the combination of these colors makes space appear larger than it really is, so white countertops work especially well in smaller kitchens. However, before considering a white countertop, we do recommend selecting a material that works for your lifestyle. For example, if you have young children, the properties of quartz may make it a better option than choosing solid surface or granite.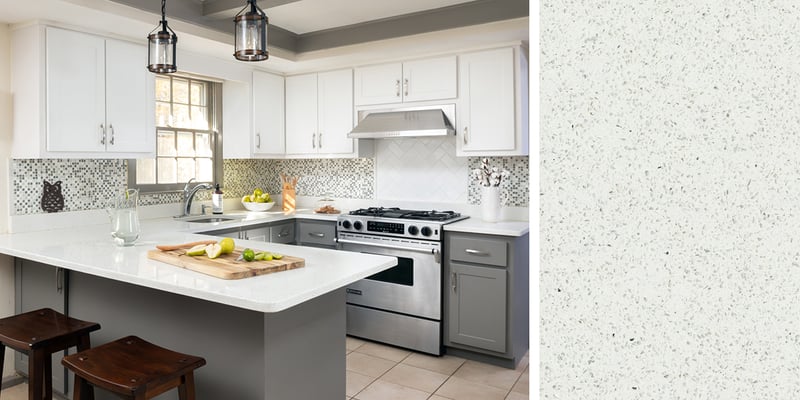 2. Go for a monochromatic look
If you enjoy tone-on-tone designs, matching cabinets to countertops hues give your kitchen a cohesive and very adaptable style. The simplicity of a monochromatic look (having or consisting of one color or hue) allows other colorful accents to shine including appliances, decor items, wall paint, etc. The trick to successfully achieving this look is selecting a single color — we recommend your kitchen cabinet door color — and working with one or two shades lighter or darker. In this kitchen, the darker gay tones in the Corian® solid-surface countertop complement the Suede Grey cabinets nicely.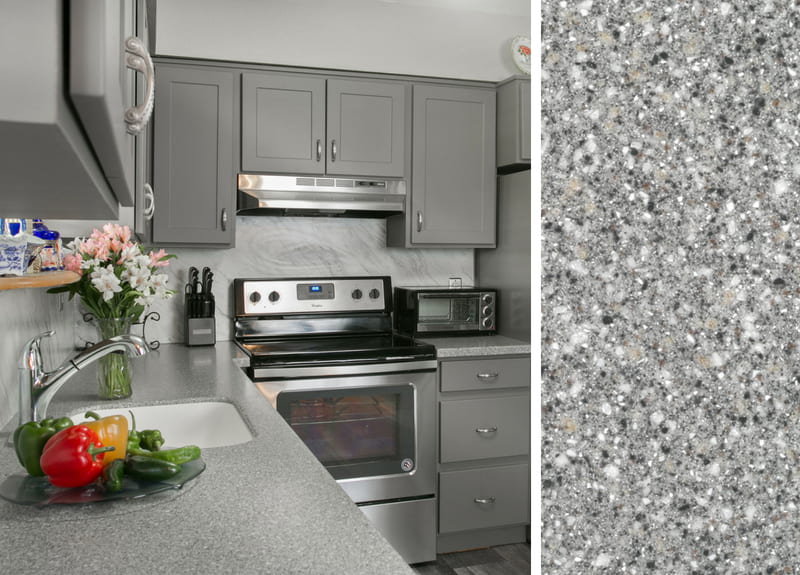 3. Cozy cream and beige complement toned-down cabinets
Incorporating cream and beige can help make your kitchen feel a bit warmer and cozier, compared to the cooler shades of white and gray. So, when you are designing with these colors it's important to find a countertop that blends these warmer tones with the gray found in your cabinets. In this kitchen, the natural cream and beige hues work with the gray flecks in the countertop to pull together the Suede Gray cabinets, while mosaic backsplash infuses a character into your space.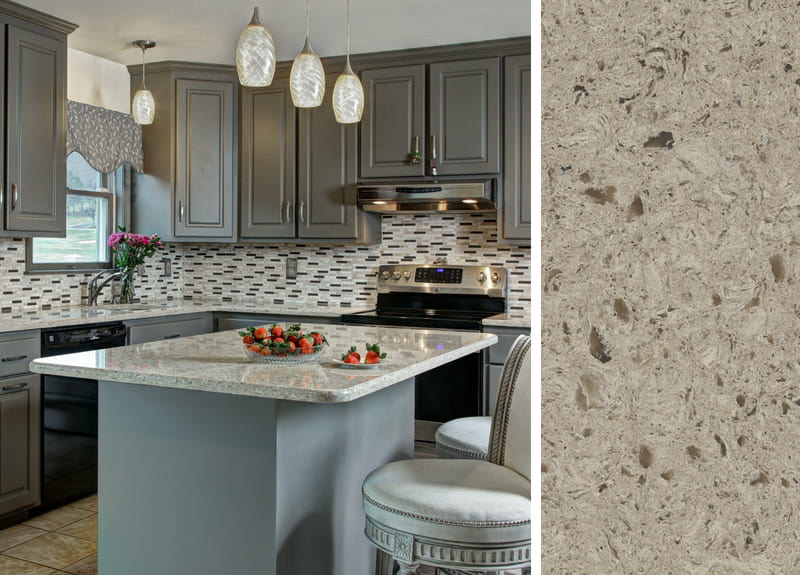 4. Earthy browns make the perfect combination
If you prefer the richness of darker countertops, earthy browns pair well with grays that have a warmer undertone. Look for countertops with a mix of both gray and brown hues, but don't be afraid to play with other color combinations. For instance, the kitchen below pairs gray cabinets with a granite countertop featuring black and pink tones.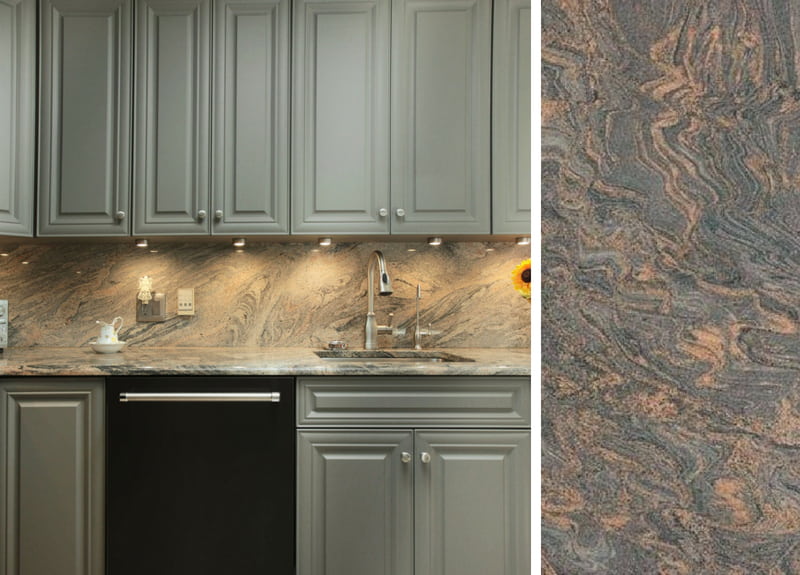 5. Use black purposefully
Black often makes a bold statement, and you don't have to use a lot of it to do so. In fact, using too much of any dark color in your kitchen can make the space feel smaller. However, like white, black creates the ultimate contrast and can elevate your overall design style. When incorporating black, we suggest keeping it simple. In this kitchen, the granite countertop features both white and black, offering a lovely transition between the upper and lower gray cabinets.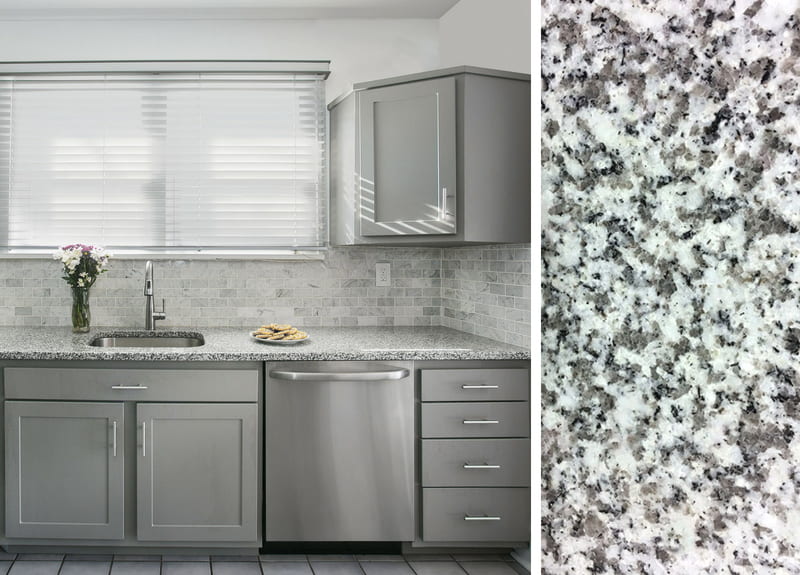 Where can I find experts in kitchen remodeling in the Lehigh Valley, PA & the PA region?
Looking for expert advice on designing the kitchen of your dreams? Kitchen Magic is a recognized family-owned and operated company dedicated to bringing your vision to life.
To ensure you get the space you're proud of, we offer a variety of custom kitchen solutions with the finest craftsmanship at heart. From expert cabinet refacing to an array of other tailored designed solutions, our team of talented designers and seasoned countertop installers will do their job according to the industry's highest standards.
Whether you live in Allentown or elsewhere in the area, we're at your disposal. Schedule a free, in-home consultation and quote with Kitchen Magic today!