Selecting just the right color scheme for your kitchen can be a difficult task, especially when you enter the remodeling process without a specific design theme or motif in mind.
Your kitchen craftsman can help by providing you with a variety of options to choose from and advice about material and color pairings. But, visualizing how each piece of the room will fit together for the final product can quickly become a confusing process. Today's blog article will provide you with some useful information on how to match the three main focal points of your kitchen for a seamless style.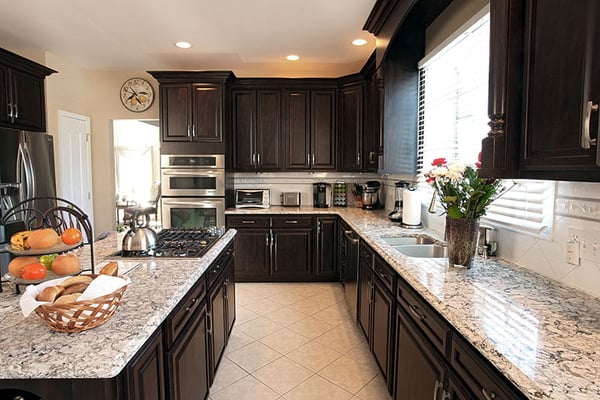 When working with a space that gets so much daily use, simplicity in the kitchen is key. It's most important to keep your main color scheme a common color, like cream or white, and highlight bolder colors through smaller accessories, appliances and details. It's fun to mix-and-match pieces for an eclectic look, but keeping your countertops, cabinets and floors simple allows you to change your kitchen's theme multiple times without having to replace a large expensive piece.
Figure out your color palette
Begin by determining an overall color scheme before you peruse samples with a kitchen specialist. Use a color chart to determine which colors complement one another and pick two dominant colors and one accent color. Remember: it's best to keep both dominant colors simple, yet complementary, and use the third accent color to bring some attitude, as well as tie the three together. A timeless combination uses classic white cabinets, medium to dark flooring, and countertops that alternate both light and dark colors.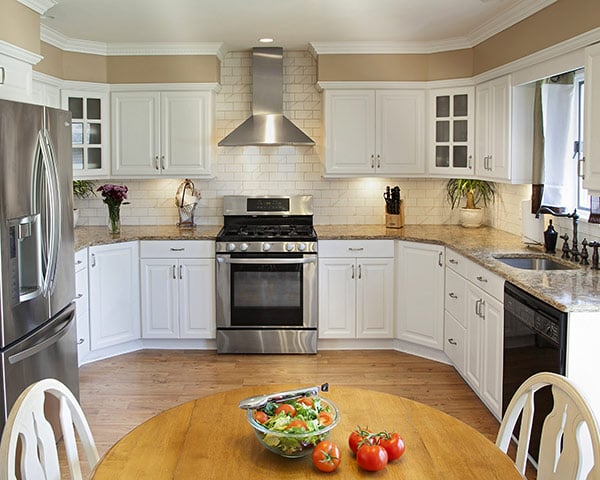 Start with your countertop choice
We recommend that you choose your countertop first, because this tends to be the most expensive product. Also, depending on the material, the countertop can vary in its individual color and style. Because countertops vary not only in color but also in pattern, the style can be busy, which means it is easier to match your cabinets and floors to the countertops, rather than the other way around. Bring a sample with you and coordinate the finishes with floors for a unified texture. You can coordinate the countertop color with the floor color and keep your secondary dominant color for the cabinets separating the two.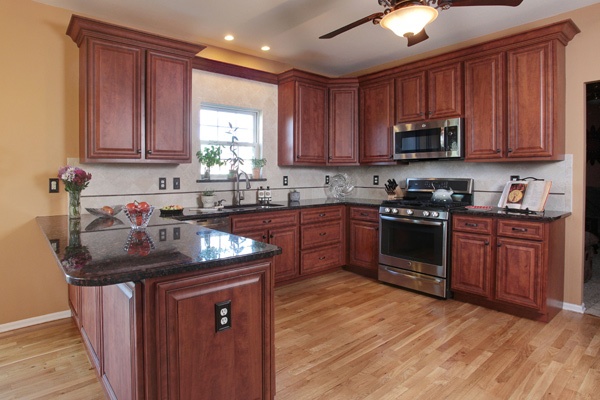 Finish the style with accessories and accents
Accenting is easy - and should be you last step. Bold colors work great for the walls, small decorative accessories and smaller kitchen appliances. Metallic colors can be used to highlight and brighten your space, and are a popular color choice among designer homes. You can get this look with chrome finishes on fixtures and appliances, brass knobs and accessories or picking a countertop or floor that already has gold or silver accents.
Follow these guidelines to simplify the process of choosing colors for your kitchen remodel. Through the thoughtful coordination of your chosen color palette, you can put together a visually appealing space with style will long outlast the trends. If you're ready to start nailing down your color choices, contact Kitchen Magic and we'll schedule an in-home consultation for you with one of our expert design specialists.