We love granite for its stunning appearance and naturally occurring variations that make each slab a unique piece of art. Granite is easy to clean and requires little maintenance, making it a popular choice among homeowners. Plus, the durability of natural stone is perfect for kitchen countertops, backsplashes, bar tops, wall caps and more.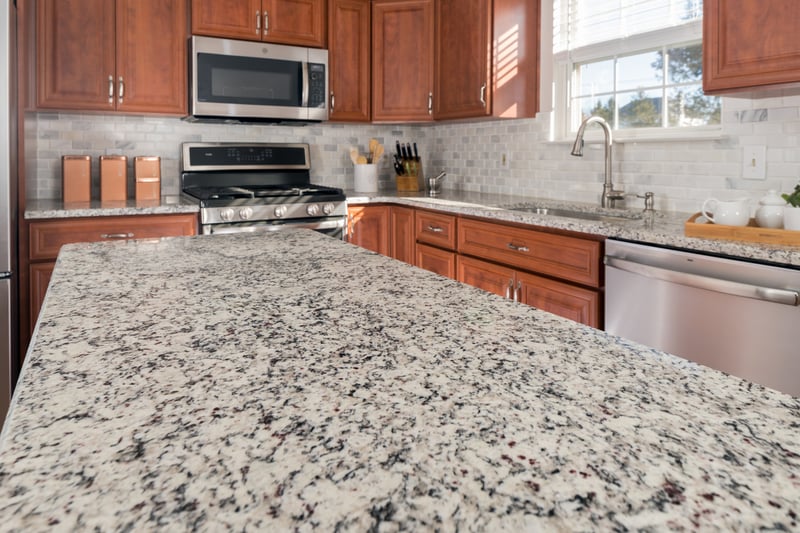 PHOTO CREDIT: Christian Giannelli Photography, 2020
Natural Stone Kitchen Countertop Colors
With so many options to choose from, we know selecting the perfect granite countertop for your kitchen can feel a bit overwhelming, To make your selection process easier, we've gathered a collection of the most popular granite colors homeowners are installing in their kitchens for you to explore. It's a great place to start your search!

White Primata
White Primata is a classic granite choice with a simple, yet elegant pattern. The black and gray crystals create a beautiful contrast against its white base. This countertop will complement almost any kitchen design style.
Looking for an alternative? Try granite in Blanco Leblon or Viatera® Quartz in White Pearl.

Desert Brown
Desert Brown granite works great with warmer palettes and with darker kitchen cabinets. The neutral tan background is reminiscent of sunbathed sand, with black-speckled highlights and a smattering of burgundy that add a calming richness to the surface.
Looking for an alternative? Try Cambria® Quartz in Bradshaw.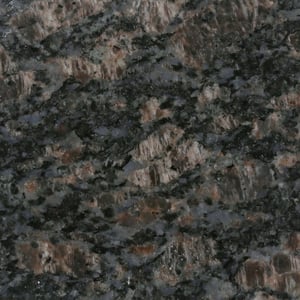 Sapphire Blue
Sapphire Blue granite is a darker colored natural stone with large sections of black, brown and, of course, blue. It pairs beautifully with both light and dark kitchen design elements, making this granite a versatile, stunning countertop choice.
Looking for an alternative? Try Corian® Solid Surface Lava Rock.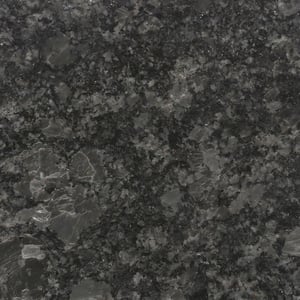 Steel Grey
If you prefer a kitchen countertop on the cooler side of the color spectrum, Steel Grey granite might be for you. Flecks of light gray highlight the various shades of darker grays, creating a beautiful, neutral canvas for homeowners and designers alike.
Looking for an alternative? Try Viatera® Quartz in Sharpham.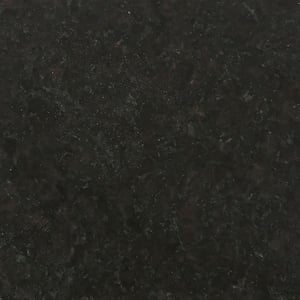 Black Pearl
Black Pearl granite may look like a basic black countertop at first glance, but this natural stone will surprise you with its gold, silver, brown, gray and even green mineral deposits. These subtle variations reflect the light in your home and catch the eye. Black Pearl is a great countertop choice for anyone seeking to incorporate luxurious contrast in their kitchen design.
Looking for an alternative? Try Cambria® Quartz in Armitage.
As you search for countertop surface materials for your kitchen remodeling project, keep in mind that any granite used to fabricate countertops occurs naturally. This means that granite styles are subject to some variations in shade, coloration and pattern. The very best way to view and select granite countertop samples is in the lighting of your own home.
Granite certified by Kitchen Magic comes from the highest grade naturally occurring granite mined in Brazil, Italy and the United States. And each countertop is expertly sealed with a state-of-the-art sealer and comes with a limited lifetime warranty. Why not see what Kitchen Magic can do for you? Schedule your free in-home consultation today!
More on Granite Countertops: