Cherry colored kitchen cabinets have been popular for years now, and through reading this post, it will be easy for you to find out why. Cherry cabinet doors are so versatile, not only in the many color options, but depending on the countertop color you pair your cherry cabinets with, you could completely transform the look and feel of your kitchen. Because granite is the must-have countertop material available on the market today, we're going to give you some expert style advice to help you perfectly pair your cherry cabinets with granite countertops.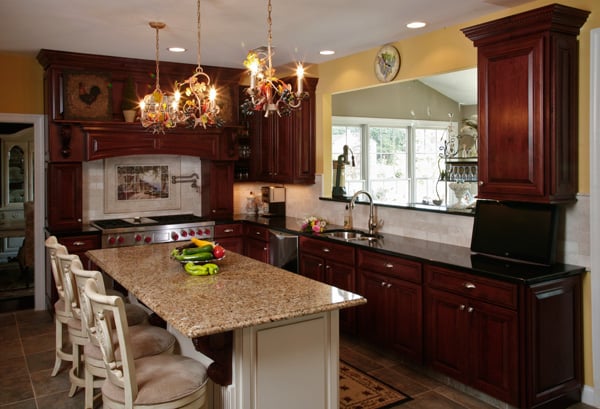 Lighter Cherries
Lighter colored cherry cabinet doors tend to look best when paired with darker colored granite countertops. But this is not a strict rule, and really all depends on your personal taste.
If you have or want cherry cabinets on the lighter end of the spectrum, like Cherry Pear maintenance free cabinet doors or Natural on Cherry Wood wood cabinet doors, then it's always nice to pair with a darker granite countertop color like Black Pearl or Dakota Mahogany. Also, if you're stuck as to which color looks best, know that you can't go wrong with a neutral color like Tropical Brown or Autumn Wheat.
Medium and Classic Cherries
For true cherry colored cabinet doors and medium colored cherry versions, it's best to stay within the darker end of the neutral color palate. Cabinet door colors like maintenance free Classic Cherry and wood Harvest Gold on Cherry with a Caramel Glaze pair perfectly with brown and beige granite countertops. Think Tropical Brown, which has rich brown and light gray variants, and Baltic Brown, which offers lots of movement with dark cream colored granite.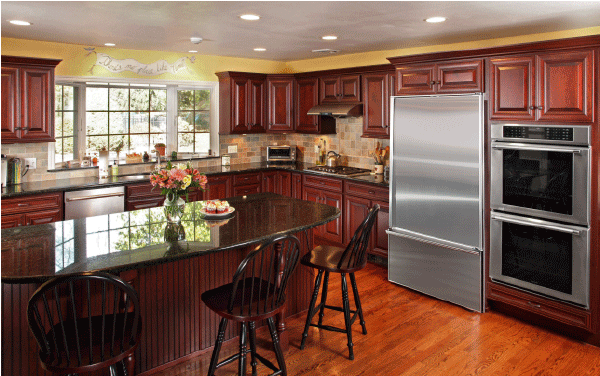 Darker Cherries
Cherry colored cabinets with dark glazes or finishes look beautiful in both classic style kitchens and farmhouse kitchens, making them a great choice for most homeowners.
Darker cherries include our popular Cordovan on Cherry, Washington Pewter on Cherry and Washington Cherry on Red Oak, which are all part of our wood cabinet doors collection.
For a stunning contrast, opt for a light colored granite countertop like New Venecian Gold, Santa Cecelia or Kashmir White. If you like the darker colors for granite countertops, go for a fun color to bring more dimension to your kitchen. The kitchen displayed above features Cordovan on Cherry with a Sabel Glaze paired with a granite countertop in Uba Tuba, which combines darker neutrals with a deep green base.
Granite Certified by Kitchen Magic offers the highest grade naturally occurring Granite, quarried from Italy, Brazil, India and the United States. Each countertop is sealed with a sate-of-the-art sealer to provide you with long lasting durability and style. Plus, Granite Certified by Kitchen Magic comes with a Limited Lifetime Warranty and the Kitchen Magic promise of superior craftsmanship and customer service for years to come.
Check out our Granite Countertop Colors to view the colors featured in this article and many more.