"Think Global, Buy Local," is the mantra of the current generation. However, when it comes to kitchen remodeling, it's not easy to stick to a 250-mile radius for most design aesthetics, like cabinets, countertops, and flooring. The best you can do is try to buy products manufactured in the good ol' USA (do you hear Springsteen in the back of your mind? Because we do!)
Your Kitchen Magic trivia question for the day is: Which Quartz Countertops Are Made in the USA?

Need a hint? Okay. Here's the first hint: It's not the Silestone Quartz Collection.
Do you have an idea? Not yet? Okay. We'll give you one more. Ready? It's not in the Zodiaq Quartz Collection either.

Man. You are so smart. You nailed it in your third guess.
Cambria Quartz products are made right here in our own beloved country. In fact, going back to the "Think Global, Buy Local" slogan, Cambria's company slogan is: "Live Green, Live Life, Live Cambria". And in case you were thinking that you might have to sacrifice quality - or desirability - in your commitment to locally made products, you can breathe a sigh of relief. Cambria quartz countertops are as quality as it gets in the countertop industry.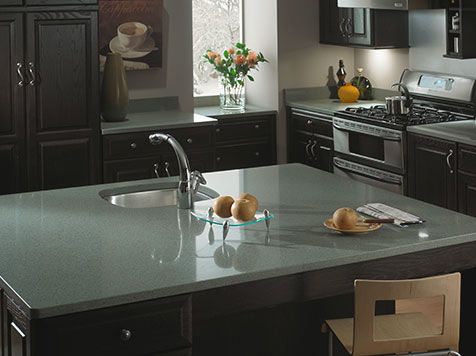 Cambria Quartz Countertops: Beauty, Durability, and a Made-in-the-USA Label
Cambria quartz countertops are similar to granite in terms of pattern complexity and variation in color. With over 90 different colors to choose from, every homeowner will be able to find a sample, or three, that exceeds their expectations. We have put 20 of the most popular Cambria countertop colors here for your enjoyment.

Durability - With quartz products, unlike granite, you don't have to worry about porosity. "Sealing the countertops" can be permanently erased from your list of "things-to-do". You never have to worry about staining or discoloration. Another bonus, Quartz is harder than Granite, which makes it nearly impossible to scratch.

Consistency - If you have been needing a little consistency in your life, Quartz is your new best friend. How many times have we warned customers, "Granite is made in nature, the patterns will vary?" Too many times to count. With Quartz, what you see is what you get. The pattern you fall in love with will be the same pattern to grace every square foot of your countertop.
When you buy from the Cambria collection, pat yourself on the back for making a wise choice, and one that benefits our economy!