Marble is gorgeous; it's soft, luxurious look and textures (the velvet of the natural stone world) are hard to resist. The problem, aside from it's high price-tag, is that marble's "softness" makes it hard to resist scratching, etching, staining and chipping. This is why it's not the best option for most kitchens - particularly those that are busy, enjoy the presence of boisterous children, or where there simply isn't time to provide the routine maintenance required.
If you're one of those homeowners mourning the reality that marble isn't the best option for you - you're in luck!
Put that Hanky Away & Install One of These Gorgeous Marble Countertop Alternatives
The Kitchen Magic crew has come up with a list of marble-esque options that are not only more durable and better suited for kitchen applications, but also includes affordable alternatives, too.
Kitchen Design Hint: If you're a baker and partial to marble, do consider a baker-friendly kitchen design that includes a marble countertop section for rolling out your favorite dough, and install one of these more durable options elsewhere.
Cambria Quartz
Cambria actually has a collection of quartz countertop designs they've fittingly named, "The Marble Collection". You can filter the designs in their gallery by collection to view them all, but here are a few that really capture the true essence of marble's inherent beauty.
Delgatie is a new, marble-like design that we featured in our recent blog about Brand New Cambria Quartz Designs for Kitchens. It has very subtle movement, and resembles classical or even ancient marble.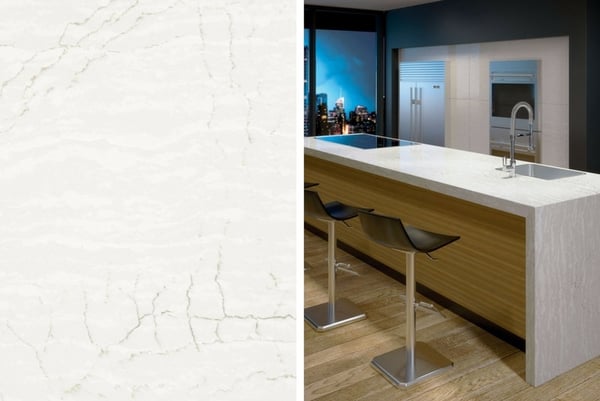 Cambria Quartz in Delgatie
Brittanicca is a favorite of designers, and one of Cambria's most popular designs. It's more dramatic than Delgatie, with intense veining and big waves of gray and beige flowing through a creamy white sea.

Cambria Quartz in Brittanicca
Swansbridge is on the subdued side, but it's still unique from Delgatie. With swirls of white and gray over smooth cream, this coordination-friendly selection is sure to shine when combined with just about any cabinet color (especially with white cabinets!)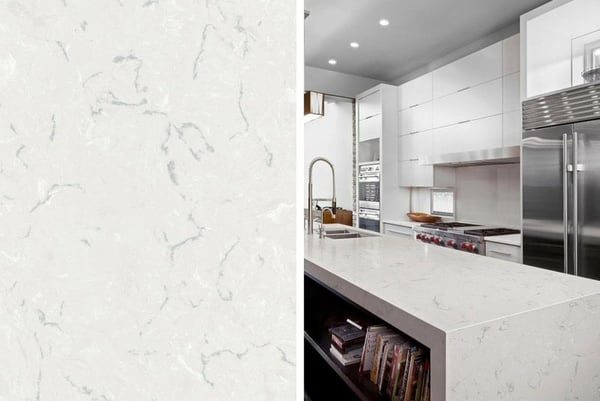 Cambria Quartz in Swansbridge
In our opinion, Cambria's Marble Collection has some of the best marble-alternative selections for countertops. Their product is engineered using natural quartz, allowing them to control the look and style of each slab, and it's durability is tough to beat (pun intended!) While quartz is more budget-friendly than marble, read on for some even lower price-point options.
Granite
Granite typically has a bolder pattern than marble, but there are exceptions. One of them is the Luna Pearl, and the other is the Blanco Leblon. Both of them have a more subtle, softer pattern - including the traditional white, to gray, to black color scale marble is known for. The Luna Pearl slab, shown in the kitchen below, has a lovely luminescence that contributes to the marble-likeness as well.
Not coincidentally we're sure, both of these granite colors happen to be on our 5 Most Popular Granite Countertop Colors list.
Corian
Corian is known for its softer look, and that's why our Corian line offers a few different options that will resonate with marble lovers.
Gray Onyx was not only designed smack dab in the middle of the marble gray scale, the designers included a very fluid, swirled pattern that adds movement and contrast to any kitchen design.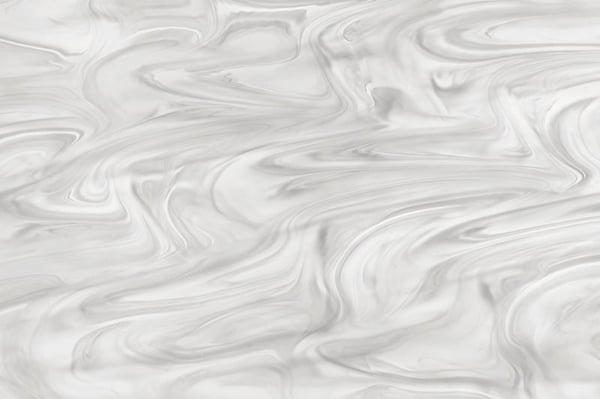 Gray Onyx Corian Solid Surface
Limestone Prima is not a surprise to see on this list because marble stone is actually limestone that's gone through a metamorphic process of applied heat and pressure - compliments of Mother Nature.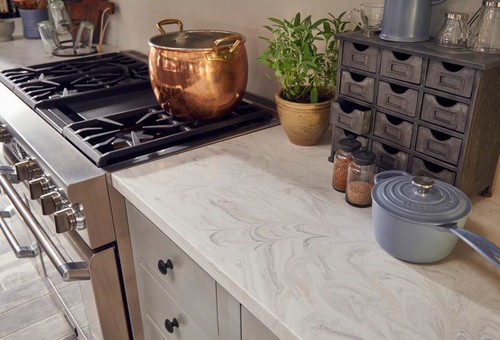 Venaro White is a marble-alternative option that takes the grays out and leaves a smooth, nearly opalescent countertop surface. The creamy tones add warmth and the end result is a countertop that is as graceful as it is versatile.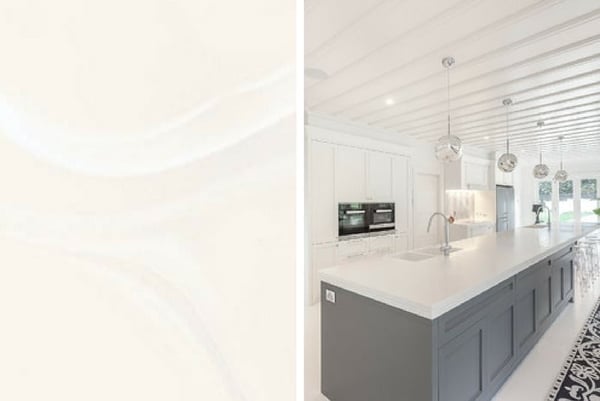 Rolling, cutting, mixing, dicing - these Corian options give you the look you want, without any of the fuss or worries inherent in its softer, more porous marble counterpart.
Laminate
Surprised that laminate made the list? Don't be - Laminate manufacturers have put in overtime to create high-definition options that are delightfully upscale (not to mention ultra-affordable). If you're interested in a marble-like countertop that respects the budget, consider:
Formica
There are two Formica options we think you'll love:
Carrara Bianco, named for the most famous marble of all, this laminate design does an impressive job of emulating one of the most delicate marble patterns on the market in the white/gray tones.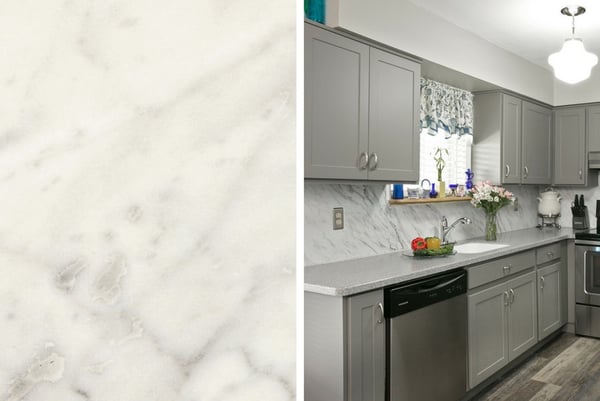 Formica Backsplash in Carrara Bianco
Carrara Envision similarly mimics natural marble patterns but offers cream/earth-toned hues for a warmer effect. This option is a good one for those who like the wood and white combo.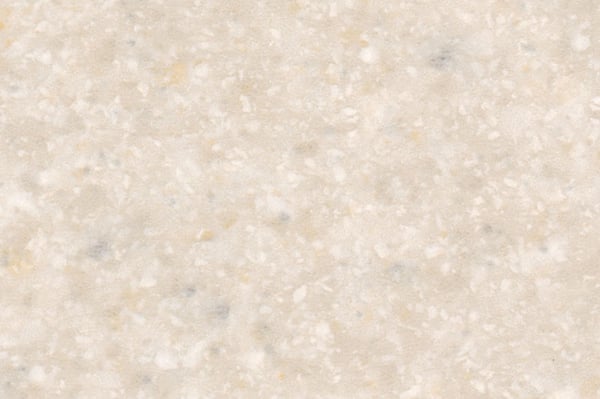 Formica Carrara Envision
Wilsonart
In the Wilsonart category we offer:
Drama Marble; the name says it all. This option offers realistic marbling that includes gray, brown and bronze tones - making it a very versatile finish. Wilsonart's proprietary AEON Soft Silk finish ensures stain- and scratch-resistance, to boot.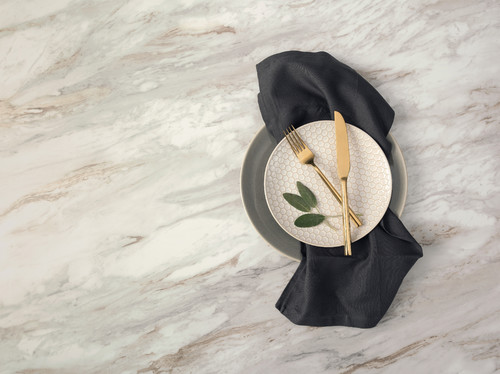 Marmo Bianco's pattern is eye-catching with realistic fractures and veining (the same features causing marble's vulnerability in "real life" and looks wonderful in both farmhouse and über-contemporary kitchens.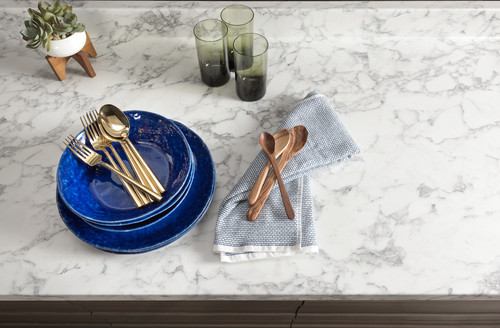 See! There's no use crying over too-soft marble. These durable and affordable, marble countertop alternatives are the solution. The Kitchen Magic team is standing by to help you select the best option for your marble hungry kitchen tastes.