From the green, rolling hills of central Italy, hails a beautifully timeless look for kitchen design—the Tuscan style. While it tends to weave its way in and out of the trend reports, its classical components make for a lasting appeal that transcends those ever-transient trends. Of all the rooms that make up a home, the kitchen is especially amenable to this tried and true architectural style. Thus, there are quintessential design elements that can be used to achieve that long-coveted, warm Tuscan style kitchen.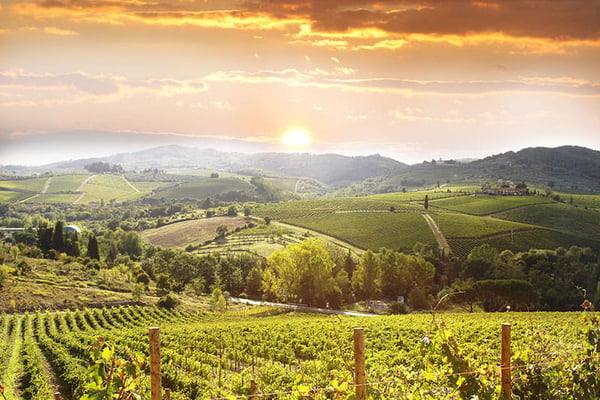 Elegant, Traditional Kitchens from the Villas of Tuscany
The elements that make up a traditional Tuscan kitchen follow a common thread that is easily understood after a brief review of traditional Italian culture. The core values, strong family bonds, and homeland esteem of the Italian people consequentially influenced a centuries-long standing design style that is appreciated the world over. Here are the ways you can implement Tuscan style in your own kitchen.
The function: prioritization of the kitchen, and the family
The family unit, and especially including the extended family, is highly important in Italian culture. And, that is displayed in the impressive size of their kitchens. It's a common Italian tradition that extended families typically get together as a large group every Sunday for a multi-course feast of authentic fare. And so, it's not an uncommon feature that the stoves and ranges are also generally much larger than those in other cultures.
A hearth structure over the stove immediately evoke flavors of Tuscan charm, and add a tile mosaic behind the range tops it off with a maraschino cherry. This ideal Tuscan style-combo illustrates the Italian notions of the enjoyment of food, togetherness of family, and admiration of beauty.
As already mentioned, Tuscan kitchens tend to be on the larger side. This makes for plenty of room to entertain, and of course—chef-title-worthy Italian grandmas like to have plentiful cabinetry for all their food and cooking supplies. So, if you're going to the Tuscan look, there's no need to hold back on adding those additional cabinets you've been considering! Then again, if you have a smaller kitchen, you can still enjoy Tuscan flair by way of styling, decor, and colors.
The styling: focus on aesthetics
Italian culture has a strong appreciation for aesthetics, as well as a zest for life. This is evident in the ornateness of Tuscan style. Decorative woodwork like corbels, columns, or molding embody this theme and are found throughout Tuscan architecture. Any detailed or raised paneling also fits this style, and especially when glaze is applied, so as to emphasize the subtleties of the workmanship.
Tile is another important element of Tuscan design. This is a great way to incorporate natural stone and bring in the appropriate Tuscan colors (we'll discuss those colors later.) Choose marble, tumbled stone, and/or terracotta for the floor, backsplash, and anywhere a mosaic will work.
Go for rounded archways for entrances, and for the walls, wainscoting and millwork are obvious choices—based on the aforementioned Tuscan fondness for woodwork. But, to add even more textural interest, stucco or lime-wash walls instill a rustic Tuscan sentiment.
The decor: appreciation for the past
In addition to admiring beauty, Italian culture favors history and remembrance of the past. It's an understandable pride, considering the impressive historical canon known as the Roman Empire, which is of their direct heritage and lineage.
That isn't to say that Tuscan decor is Roman, per se, but many of the repeated decorative themes are suggestive of the past. They include, but are not limited to, the following items and themes, which speak to the historical activities and artisans of the region that are carried through to current day:
Woven baskets and containers
Clay and ceramic pottery
Roosters (artwork, pillows, towels, etc.)
Grapes and fruit
Wine and Chianti bottles
Iron, bronze, or copper fixtures and sconces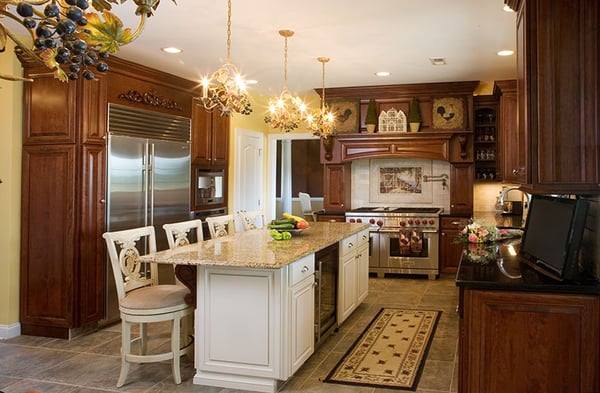 Decorate with these kinds of pieces to create a thoroughly Tuscan kitchen.
The colors: affinity for the land
It's interesting that the colors found in Tuscan design are the same colors found within the landscape of Tuscany, Italy. Warm, earthy reds, browns, yellows and oranges dominate, representing the clay-like soil and the rose-golden sunsets. Terracotta tiles and pottery are excellent ways to bring in those ruddy-tones, known to be found under the Tuscan sun. Additionally, grassy greens, sky-toned blues, natural lavenders, and varieties of white make up the rest of the Tuscan landscape, and the robust color palette.
Use these ideas to get the look that homeowners have sought out for centuries. You can warm up the heart of your home with elements of Tuscan culture, create a space that encourages family togetherness, and simultaneously design a kitchen that will never go out of style.
Here are some more articles that are related to this topic: