With a barn house style kitchen, you have two options; go rustic and incorporate lots of exposed, reclaimed lumber-esque decor, or you can opt for the more traditional version of a farmhouse kitchen. Either way, what fun you'll have as you design a kitchen that says, "welcome home," to all who enter.
And, in case you're under the impression that barn house or farm-style kitchens require old-fashioned design elements, read Have Your Traditional Kitchen and Make it Contemporary Too.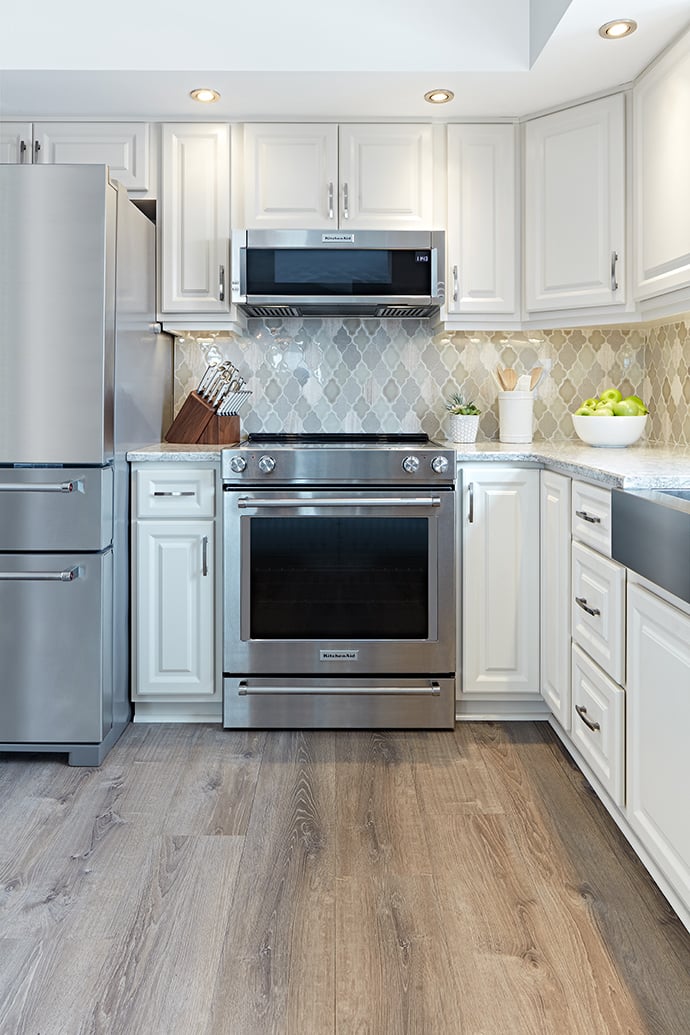 Keep an open mind when designing a barn house kitchen
The farmer's wife had lots to do in the span of a 24-hour day. From feeding the family and the regular farm hands, to making preserves and keeping an eye on the kids - she was the ultimate multi-tasker. This meant she needed an open and expansive space with plenty of countertop surfaces to work on.
We recommend giving your kitchen an open floor plan if it doesn't have one already. That will give you plenty of room to incorporate the benefits of a U-Shaped kitchen along with a nicely designed kitchen island for extra work space and storage.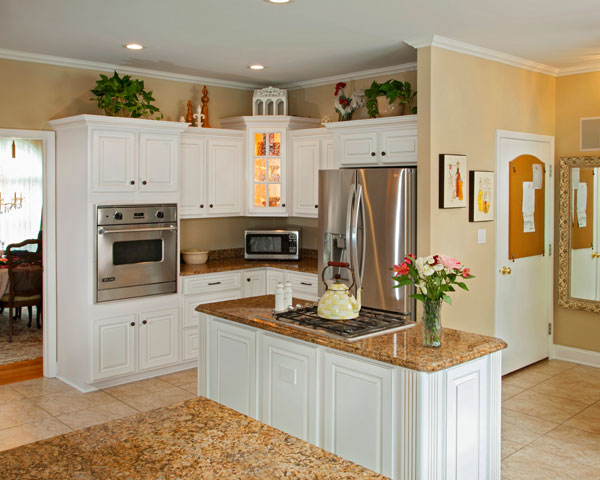 White, wood or both?
Most farmhouse or barn-styled kitchens have one of two things: white cabinetry or natural wood cabinetry, with a color palette to compliment them. The good news is that with either choice, you'll have plenty of colors to choose from, whether you prefer more earthy or pastel shades, or bright, cheerful red or yellow hues.
Don't be opposed to showing off those wood beams or columns. However, if you do go with a rustic wood look, we urge you to be careful. All those wood grains can become overwhelming - or relentless on the eye. The best kitchens balance each detail to make sure there's a relatively equal amount of both colorful, neutral and textural elements.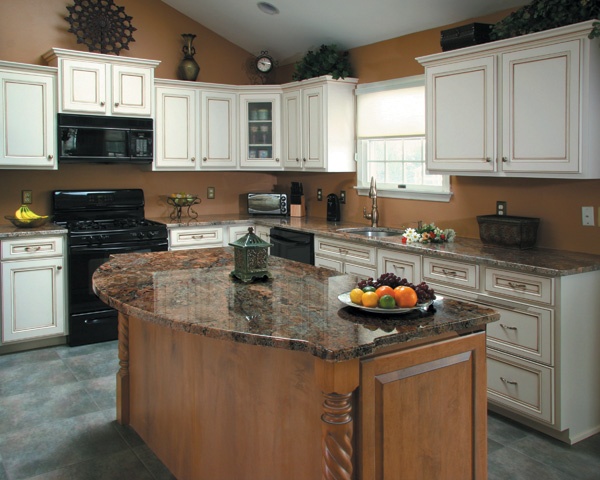 Choose an easy-to-maintain countertop
You may be tempted to choose butcher block countertops but we'd advise against it. While certainly beautiful, they need to be meticulously cleaned and oiled on a regular basis to keep them fresh and hygienic. Instead, opt for Corian or quartz countertops for lifelong, virtually maintenance-free counters and use a butcher block as an island countertop accent.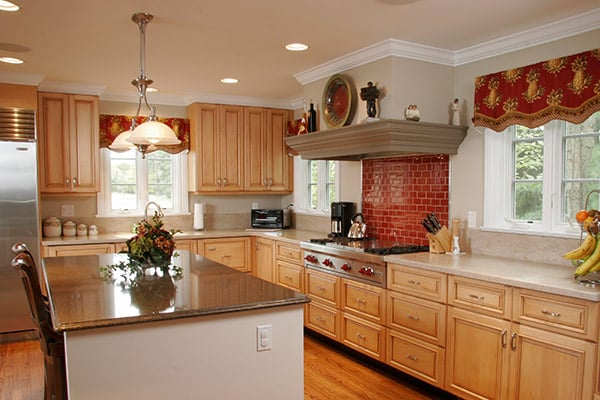 Cabinet doors with just the right style
When it comes to barn house kitchen designs, we're more stuck on finishes than style. What we mean is that doors can be contemporary or traditional - but the finish makes all the difference. For example, distressed cabinet finishes work well as do beadboard accents such as our Yardley door, with a natural stain.
Most farmhouses were piecemealed together over decades, so it makes sense to choose slightly different door styles and/or finishes for upper- and lower cabinets, or for the island, to add comfortable, "lived in" appeal.
Add some light and airspace by selecting some glass cabinet door inserts to show off heirlooms and beautiful servingware, and replacing a cabinet box or two with open shelving.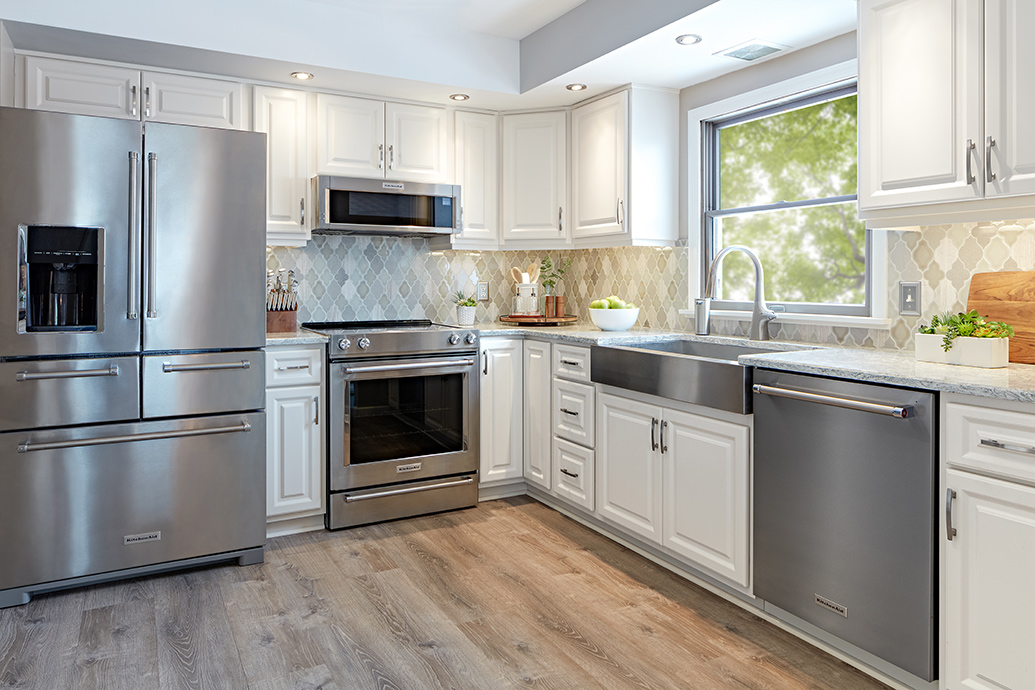 Go streamlined or eclectic with door hardware and other accents
Because barn- and farmhouse styles are eclectic by nature, you can do whatever you want. We love the look of brass or oil-rubbed bronze accents for warmth and historic charm. Other design features apropos for your kitchen design include herb garden boxes and hanging pot racks.
Visit us here at Kitchen Magic to ensure your upcoming barn house kitchen remodels is designed efficiently and with charming accents that make all the difference.