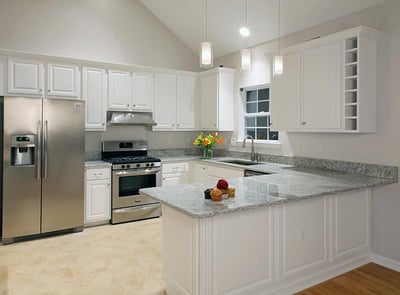 Are you the lucky owner of a U-shaped kitchen? If it's designed right, you've got plenty of storage space, lots of countertop surface for food preparation and ample opportunity to deck it out in style. Your U-shaped kitchen should be all about YOU, designed specifically around how your household uses the kitchen daily. We'll give you some food for thought on designing the best U-shaped kitchen for your family.
The Basics of the U-shaped Kitchen Design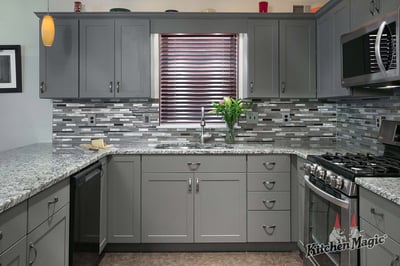 The U-shape design utilizes three adjacent walls with an opening for access. If you've got a big enough area you could even include an island for additional countertop and storage space.
But you don't need a giant room to work with. You can make this design fit the space you have. Be careful though, at its most narrow, the design can seem more like a galley kitchen. Wider would be better because you'll have more room to work. But don't go too wide because you'll end up reducing efficiency when your points of contact within the work triangle get too far apart.
Tips for designing a U-shaped kitchen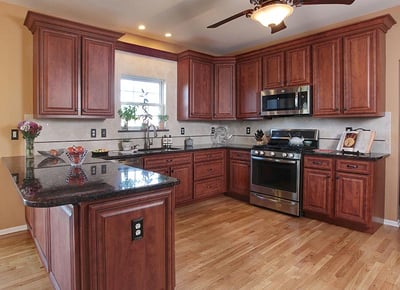 The U-shape design is often seen as a luxurious and functional space. This is attractive for homeowners looking for the room to cook, clean and have conversations. But it doesn't have to be all big and spacious. It can work in a smaller kitchen as well. Here are some suggestions, or considerations, as you plan your U-shaped layout and upgrade.
Design your own work triangle
The traditional kitchen work triangle consists of a refrigerator, stove top/oven, and sink. The idea is to keep you just a step or two away from the items you need while preparing a meal. Think about this as you decide where to put everything in your layout.
Maybe a back wall that houses the sink will be devoted to cleanup. On one side the stove top/range should be situated with countertop space around for preparing your meals. On the opposite side you could have the refrigerator and a pantry for all your food storage. Make the most efficient and functional space you can as you think about placement of your appliances.
Make it accessible for long-term living
Since U-shaped kitchens are inherently functional, continue with that theme by designing a kitchen that is accessible for long-term living. This is a smart idea for any homeowners who are hoping to age-in-place.
For example, putting the oven at the end of the cabinets, rather than the middle, makes it easy for those in a wheelchair to access the oven's interior. Customize the height of a countertop so little ones can help you in the kitchen and implement cabinet hardware that is easy to grip. Finally, try to leave at least 36-inches of space for maneuvering between appliances, countertops and raised bar seating areas. All these additions will make your kitchen more livable—regardless of current health or abilities.
Incorporate a kitchen island or peninsula in your design

If space allows, add an island. It's convenient and adds extra countertop and cabinet storage space. In addition, incorporating an island in your U-shaped design makes for a more social atmosphere. There's plenty of room for people to hang out, help cook, or sit and drink wine while you do all the work. You can even add a peninsula if there isn't enough room for an island. Either way, you've got some extra options for a more communal gathering place.
Think about open shelving in the kitchen
U-Shaped kitchens have the most room for cabinets because they can flank at least three sides. There can be even more if you opt to add an island (see above). From a visual perspective, all these closed cabinet doors can result in an overdose of cabinet faces. Mixing it up with open shelving is a nice way to break up the monotony.
It also helps to keep some of your most used items, like coffee mugs, cereal bowls and the everyday plates, close at hand. If you're not entirely sold on the idea of open shelving, consider using glass cabinet door inserts instead. Break up the visual space but still keep your items behind closed doors.
Photo by Erotas Building Corporation - Search traditional kitchen design ideas
Add some extras in the kitchen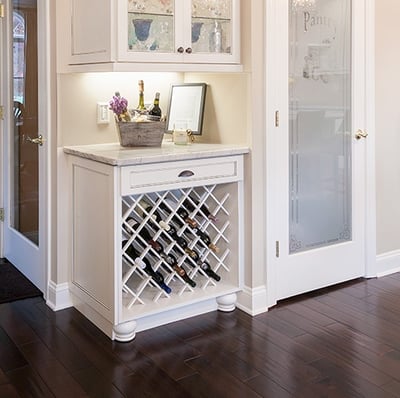 Because you have so many cabinets and ample countertop space, you probably have room to incorporate some "accessory" items that might not fit as well in an L-Shaped or a galley kitchen design. If you add an island, you have even more opportunity. Think about adding wine storage for the social kitchen. Upgrade your storage to make life easier. Take advantage of every square foot available to you.
Don't waste an inch of space in your U-shaped kitchen. Visit the design team at Kitchen Magic and we'll help you make the most of it. You can also schedule a FREE in-home consultation, with absolutely no obligation, for a more personalized approach.