In the past, we've focused on design specifics for the typical kitchen layouts: L-Shaped, Galley and U-Shaped. Today, we're going to tackle one of the trickiest kitchens of them all - The Single- or One-Wall kitchen.
One-wall kitchens take place most often in smaller apartments and homes that are designed using an open space concept. They are also the standard in studio and loft-style residences. While the traditional kitchen work triangle may not be available to you, it is possible to design a stylish and functional kitchen design.
Arrange Your Single-Wall Kitchen in Style
Since your kitchen is taking place on a single wall, it's can look boring or bland pretty quick - i.e. an entire wall of identical cabinet faces. Then, there is the "function" side of things to consider. While you could invest in a kitchen scooter, in order to zip you from one side of the kitchen to the other while preparing meals, it's better to keep your cooking movements in mind when laying out appliances and cabinetry. Here are a handful of tips for your one-wall kitchen design.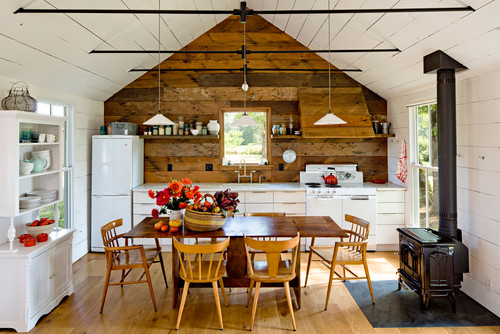 Keep Appliances in the Same "Section"
If your one-walled kitchen is small, this is irrelevant. However, longer kitchens should keep the "two-step" principle in mind; the idea being that you are never more than two steps away from the appliance you need next. Granted, in a linear kitchen design - that may be more like three- or four-steps - but you get the point.

Keep the refrigerator, sink and stove top on the same side, or middle section, of the kitchen, so you can use them all fluidly. Placing a lower-cabinet or two in between them will create the additional counterspace you need.
Make Texture and Finish a Priority
Since you only have one wall of cabinetry to gaze at, it can be fairly boring. In a smaller kitchen, this is less of an issue so a stunning backsplash may be all you need to add the necessary contrast. In a larger kitchen, think about breaking up cabinet monotony with your backsplash, as well as things like glass or metallic cabinet door inserts, contrasting textures and open shelving. Consider using separate finishes or door styles on upper and lower cabinetry to add interest.
Take Cabinets to the Top
Storage will almost always be an issue in a single-wall kitchen design. For this reason, we recommend taking cabinets up to the ceiling.
Ask your contractor if it's possible to remove those cumbersome soffits in order to give yourself extra space. In either case, taking cabinetry to the top allows you to maximize total cabinet square footage - keeping the countertops free of unnecessary clutter.
Flush and Built-In Appliances
Depending on the look you're going for, integrated appliances (where appliance faces match cabinetry) may be overkill. However, designing a kitchen with flush appliances and a built-in fridge is a smart consideration. This keeps all of the appliance faces flush with the cabinetry - eliminating extra edges and corners that can hang you up - or jump out to bite you - as you're navigating the space.
Throw and Island in the Mix
If there's room for it, an island is your greatest ally in the single-wall layout. Even if there isn't room for a large one, a narrow kitchen island provides an extra prep surface and, depending on space, also offers additional storage and seating space. This is also another opportunity to add a different finish or color into the mix, like we did in the Black and White Chocolate Kitchen.
Schedule a consult with Kitchen Magic for more tips on designing your single-walled kitchen layout.