Today's article was written by Bryan Sebring, of Sebring Services a remodeling company located in Chicago's suburbs.
In recent years, some homeowners have been opting to add more blue to their kitchen design rather than the traditional white and natural colors. This includes a range of shades, not just the sky blue we are so used to. While white kitchens have their own benefits and aesthetic character, blue kitchens bring in something new and fresh to the heart of the home.
Why Choose Blue Cabinets?
In color psychology, the color blue is linked to a calming effect. Just looking at it inspires the feeling of serenity, peace and quietness. This character is one of the biggest reasons why more homeowners are adding blue to the most frequently visited room in the home.
After a long day grinding in the office, running errands and dealing with traffic, you just want to come back home to a relaxing and quiet atmosphere. What better way to create this feeling than by surrounding yourself with hues of blue? Some homeowners even go as far as adding blue kitchen cabinets, since the cabinetry occupies a prominent space in the kitchen and profoundly influences the style and feel of the entire kitchen space.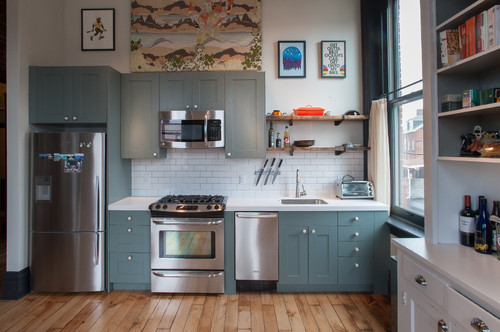 By opting for more blue, you are creating an overwhelmingly calming atmosphere that could not be more perfect for the kitchen.
Of course, different shades will inspire slightly different feelings. For instance, light blue is said to spark creativity (perfect for coming up with new recipes) while dark blue is associated with luxury and intelligence.
Aside from the psychological aspect, blue also works well with many other elements in the kitchen. It can be paired with various colors including white, black, grey and brown. Dark blue cabinets contrast well with a white countertop. Sky blue cabinets work well with whites and browns. Lighter shades of the color can be paired with grey or darker shades such as deep brown and black.
This flexibility in mixing and matching means less of a headache for homeowners planning their kitchen renovation.
Which Shade is Right for You?
If you are in the kitchen remodeling process, your kitchen features are not restricted to the traditional sky blue. The blue that you opt for will depend on the kind of look you want. When considering the countertop there are dozens of shades, patterns and designs to choose from (consider Bala Blue, Bristol Blue, or Daron from Cambria just to name a few). On the light end of the color spectrum, there are shades that almost resemble gray and can even look gray under certain types of lighting. Light shades create an atmosphere of fun, playfulness and airiness. They are perfect for small kitchens that want to create space.
At the middle of the scale you have the traditional shades such as Dodger Blue, Denim Blue and Sky Blue. These tend to project a homely country feel and are typically used for the cabinetry or trim. They work perfectly for farmhouse and country themed kitchens.
On the extreme dark end, you may consider heavier options like Oxford Blue and Midnight Blue. These dark shades come close to resembling other colors like purple or even black.
No matter how much blue you choose to add to your new kitchen design - whether simply painting the walls, choosing a blue countertop or going extreme and opting for blue cabinets - we trust you will enjoy the psychologically satisfying effects of incorporating blue into your new kitchen's theme.