You already know the answer to this one, right? Whichever countertop makes the most sense for your household, kitchen use and style preferences. We believe each option has its place, and we don't pick favorites.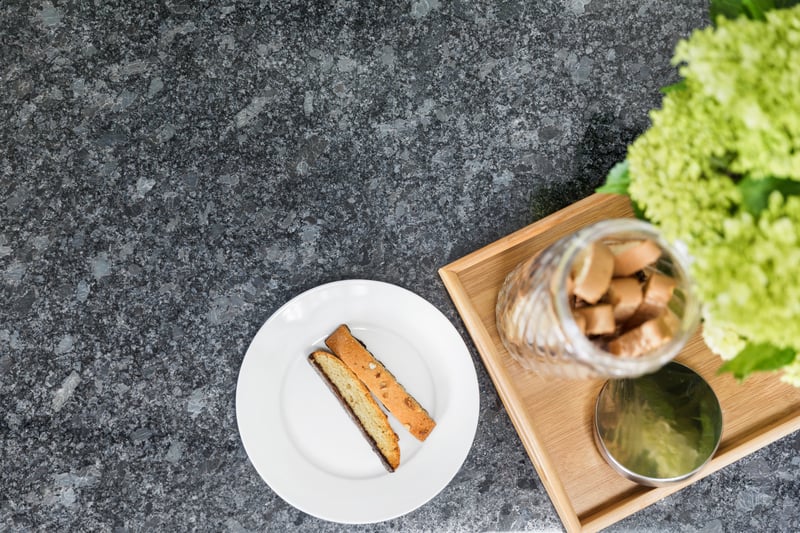 A Kitchen Countertop to Meet Your Needs & Your Budget
That being said, we're happy to guide you through the Top 3 Kitchen Magic countertop options - corian, quartz and granite - categorizing them in terms of which one would be best for you.
If you're looking for luxury
In terms of luxury, it's a tie. All three countertop options offer luxurious finishes that can be used in a range of slab shapes, sizes and edge details. In terms of style, each one has a slightly different feel and impression.
Clean, streamlined finishes. For this, the award goes to corian and quartz. Because they're fabricated, you're guaranteed color and patterns (if any) that are very consistent if you like that clean, streamlined and consistent look.
Rugged and/or natural inconsistency. Granite would be the top contender if you prefer a more rugged or natural inconsistency in terms of color and pattern. It's a natural stone so there's no way to control how the minerals settled during its post-volcanic formation.
Ultra-luxury finish. Here, you're probably looking for granite or quartz. Those sparkly mineral flecks, paired with the reputation both of these have as luxury stone, offer a certain sheen and glamour that corian can't compete with.
Rich array of color options. All three options offer a rich variety in color. However, when it comes to more playful colors, less common to the natural stone world, (yellows, oranges, purples, lime greens, etc.) - corian and quartz are where to look since they're manufactured using man-made pigments and recycled material flecks.
If durability and/or low-maintenance is your goal
Have a busy household? Looking for a countertop you can set a hot pan on and not freak out? Prefer something the kids can leave marinara on for a couple hours without the risk of staining and etching? Are you more of a low-maintenance than high-maintenance person?
Corian and quartz are top-contenders in this category. Because they're fabricated using ultra-tough resins that yield a non-porous, hygienic surface - there's no worry of etching, cracking, fissures that grow over time - and they don't stain.
Quartz. We'll give the 1st place award to Quartz - it's virtually indestructible in all regards. There's no sealing required and no special cleaning instruction.
Corian. 2nd place goes to Corian; It's heat and break resistant. If it scratches, you can easily buff it out on your own, and it doesn't require sealing.
Granite. 3rd goes to granite, which is hard as a rock, but still prone to etching, cracking, fissures and staining because it's porous. Granite countertops require more care and consideration around use, cleaning, sealing and long-term care.
Are you designing an eco-friendly kitchen?
If eco-friendly materials are important to you, you'll find that there are plenty of options for you with your kitchen remodel. Here's how our 3 contenders measure up in the realm of sustainability:
Corian Solid Surface Countertop in Platinum

Quartz. Cambria quartz is made here in the USA, conserving major fossil fuels and quartz slabs contain one of earth's most prolific minerals (quartz) as well as pre- and post-consumer recycled content. Then, they last pretty much forever.
Corian. Corian is ultra-durable and doesn't require nearly the level of mining/shipping that granite does, but it's manufactured using more toxic chemicals.
Granite. Mining practices used to extract granite, paired with shipping requirements make this the lowest-tier option in terms of being sustainable.
Designing a kitchen on a budget?
In terms of cost, you could check HomeAdvisor for their national averages. But, we actually found vastly different results when we looked at our figures. This is yet another reason to be leery of national average cost figures, which we cover in depth in our blog, How Much Does Refacing Kitchen Cabinets Cost?
A countertop's cost is going to vary greatly depending on the size of your kitchen and/or island, material, edge style, finish, thickness, whether or not you choose a waterfall leg/edge or sheet backsplash, and this list really goes on and on. So, for a true estimation of cost, always get a price quote for your specific situation before you make any assumptions on countertop pricing.

This is how our three countertop material contenders compare to one another in terms of typical price:
Quartz tends to be the most expensive.
Granite is a little less in average price per square foot.
Corian is generally the least expensive of these three options.
Ultimately, the best countertop for your household is dependent on multiple factors. Luckily, the variety of options means the perfect countertop for your needs and budget is likely to be out there—just waiting for you...
Granite countertop in Crema Typhoon
"If you've decided to replace your countertops, you have a lot of different types of countertops and prices to choose from. Fortunately, there are quality countertop materials available on the market for almost every style and budget." States Keith Riley of www.renovationfind.com.
If you're not 100% sure which one's right for you, schedule an in-house consultation with a Kitchen Magic design expert so we make sure your investment is the exact right one for your needs and desires.