Isn't the idea of the "BEST" kitchen countertop a relative idea?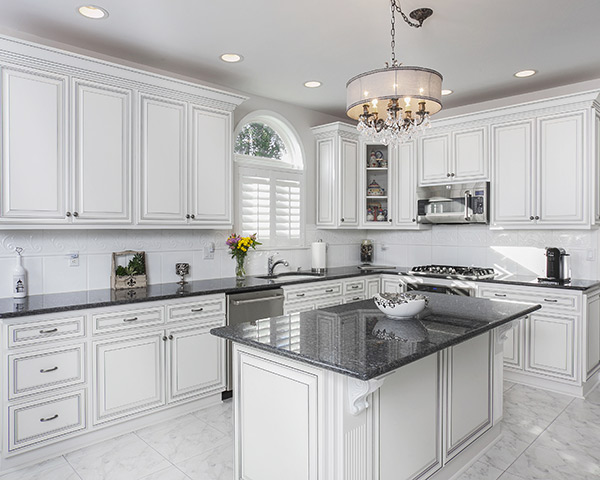 Yes and no. After more than 30-years in this business, we do have an opinion about which products make the BEST kitchen countertop surfaces. So, here is goes.
Disclaimer: We tricked you a little bit. We're not going to discuss granite. It's beautiful, but it has inherent weaknesses. It's prone to cracks (expensive slab replacement), it's porous (requires semi-annual sealing to protect it from moisture damage, mold, and staining) and granite slabs can also release low-grade radon into your home (not ideal in an environmentally-conscious era).
Also, the strip mining practices required to extract granite are less-than-desirable for the planet, to say the least. It's time to move on from granite and embrace more versatile, durable and low-maintenance options). In other words, we really don't feel like granite is one of the best kitchen countertop choices at all.
Corian Countertops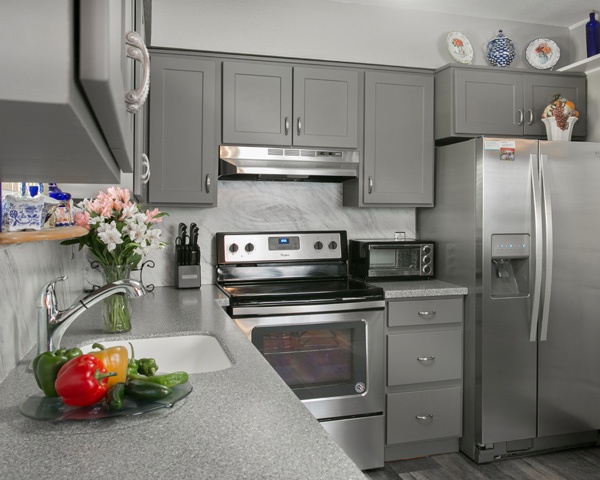 This is the product Kitchen Magic considers "The BEST value as a kitchen countertop option." Corian is an engineered countertop, rather than natural stone, and is available in more than 100 color and pattern options. It is practically indestructible and, because the colors/patterns are consistent throughout the slab, repairing the rare scratch or ding is as simple as using a mildly abrasive cleaner or a fine-grit piece of sand paper. Plus, the slabs are 100% seamless for the ultimate "streamlined" look.
Corian countertops do not have the lustrous shine that a polished stone slab does, but keep in mind that a shiny natural slab is susceptible to dulling, scratching and abrasions over time. Corian's non-porous surface is resistant to staining, mold, bacteria and heat. If you accidentally place a hot pot from the stove or oven directly on the surface, you might not need to worry (but we recommend using hot plates or trivets with any surface). As far as customer satisfaction goes, 98% of people who install Corian say they would install it again if they had the choice. That's an impressive statistic.
Quartz Countertops
If your insides squeezed a little when you read the above granite disclaimer, we understand and would like to direct your attention to quartz. Quartz countertops offer the best that granite and Corian have to offer: the look and shine of polished granite with the true durability and low-maintenance attributes of Corian. Quartz countertops are so durable - and scratch, stain, and mold/bacterial resistant - they come with some pretty serious warranties, ranging from 10 to 15 years, and Cambria even offers a limited lifetime warranty.
While quartz countertops are 93% quartz (one of the hardest and most prolific minerals on the planet), the slabs are engineered using resin and post-consumer recycled products. They qualify for LEED points and have the GREENGUARD seal of approval due to their eco-friendly and sanitary properties. Quartz on its own creates a beautiful range of colors and patterns, mimicking granite and other natural stones. Plus, the addition of the post-consumer recycled products (typically glass) - combined with pigment - offers the opportunity to choose slabs with colors and patterns you'd never find in nature.
There are three mainstream quartz countertop manufacturers:
Cambria
We admit, this is our favorite. Not only do they offer the longest warranties, they produce quartz countertops right here in the United States.
Zodiaq
Engineered by Dupont, you can specify the Terra series, which has a higher post-consumer recycled content. This is the most affordable quartz countertop option.
Silestone
These quartz countertops offer the second-longest (15 years) warranty of the group and also have three different textured series to choose from.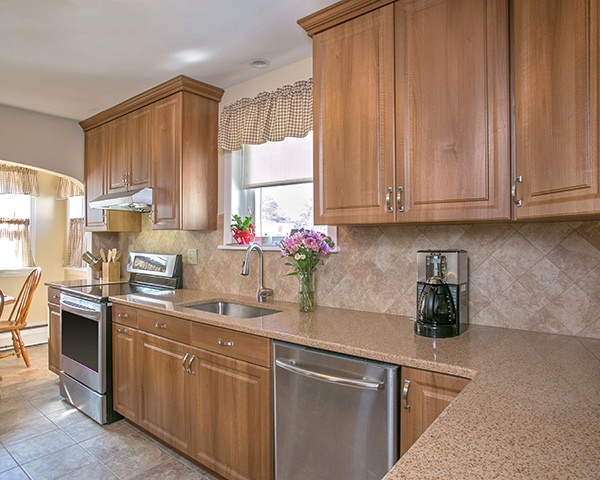 Schedule an appointment, give us a call (1-855-573-3223) or visit Kitchen Magic for free advice regarding the BEST kitchen countertop option for your kitchen remodel.