When it comes to remodeling your kitchen, many home owners choose the color of their cabinets first—cabinet doors and exteriors do take up about 80% of the visible space in your kitchen, so that makes sense.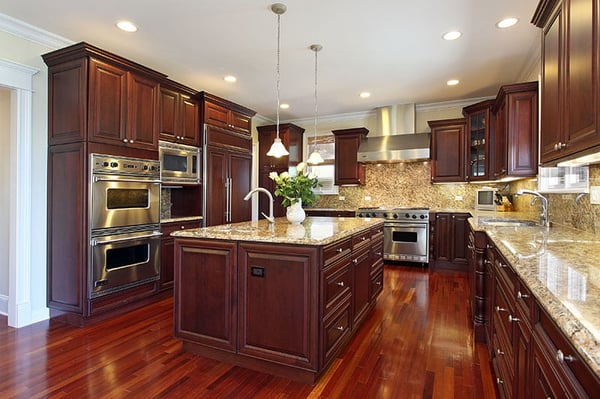 There's an argument to be made for choosing your countertop first, being that it tends to be one of the most expensive items in a kitchen remodel. But, there's honestly no right-or-wrong way to go about that.
Inspiration for Countertop & Dark Wood Cabinet Coordination
If you've chosen the color for your cabinets first, the next choice is picking the right countertop to pair with those cabinets. There are thousands of countertop color choices, and even more possible cabinet combinations. So, the possibilities can be just about endless—making it nice and easy if you know what you want, and super-daunting if you have no idea.
That's where we come in! We've already given you helpful advice on what countertop color looks best with white cabinets, as well as gray cabinets and cherry cabinets, so we're here to continue the series with how to pair countertop colors with darker colored cabinets.
Light & Creamy Contrast
You can't go wrong when you pair your dark cabinets with lighter colored countertops. Whether your personal kitchen style is traditional or contemporary, contrasting your cabinets and countertops will work well with either kitchen design schemes. And, the lighter countertops will do a fabulous job of reflecting more light—helping the room to brighten up despite the dark cabinetry. The example below pairs dark Chocolate Pear cabinets with Butterfly Beige granite countertops, balancing the light and dark tones quite nicely.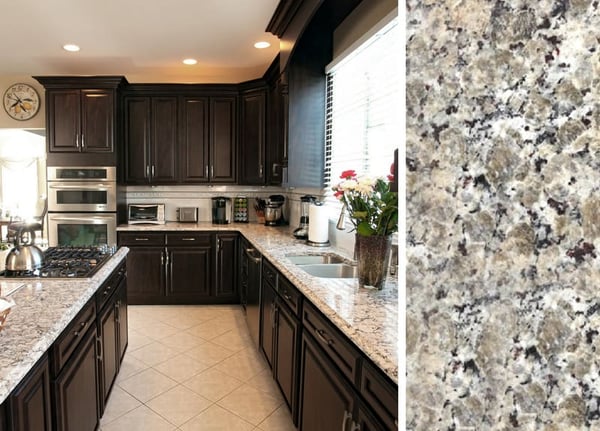 And this classic kitchen features Hi-Definition Walnut cabinets in Vintage Raised Panel style, paired with Zodiaq Quartz countertops in Coriander.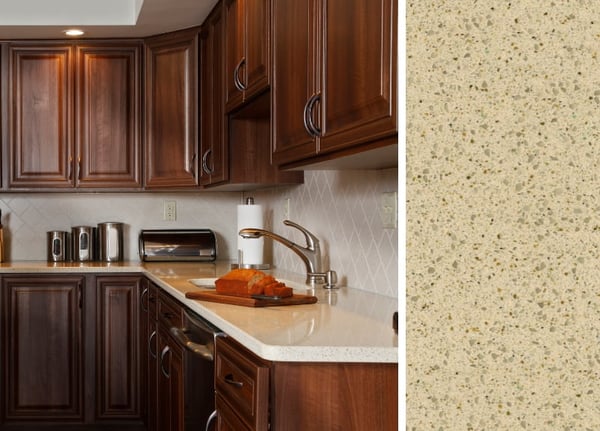 Crisp, Bright Whites
When your looking for the perfect countertop for a modern dark cabinet kitchen, your ideal choice will be a bright white design, typically solid or with minimal movement. Below is another Chocolate Pear cabinet kitchen, this time much more modern with a Prestige Plain door and Cambria Quartz Weybourne countertops.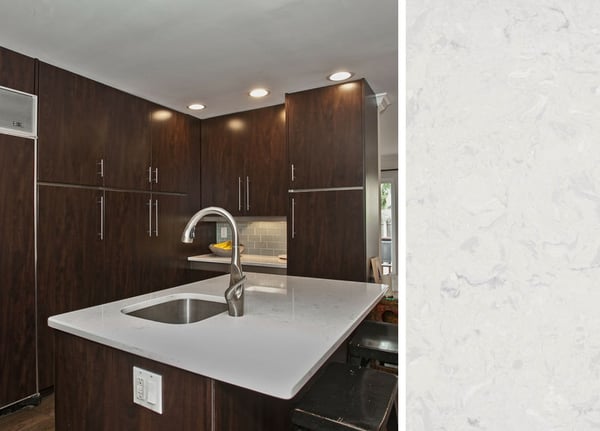 Here we have black cabinets, because the same holds true, paired with a white Silestone quartz countertop. The stark contrast creates clean lines, lending itself to the tenets of modern design.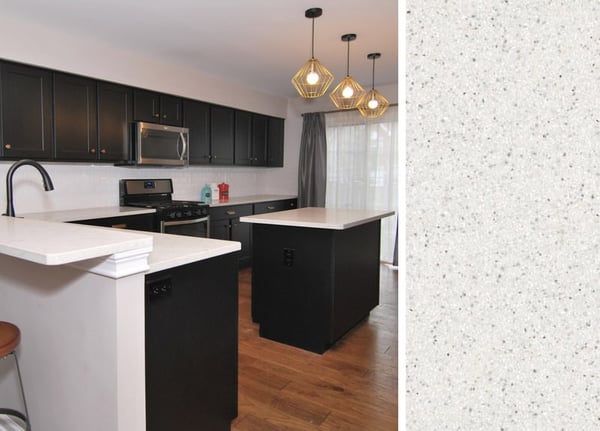 This pairing is actually very versatile, it isn't limited to modern. If you choose a white countertop for your traditional wood kitchen, it's going to look great and have the same balancing quality we described for light and creamy countertops.
Shades of Cool Gray
Gray is a popular color choice for both cabinets and countertops because it's a classic cool shade that can coordinate with a wide variety of color palates. Cabinet shades that are closer to a medium hue pair especially well with gray countertops, like the example below. This photo by Cambria Surfaces features their Park Gate design, which blends shades of brown and black together resulting in a gray-toned finish alongside the walnut cabinetry.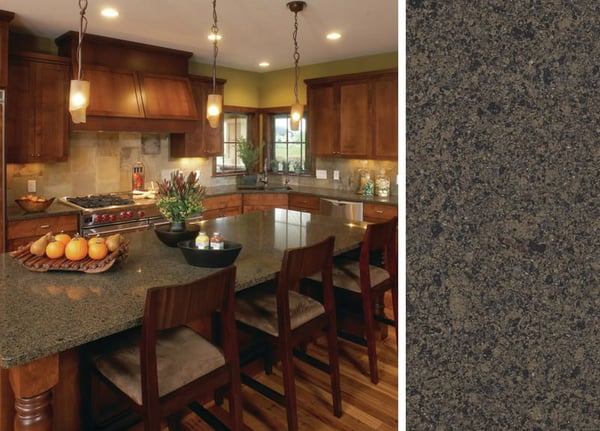 To pull off a gray countertop + dark cabinet pairing, think classic or transitional kitchen styles for a blended look—like the dark stained Hard Maple cabinets in this kitchen paired with a gray Corian countertop.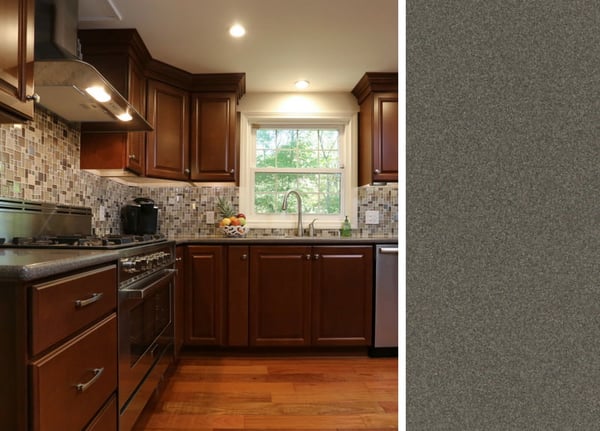 Go for the Gold
Countertop colors with neutral base shades and golden variants look stunning when paired with darker colored cabinets. Golden shades look especially beautiful with espresso colored cabinets, rather than the darker cherry cabinets, like shades of Mahogany. Let the metallic colors truly shine by choosing a simple edge style for the countertops and plain styles for the cabinets with simple hardware. For instance, this kitchen features Hard Maple cabinets in Espresso with a Classic Shaker style and a Granite countertop in one of our most popular colors, Santa Cecelia.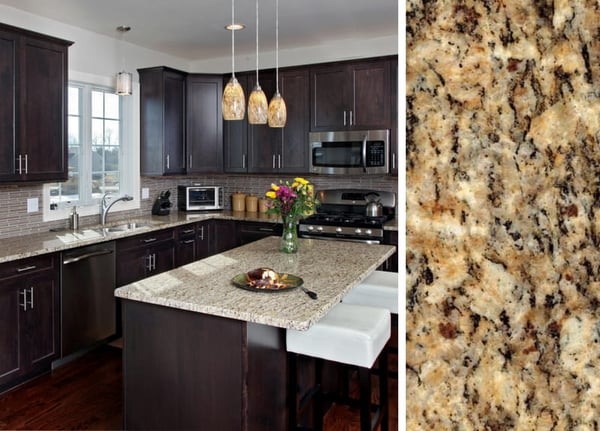 So, in conclusion, dark cabinetry pairs best with neutral toned countertops. There are a few options out there that might stray from that rule but if you stick with designs that are dominant in these color families, you won't be disappointed! Want some kitchen design advice from an expert? Schedule a free in-home design consultation, and our design consultant will bring the showroom to you, so you can get their best advice and a same-day quote.
For more countertop and cabinet coordination advice, check out these related articles:
And, Kitchen Design 101 is in session! Watch this video to learn how to coordinate your countertops, cabinets, and floor: