Wood + White = Simple Elegance. It's that...well...simple. The wood-and-white design combo has bounced around the modern design universe for a while, but it's really gaining traction these days. That's why we wanted to let you in on what a simplistically chic combination it is.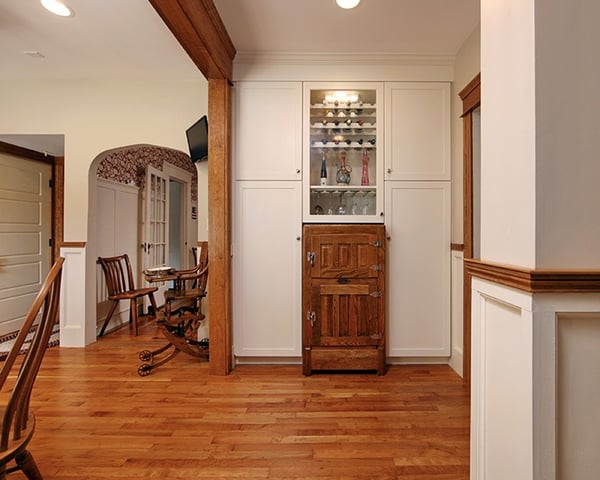 The pairing of wood and white is both classic and uncomplicated, but it's easy to overlook when you start thinking about color wheels and palettes. While it's often used in modern designs, wood and white is a versatile pairing and it can provide unexpectedly gorgeous results.
Design Ideas for Your Wood and White Kitchen
Here are some real ideas of kitchens that went wood-white and never looked back.
Modern with rustic flair
You don't often use "modern" and "rustic" in the same sentence, but you can when you look at this Newport Beach Mid-Century Kitchen. The exposed wood beams, with complementary cabinetry and island seating is stunning when juxtaposed with bright white walls and glossy, white countertops and backsplashes.
Design tip: By painting the wood panels white in between the exposed beams, homeowners added even more height to their kitchen ceiling.
Earth below and clouds above
Mother Nature prepared us for wood and white combos with the earth-and-sky palette found in the great outdoors. Homeowners of this Craftsman Home in San Francisco used that inspiration with walnut-stained, hardwood floors and a beautiful walnut island. Everything else - from the cabinets and walls to the backsplash are all done in white. The effect is almost ethereal, and it's certainly timeless.
Notice how the white backsplash tiles have a luminescent look? They're glass - and you can see how glass lends a different depth/dimension to the design - adding to, rather than competing with, white cabinetry and white countertops.
This kitchen is also a great example which shows that kitchen islands don't need to match perimeter counters. While this kitchen is spacious in its own right, smaller kitchens can benefit from a darker island in the middle, with bright, white perimeter cabinets to keep things opened up.
Small kitchens love wood and white combos
Wood brings in warmth, but some people fear that too much "warmth" will make their small kitchen look cramped. This Kitchen Magic Remodel is proof that your smaller kitchen will be just fine with some warm wood cabinetry, as long as you balance it with a little white.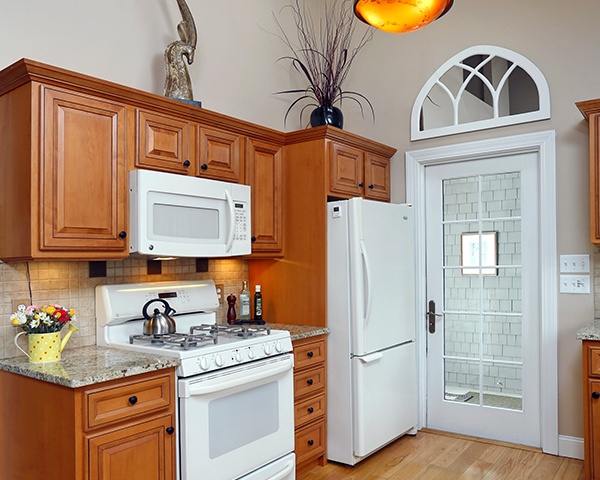 Speaking of "lighter" colors - these homeowners also enhanced the natural light in their kitchen by trading their solid door for a French door option and adding a nice, arched window above it - using unused wall space for more efficient daylighting.
Add a touch of nature
Nature comes in many forms. Sometimes it's a bouquet of fresh flowers and artistic decor with nature-themes. Other times it's in the natural elements used throughout a design.
In this East Greenlake Seattle Kitchen, owners used wood and white together, along with stainless steel appliances and a natural stone backsplash for a wonderful textural effect.The lighter-wood countertop accessories highlight the lighter tones in the cabinetry.
Are you as captivated by the simple but classic effect created by paring wood cabinets with white fixtures and finishes as we are? The team at Kitchen Magic is chock-full of ideas to bring this versatile combination to life in your kitchen - whether it's modern, transitional, or traditional.