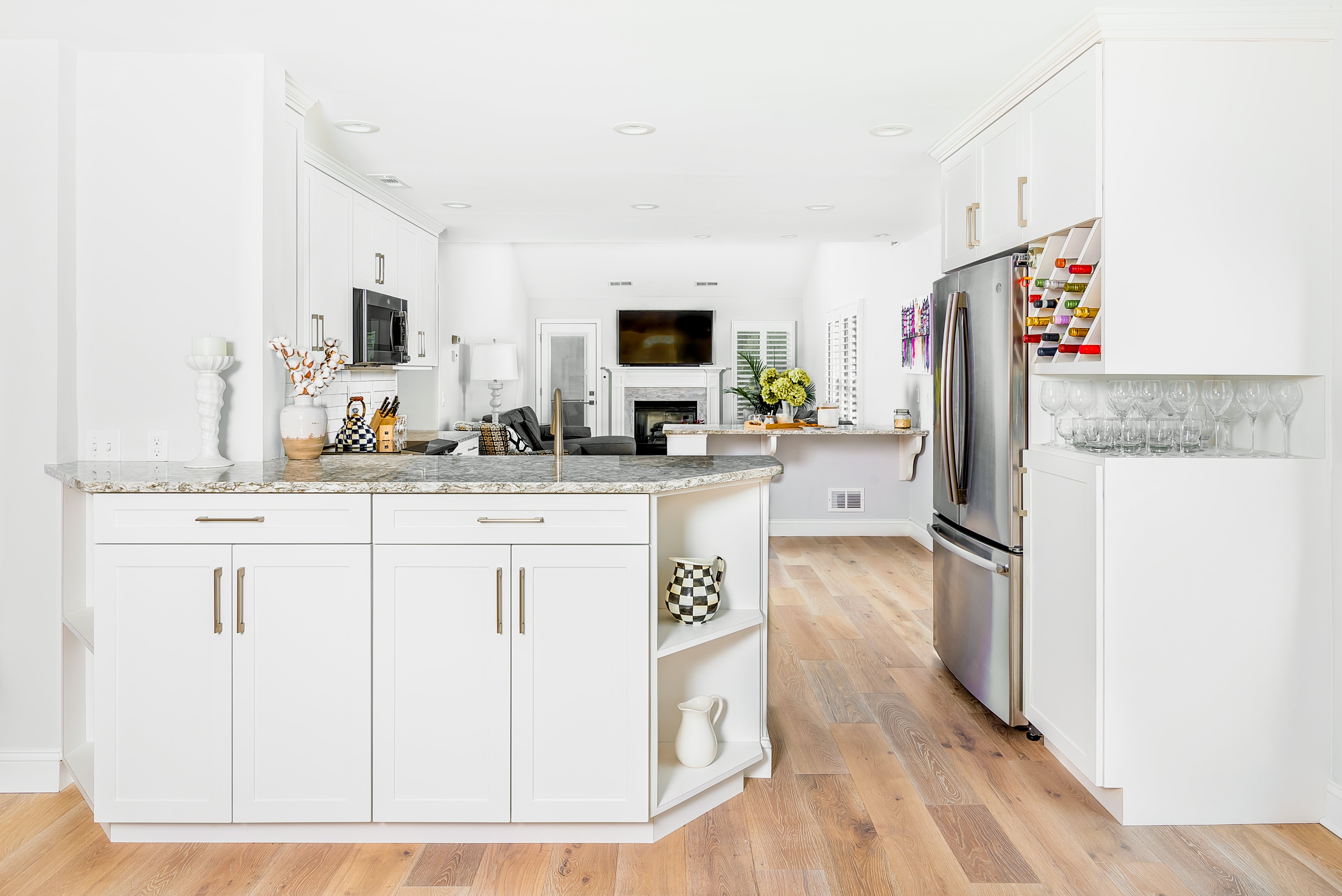 KITCHEN PHOTO CREDIT: PhotoSynthesis Photography, 2019
Bright kitchens are a classic with an overall very clean and classy look that will never go out of style. Brighter kitchens focus on drawing light into the area, making your kitchen feel both well-lit and comfortable. Some homeowners choose to remodel their kitchen to achieve this effect, while others choose kitchen cabinet refacing to transform their space. Read on for simple design ideas on how to make your kitchen bright and airy.
How to create a bright and airy kitchen
Use white as a base color:
If you have a tiny kitchen, opting for a white based design can make it seem a lot brighter. White reflects light, and can make your kitchen seem brighter and bigger than it really is. The trick to a white based kitchen is to add some contrast to make it less monochromatic.
Since white is a reflective color, bright white cabinets go a long way towards multiplying available light. While dark cabinets can be used in smaller kitchens, we don't recommend them in kitchens that are lacking light. Afraid a white kitchen will be too cold? Be selective about the shade of white, and ask about glazing options that can add warmth.
Add contrast to your cabinets:
Keeping your kitchen entirely monochromatic in white can make it seem too stark and blinding if there is not enough contrast in your design. Adding a secondary color to your cabinets can help preserve the bright and open vibe of your kitchen, while adding some personality and dimension.
Add a pop of color:
In a kitchen dominated by a single color like white, you can easily add more personality and warmth to the kitchen without disrupting the bright look of it by including wood surfaces and other items with natural tones. This includes colors like cream, sand, beige, mauve and more.
Optimize your layout:
KITCHEN PHOTO CREDIT: Andy Ryan Photographer, 2020
You may be thinking about a new kitchen layout. In a best case scenario, you may be able to cut into an exterior wall to add another window or two while changing your kitchen layout. Read, Brighten Up Your Kitchen With Skylights & Solar Tubes for more information on that topic.
However, if adding windows isn't an option, you may find that changing the location of certain cabinets and/or appliances will allow for natural light sources to more abundantly bathe the space.
Keep it simple and minimalistic:
KITCHEN PHOTO CREDIT: Andy Ryan Photographer, 2020
Sometimes, there is a tendency to over-clutter the kitchen with things like appliances, pots, pans and more. The trick to making your kitchen seem airy and spacious is to keep it simple and sparse by storing all your items in cabinets and cupboards. If your kitchen is white in color, adding wooden stools and maybe even a small plant can help it maintain a bright and airy vibe while adding some life.
Have fun with your lights:
Lights can be a fun addition in your kitchen. You can make use of milk-glass chandeliers, bronze pendants and more to give your kitchen some personality. If you opt for something like a bronze pendant, your kitchen will seem a lot more youthful and fun. On the other hand, a milk-glass chandelier can help keep things more traditional in the kitchen.
Choose materials rich in texture:
If you choose to keep your kitchen largely white in color to maintain a brighter look, then you can opt for materials that are rich in texture to liven up your kitchen. This adds some spice to the design, and keeps it from becoming boring. Texture-rich materials you can consider include granite countertops, flooring, paneled walls, wood grain islands and more.
Install undercabinet lighting:
Undercabinet lighting tricks the eye into believing there's more natural light than there actually is. The key is choosing the right wattage and a warmer-color. If you go the LED route, daytime energy use is minimal. Look at what a difference it makes in this kitchen!
Add greenery into the kitchen:
KITCHEN PHOTO CREDIT: Andy Ryan Photographer, 2020
Plants can bring literal life into your kitchen. To liven up a white-based kitchen, you can incorporate plants by placing them on the kitchen island or placing standing plants in or near the area. This will help keep the air fresh in your kitchen, and at the same time beautify it so that it gives you a natural, tranquil vibe.
Include glass-front cabinets:
In a kitchen crying out for light and/or space, we like to include some glass-front cabinets. In an open floor plan with upper-cabinets between living areas, installing glass doors on both sides shares the light from the adjacent space. Either way, glass cabinet doors let light flow more freely and installing interior lights will take that a step further.
Add warmth to your kitchen with rugs and carpets:
Adding a rug can help add warmth to your kitchen without breaking up the light color-scheme of your overall design. All you have to do is choose an appropriate rug that is earth-toned or cream colored so as to not disrupt the bright and airy look of your kitchen.
Display white, reflective décor:
KITCHEN PHOTO CREDIT: Andy Ryan Photographer, 2020
Displaying white décor like plating, pottery and more can help to enhance the aesthetics of your kitchen. Furthermore, the smooth surfaces of your light-colored décor helps to reflect more light and make the space seem brighter.
Utilize reflective surfaces:
In addition to selecting reflective colors, think in terms of reflective surfaces to multiply available light, including mirrors, glass tiles, glossy paint finishes, metallic accents, stainless steel appliances, etc.
Concerned that a lack of natural light will draw the shades on your kitchen remodel? Or are you considering how you can enhance the look of your kitchen to make it more bright and airy? Let us work our Kitchen Magic and we'll help shed some light on the situation!