Daylighting is so important to a kitchen's design. Not only does it reduce energy spending, but infusing your kitchen with natural light makes it feel clean, spacious and cheerful.
6 Tips for Bringing Sunshine Into Your Kitchen

Don't have enough windows to do the job? We have 6 different ideas for tapping into natural light so you can brighten up the kitchen.
Optimize your layout
Are you one of the people we referenced who only have a window or two? Maybe you're in the market for a new kitchen layout. In a best case scenario, changing the kitchen layout may allow us to cut into an exterior wall to add another window or two. Read, Brighten Up Your Kitchen With Skylights & Solar Tubes for more information on that topic.
If adding windows isn't an option, you may find that changing the location of certain cabinets and/or appliances will allow the natural light sources to more abundantly bathe the space.
Add window backsplashes
Choose areas of your counter that are less susceptible to splashes and/or splatter add a window backsplash. Just like a tile backsplash, these narrow, horizontal windows sit right between upper cabinets and countertops - and the light they yield works wonders for daylight-deprived kitchens.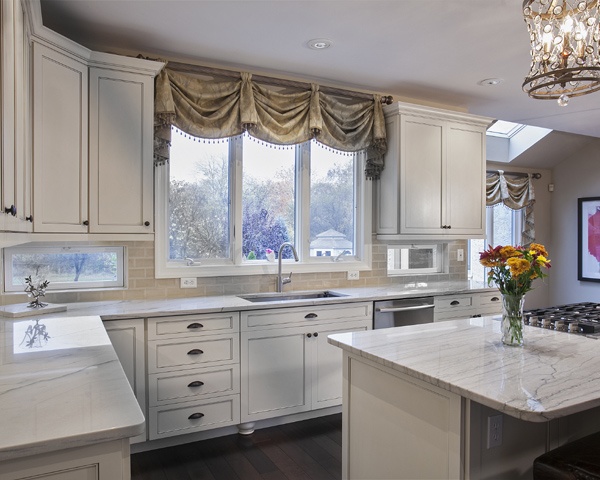 Use sheer window curtains
Not sure about your window dressings yet? If daylight is important to you, choose sheer window dressing options that filter - but don't obstruct - warm sunlight. Imagine the difference in light quality had the owners of this Austin Kitchen opted to install solid fabric, rather than sheer lace, for their well-lit kitchen design.
Install undercabinet lighting
Undercabinet lighting tricks the eye into believing there's more natural light than there actually is. The key is to choose the right wattage and a warmer-colored light. If you go the LED route, daytime energy use is minimal. Look at what a difference it makes in this single-windowed kitchen.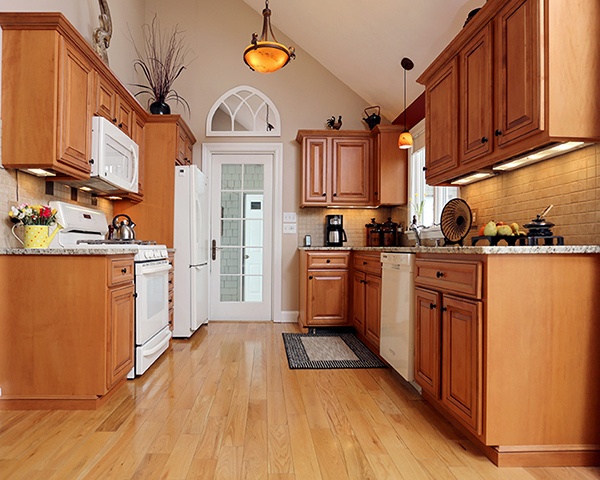 Include lighted, glass-front cabinets
In a kitchen crying out for light and/or space, we like to include some glass-front cabinets. In an open floor plan with upper-cabinets between living areas, installing glass doors on both sides shares the light from the adjacent space.
Either way, glass cabinet doors let light flow more freely and installing interior lights will take that a step further. The glass cabinet doors on this window-less wall almost provide the illusion of a bank of windows.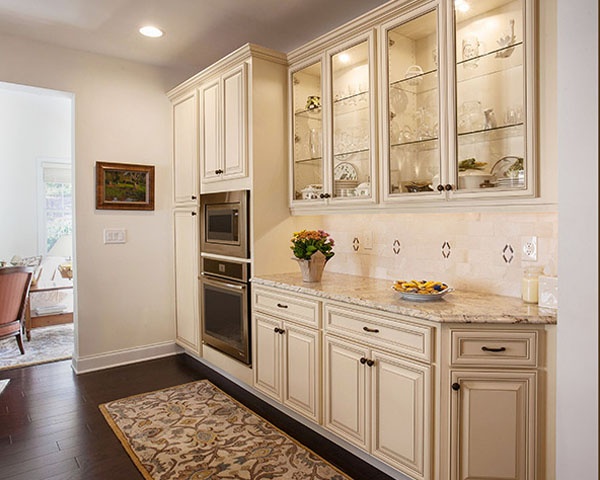 Use white (or lighter) cabinetry
White is a reflective color, and that means bright white cabinets go a long way towards multiplying available light. While dark cabinets can be used in smaller kitchens, we don't recommend them in kitchens lacking light. Afraid a white kitchen will be stark or cold? Be selective about the shade of white, and ask about glaze options that add warmth - there's certainly nothing stark or cold about this well-lit and elegant white kitchen.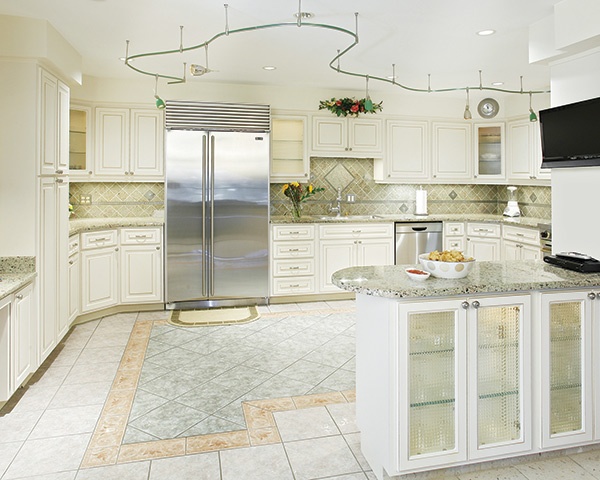 Utilize reflective surfaces
In addition to selecting reflective colors, think in terms of reflective surfaces to multiply available light, including mirrors, glass tiles, glossy paint finishes, metallic accents, stainless appliances, etc.
Worried that a lack of natural light will draw the shades on your kitchen remodel? Let us work our Kitchen Magic and we'll shed some light on the situation.