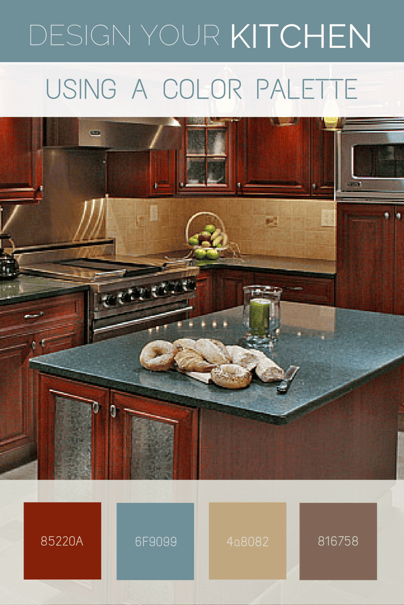 Color is such an important element of your kitchen design. The color palette you select, or inadvertently wind up with (depending on your design approach) will set the tone for your kitchen's personality. Is your kitchen warm or cool? Fiery and energetic, or tranquil and calm? A place for socializing or a utilitarian food prep space?
Your color palette will drive these "feelings" home for both family members and guests.
Tips for Designing Your Kitchen From a Color Palette
Perhaps the easiest way to start is to work with Pantone's Spring Palette for 2015 and show examples of how these colors have already been used in Kitchen Magic kitchens - with beautiful results.
You'll notice the Pantone palette has a nice blend of cool and warm colors, as well as a balance of neutral and accent shades. Most homeowners lean one way or the other when it comes to warm and cool. Warm colors are used most often in traditional kitchens, the exception being all white kitchens with a cool countertop choice, while cool and/or bright colors are used more often in modern kitchen designs. Even so, don't feel constrained. We read a great sentence about color that said, "there's no such thing as a bad color, only bad color combinations."
Keep that in mind as you work with your kitchen designer. Now, on to the fun stuff. Here are three examples from the Kitchen Magic gallery that show how a Pantone-esque palette can be used to drive your kitchen design.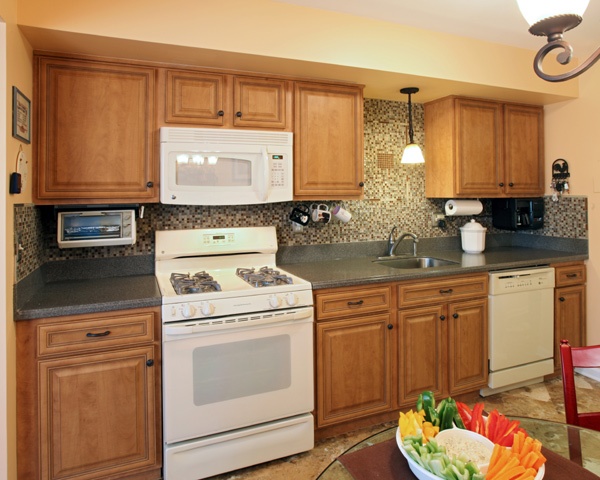 Warm with a cool accent
In this kitchen the owners chose a warm, neutral palette for the foundation of their design. The foundation of their color palette (outside of the beautiful cherry-finished cabinets) is a Toasted Almond color. They added sporadic tile accents in a warm Marsala color that coordinates with the cabinet finish. To make a big impact, they chose a green countertop that falls right in between Lucite Green and Classic Blue.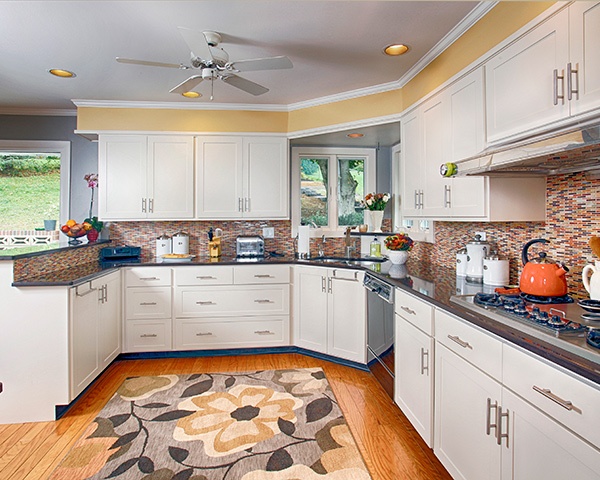 Contemporary with hot accents
Here we have a kitchen with transitional, shaker-style cabinet doors. The cabinets are painted a timeless white - smart choice because your other accents can change over time but there will be no need to repaint or refinish the cabinets. You'll notice a warm Custard paint on the walls, which makes a wonderful transition between white cabinets and colorful mosaic tile work, peppered with hot accents like Tangerine and Marsala as well as some of the cooler blues and greens.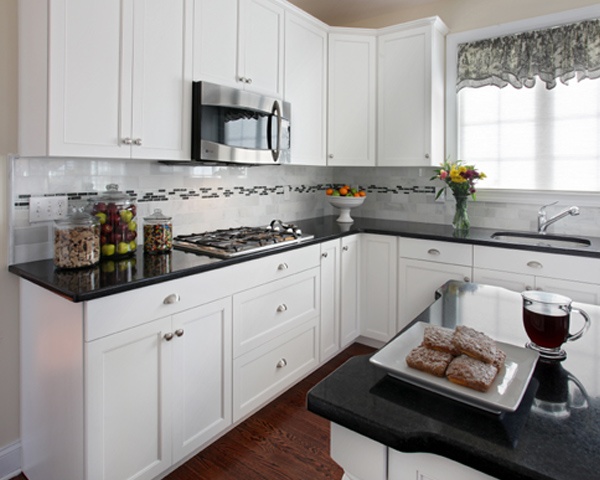 Cool and Modern
Here, we'll show how a cool palette comes together, although we'll veer a bit from the Pantone palette. In the Frosty White Edinburgh Kitchen, the white cabinets and sleek black countertop are timeless classics. They brought in shades of Glacier Gray in the backsplash tile work for a soft transition between the black and white. We warmed up the walls a bit with Toasted Almond, and the fruit bowl shows how pops of green or red would look smashing as well.
Want a professional opinion regarding your palette choice(s)?
Come on in to one of our showrooms and our design wizards will be thrilled to lend an eye...and a humble opinion, if requested.