Everyone wants a stress-free and streamlined kitchen remodel. However, the reality is that even if everything moves without a hitch, there's still quite a bit of dust, noise, disorientation and a wee bit of chaos that will take over your home during the peak phases of remodeling action.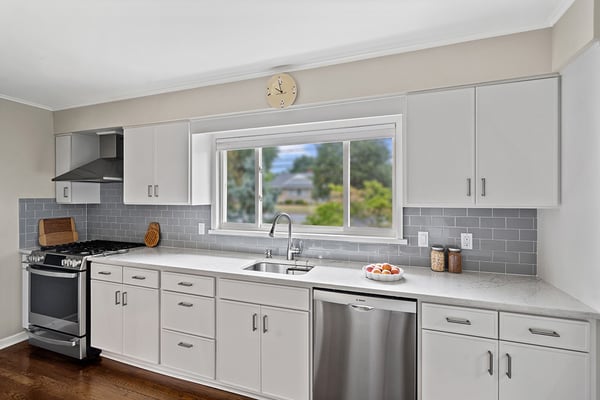 Kitchen Remodeling Survival Guide: Be Prepared!
Will this drive you a little crazy? Probably. But, the more prepared you are the better. The following steps will help you prepare your heart and your home for your ultimate kitchen upgrade.
1. Get a Construction Schedule
Hopefully, you already have one. If not, request a construction schedule so you know what is happening when. If you or someone in your house is particularly sound-sensitive or easily agitated if things are out of place, being familiar with the schedule is very helpful. Your project manager can tell you which days will be the loudest, dustiest, etc., and you can plan household activities accordingly. You should also be informed of any updates or changes.
2. Create a Backup Kitchen
It's time to plan your "backup kitchen." If you have a laundry room with a sink, that's a great option. Same if your garage has a sink. The key is to create a functional "mini kitchen," completely separate from your real one. There shouldn't be any interference with the design-build crew. Set up a countertop microwave, a toaster, the coffee maker, etc. so you have access to morning coffee and easy, microwave dinners. If you have the space, plug-in a mini fridge. They are often available on craigslist or freecycle and you can sell or donate small appliances again when the remodel is finished. If the weather is nice, make your outdoor kitchen the primary one for the time being.
3. Easy Dishes
If you do have a mud tub or a reasonably-sized sink available to you then dishes might be doable. Otherwise, purchase recyclable and/or biodegradable dishware to avoid doing dishes altogether.
4. Make a Restaurant or Takeout Plan
Review the construction schedule you were given and make your meal plan accordingly. Most homeowners find it makes more sense to dine out or pick up dinner on the way home, rather than juggling microwave dinners or cup o' noodles, but the choice is yours.
5. Create a Safe Haven for Pets
While some pets take a stream of strangers, noise and disorganization in stride, most don't. Create a "safe room" for your pets, where they have access to their favorite beds, toys, fresh water, etc., but are removed from the noise and constant activity. This will also keep them from getting underfoot of the construction crew - keeping everyone (and pet) more safe.
6. Take a Small Trip
In most cases, contractors prefer that homeowners (at least one of them) stick somewhat close during the kitchen upgrade process so they are available to confirm progress satisfaction, to answer questions, or to make decisions if an unexpected complication arises. However, there are always a few days here and there that it's fine to check out, and that can be nice to get a break from it all.
7. Keep an Eye on the Goal
At the end of the day (or, days, really) it's important to remember that the goal of all of this is to make your kitchen dreams come true. A temporary inconvenience, even one that feels like "forever," is really just a few weeks or a couple months out of your life that will yield years of satisfaction with your custom kitchen design.
Interested in working with a kitchen remodeling team that prioritizes stress-free kitchen remodels? Get in touch with Kitchen Magic.