The key to a successful kitchen remodel is not as related to countertop or cabinet selections as you might think - those will fall into place on their own. The true key to success is hiring a kitchen remodeling company who is experienced, has a solid reputation and is 100% committed to customer service satisfaction. When those three elements are in place, you are guaranteed to have a finished kitchen remodel you love.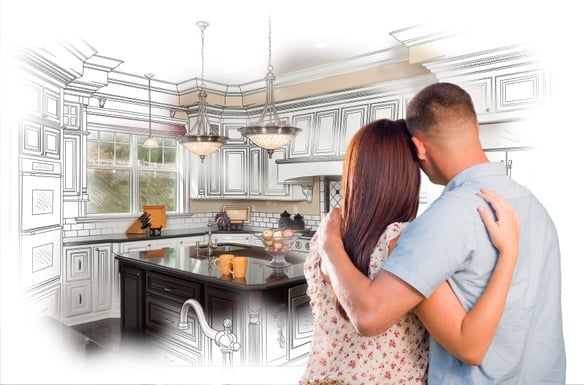 Here are 5 tips for hiring a kitchen remodeling company that will yield the results you're after and will be so awesome to work with that you'll recommend them to anyone who will listen.
Start paying attention. A good kitchen remodel will stand out from the rest. As you enter friends' and neighbors' homes, start paying attention (like you aren't already...) to their kitchens. You'll begin to see a difference in those who used stock cabinetry and built-ins from big box stores from those who used professional design and build teams to install semi- and custom finishes. Then, ask around and find out who used who. Word-of-mouth is the best recommendation of all and - plus - you've already seen the proof in the pudding. If you hear a company referenced more than once, they should bump up to the top of your "Potentials" list.
Schedule about 3 consultations. Now, it's true that consultations can be a little time consuming. However, so are kitchen remodels - and the results (should) last a lifetime. Plus, the crew you hire will be in your personal space for a series of weeks...so you want to make sure you like them. Your consultations - we recommend scheduling about three - are a chance for you to exchange ideas, score some free professional input and it gives you a chance to get to know the companies a little better so you can pick one you feel comfortable with. At the end of the day it's really not about the number of consultations you schedule, but about picking the right company.
Verify contractor's licenses and insurance. Make sure you've verified the company is working with a valid contractor's license and request a copy of their proof of insurance and bonding. The former should be visible on their website, letterhead and/or business cards. If not, ask for it. Then call your local building department and make sure it's valid. The contractor's insurance/bond ensures any unfinished and/or shoddy work will be paid for if you are left in the lurch. A copy of these verifications can be provided by the company.
Pour over their portfolio. These days, you can view a company's portfolio or gallery online. Otherwise, you can ask to view their portfolio during your consultation. This will give you a good idea of the company's "niche" and you may determine one company's work is more "your style" than anothers.
Check those references. Ask for personal references from clients who had a similar scope of work performed in their kitchens. This will help you compare apples to apples. Don't be shy; ask lots of questions regarding communication skills, whether or not they stuck to their timeline, whether or not employees were courteous in your home, their diligence in cleaning up at the end of the day, etc.
We're confident that one consultation with the Kitchen Magic Team will seal the deal.