Open floor plans have truly transformed the role of the kitchen. A half a century ago, most kitchens were a completely separate room. The idea being the kitchen is a solely a work space, and the muss and fuss created there should be kept hidden from the eyes of those who visited or stopped by. As times change, so too do attitudes and floor plans. Thus, the open floor plan has made kitchens the heart of the home.
Would a Mini-Office or Message Center Enhance the Efficiency of Your Kitchen
Now, many families enter directly from the garage into the kitchen, which can lead to a pile-up of "stuff" on available countertops. Kids do their homework at the kitchen island bar and you may find yourself seated at the kitchen table or countertop while you catch up on email, Facebook or to catch up on some work. If your kitchen is the "hot spot" in your home, we recommend incorporating a message center or small home office, depending on space allowance.
Read the following to determine which of these three ideas would work best for your upcoming kitchen remodel.
The Message Center
A message center doesn't have to take up a whole lot of space. It may be as simple as using the end countertop/drawer space next to the garage entrance to have a white board, chalkboard and/or cork board where you can "send and receive" hand-written notes and reminders.
Eliminate the "junk drawer" by using a drawer and/or cabinet organizer to assist you in storing paper, pens and pencils, paper clips, sticky notes and basic office supplies. Hang a keyhook and add some hidden outlets or charging stations so your gadgets are kept in one convenient location.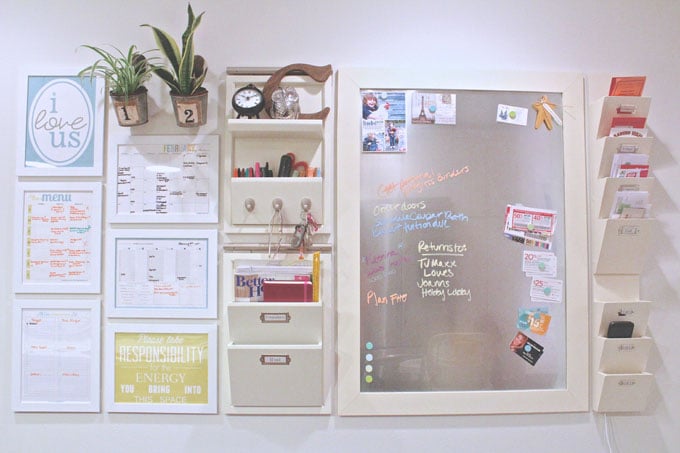 Image via Un Original Mom
A small home office
If you have the space for it, we suggest adding a small home office space. This is done creating a nook - perhaps at the end of an interior wall or as part of a kitchen peninsula. Your small home office will have a space for your desktop or laptop computer and a printer. It will use any combination you desire of shelves, drawers and doors in order to keep things organized. All of this will be done in a manner that is complementary to your overall kitchen design.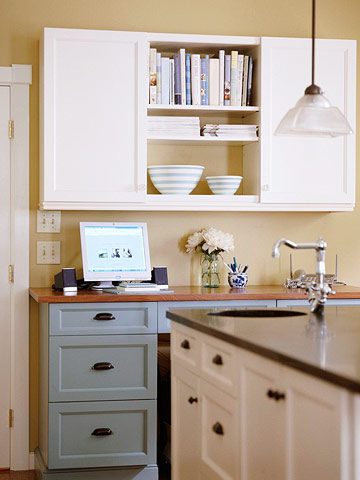 Image via Better Homes and Garden
A Larger Home Office
You can take the idea of an open floor plan concept a little further by building an integrated home office that blends your kitchen and living or family room design. Like the small home office, it will have room for all of your office accessories and may also include upper-cabinet space and/or shelves for books an other office supplies.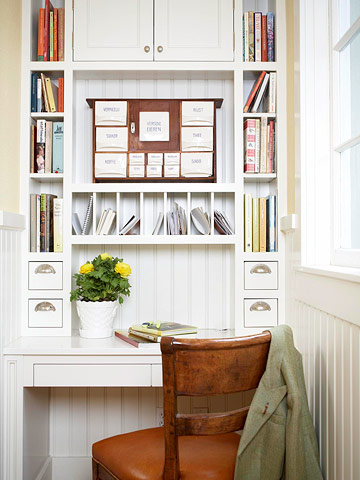 Image via Better Homes and Garden
The design team at Kitchen Magic is always happy to provide an in-home consultation to discuss how a message center or small home office can be integrated with your kitchen remodeling plans.