The new must-have for every home seems to be the kitchen remodel. Proving that trend, kitchen remodels reigned supreme, totaling 50% of all home renovations done in 2022.
A Zillow survey found that 46% of homeowners would consider remodeling their kitchens. And it's no surprise. Homeowners understand that improving their kitchen creates a beautiful new living space and increases the value of their home in one fell swoop.
Choosing the right company to trust for your remodel, however, can feel stressful and overwhelming. Let's discuss some of the types of business options you have and who may or may not be the best fit for your project. Understanding the differences will help you be comfortable in your decision on the next steps to take toward your dream kitchen.
Big Box Stores
When you think "home improvement" there are two big names that likely come to mind (you know who they are!) When you look to purchase a drill, insecticides, lawn and leaf bags, or supplies for a DIY project, one of these big names is likely your first stop. If you find yourself considering a big box store for your kitchen remodel, however, be sure to prepare yourself with some important information. What exactly can you expect from a big box store when it comes to this major project in your home?
For starters, you are unlikely to find experienced, design-focused advice that is personal and individualized. In-store representatives often do not specialize in the products they are selling or have design expertise. They are, in most cases, employees who function as the middleman between the company itself and the products and services they sell.
Additionally, big box stores sub-contract to a wide variety of contractors. This can set the stage for inconsistent skills and craftsmanship, making it difficult to predict the outcome for your kitchen installation. To quote Mrs. Gump, big box stores are like a box of chocolates, you never know what you're gonna get. If you are seeking specialized expertise, this is an important factor to consider in your choice of service providers.
Hiring a large corporation for your remodel may also mean that customer service is automated and lacks a personal touch. Customers have reported that reaching the right person for problems, troubleshooting, questions, or concerns about their kitchen remodel can be a frustrating experience. If communication and responsiveness is a key part of your decision, you may want to seek customer reviews specifically relating to quality of communication.
On the other hand, is less…more? Big box stores are known for their wide variety of products and services to meet every possible request. For some, this can be a blessing, and for others a curse. Endless choices can make the decision-making process a challenge, especially if design expertise is lacking. Offering a massive number of cabinet and countertop brands, colors and styles, plus endless hardware, accessory, and flooring options, can overwhelm even HGTV's most dedicated DIYer.
Additionally, you will likely need to be comfortable with products shipped from overseas. Big box stores have most of their materials shipped into the US, running the risk of improper handling of materials, damage and shipping delays. Of course, these delays can in turn impact your project start date.
To summarize, big box stores have a DIY reputation for a reason. They excel at being what they were meant to be: all-purpose home improvement retailers, not kitchen designers or remodeling experts.
Franchises
A franchise operates as an independently owned and operated dealer or branch of the core business. With this business model, a franchise can broaden their service area as widely as possible, offering new opportunities to aspiring business owners, while keeping their offering and message consistent.
What does this mean for your kitchen remodel?
First, a prosperous franchise will have completed numerous projects in its market. However, with any franchise, it's important to do careful research on the specific location you'll be working with. Service and installation quality may differ between locations. A successful franchise in numbers does not necessarily mean that location provides the optimal outcome. So, verify with reviews and testimonials relating to the specific franchise location you are interviewing for your remodel.
When it comes to warranty and post-remodeling problems, a franchise might be risky business. If the location that completed your kitchen remodel were to close down, you might be on your own with issues down the road. Customers have found, in some cases, that when their remodeling operator went out of business, there was nowhere to turn to remedy a warranty claim. So, what would that mean if it happened to you? You may be left with the responsibility of finding a way to have any repairs made, likely out of your own pocket.
It's worth mentioning, the products they offer are also often made outside of the USA, so shipping can be an issue. If you are seeking information on the products they offer, you may find yourself underwhelmed until you speak with an associate; information on their website tends to be limited and generic.
Franchises usually have a "deal" or "promotion" available, and while you will probably get some money "off" of your remodel, these discounts are always running. So, is it really a benefit for you? An independent remodeling company will usually offer discounts on a case-by-case basis, and reflect special consideration to your unique project, products, and budget.
Be sure to take into consideration how customizable your experience can be. The franchise model is based on being able to apply a 'cookie cutter' type of solution to every remodel. While a franchise won't feel as automated as a big box store, it's still a sizable organization with a rather rigid structure which can value efficiency for their team and their time, not always you, the customer.
Small to Mid-Size; Local, Privately Owned
Understanding the importance and significance of the kitchen in a customer's home, local and privately-owned remodeling companies typically offer a more personalized experience.
When working with a small to mid-sized remodeling company, there is a range of types you may encounter. Some remodelers may be a team of just 2 people. Some may have over 100 employees.
The size and the systems of each type of these businesses vary greatly. But almost always, this tier has a more modest number of active remodeling projects. A smaller company's experience, craftsmanship, and attention to detail goes a long way. While they may not offer the same volume of products and services, they do typically offer a more specialized skillset and a comprehensiveness for the items they offer.
If you're looking for a one-stop-shop to remodel your kitchen, these local businesses are often a good choice. Mid-sized businesses are more likely to manufacture their materials in-house while smaller companies will purchase from a distributor or manufacturer. Of course, dealing with a company that both manufactures and installs will cut down on wait times. You should expect your installation to start at a quicker pace than companies that ship from overseas.
Another benefit to products that are locally manufactured is mistake recovery. Inaccuracies in measuring can happen, it's just part of the process. The ability to resolve issues speedily is a huge advantage over big box stores or franchises, which could take significantly longer to remedy the situation. Imagine, for instance, having a beautiful new kitchen that is missing a door as you wait weeks, even months, for a replacement to arrive from across the ocean. It's as unsightly as missing a tooth in an otherwise perfect smile!
Also, small to mid-size companies go to great pains to curate their product offering. Design and product selections that have been pared down to fit any design or desired style is a far better experience than offering a huge field of every possible option. It improves both the decision process and outcome. Fun fact: we have found that homeowners presented with dozens of options almost always go immediately to ONE. Then, human nature takes over and they start second guessing their instinct. After spending time (sometimes a lot of it) poring over all possible choices, they ultimately end up back to the selection they made almost immediately.
Additionally, a local company is likely to use their own installers and contractors specifically trained to install their products. It's important to note that a well-established, locally owned business can bring a masterful and time-tested edge to their craftsmanship.
When looking into a small to mid-sized kitchen remodeling company, you may also find their warranties are more generous. In comparison to the other tiers of remodeling companies, a small to mid-size business often values their individual relationships with customers and takes to heart the impact the project will have on their lives. An added benefit is a company's care and involvement in their local community.
In-Home v. Showroom Selling
Another crucial piece of the puzzle to keep in mind are the two ways each of these tiers may sell kitchens to their customers. While most home remodeling companies fall under one of these 3 types of companies, their approach to product and presentation is typically one of two approaches and can make a massive difference to your customer experience:
In-Home Consultations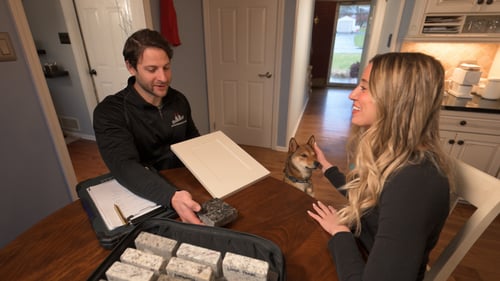 Convenience: When a representative comes to your home and 'brings the showroom to you', you save time

,

and gas money, and can make decisions in the space you are comfortable in. Some would call it Home Field Advantage!

Lighting: This can change everything about the way your remodel looks. In a showroom, there are typically bright, beautiful lights to dress up the items they are selling. The lighting in your home may or may not show the materials you pick the same way they're shown in a showroom. This means that if you choose the different parts of your project in their showroom, your remodel could look completely different than what you anticipated.
Showroom Based
The main advantage of a showroom is the ability to display a variety of vignettes in various colors, styles and options. For some consumers, this is the preferred way to shop and see options.

Convenience, however, is in favor of the business, not the customer. The homeowner is often left making numerous trips back and forth with samples and dimensions.
The importance of lighting is worth repeating. Remember that regardless of how pleasant and professional lighting may be in a showroom, it is not the natural lighting of your own space. Colors and even styles can look very different between the two.
Your superpower is knowing exactly what suits your taste and lifestyle. Go with the company that best suits your needs and pays special attention to the most important aspects of your project.
Think "Kitchen Magic" for Your Kitchen Remodel
Many things impact the type of company you choose to remodel such an important space in your home. While your decision, at the end of the day, will entirely be your own, we'd like to put our name in the running. Kitchen Magic has been a family owned and operated business for over 40 years, specializing in design focused kitchen remodeling solutions, including cabinet refacing, all new wood cabinetry and more. We pride ourselves on exceptional customer service and expert craftsmanship. With over 60,000 kitchens reimagined for our customers, we're ready to help transform your kitchen into the space you've dreamed of. Call us today to schedule your free in-home design consultation at (866) 525-0012.