Kitchen backsplashes are as varied and ranging as the homeowners who select them. They can be anything you want them to be, and you can select what best suits you and your unique preferences. What's more, they can help make your kitchen a reflection of your personal style. The backsplash is one of the more visually-prominent details in a kitchen, and House Beautiful magazine says that newer trends include statement-making backsplashes that serve as focal points. Whether homeowners are choosing 4-inch or full-length styles, they are finding backsplashes can contribute greatly to their new kitchen designs.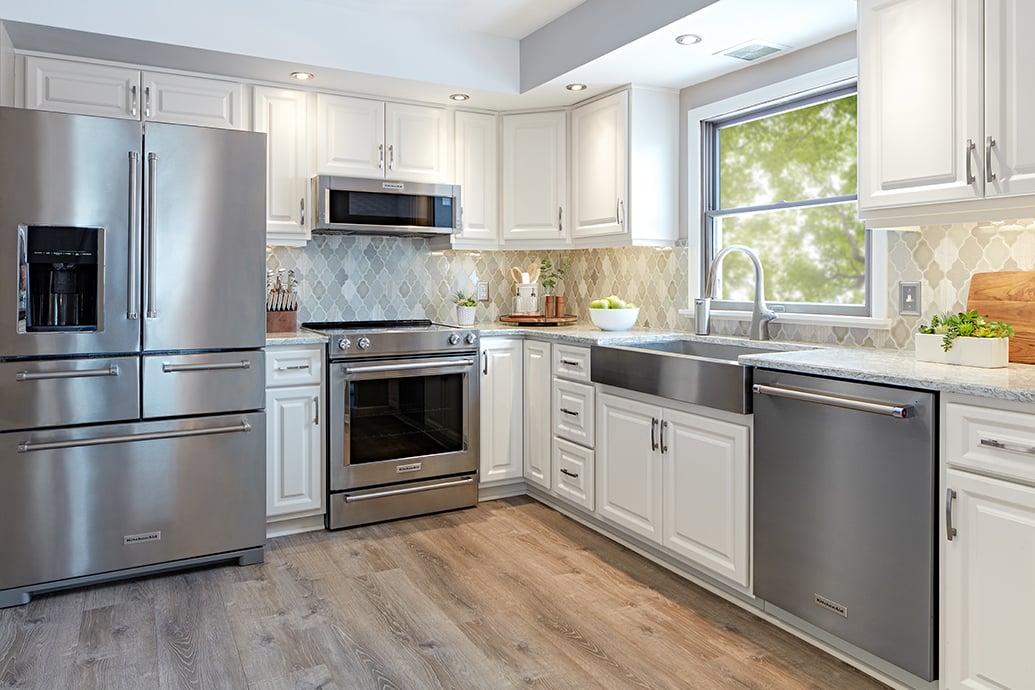 Going back some years, the traditional standard backsplash — also called a 4-inch backsplash — was all we knew. With the introduction of full backsplashes, new surface materials, and a grand scale of options from which to choose, paved the way for amazing new kitchen design ideas. That said, the traditional backsplash still holds a presence in many of today's kitchens for its look and use as a transitional component.
What Are the Pros of a 4-Inch Backsplash?
Why do some homeowners prefer a 4-inch backsplash? Here are some of the most common reason we hear:
A standard backsplash extends up high enough from the back of the countertop to a height that will protect the wall from most splatters or spills, without overwhelming the space.
The wall space between the top of the backsplash and the bottom of the upper cabinets can be used for small accent pieces or artwork.
From a budget standpoint, using less material on a backsplash will reduce costs. Smart decisions like this can help you stay on track with your budget, without lessening the impact of your kitchen design.
When crafted from matching countertop material, a 4-inch backsplash creates a clean and uniform look.
What Are the Cons of a 4-Inch Backsplash?
Some of the biggest reasons why homeowners do not choose a 4-inch backsplash include:

If colors are not well-coordinated between the backsplash and the wall, the distinction may appear disjointed and unmatched.
In some instances, the height of the backsplash can create a more closed-in feeling or make the kitchen appear small.
The wall is only protected up to 4-inches, and if there are messy cooks, liquids and grease can get on the wall above the backsplash (grease and paint don't mix).

If a 4-inch backsplash isn't properly grouted along its top edge, soapy water, sauce and oils can seep in between it and the wall behind.
How can you refresh a 4-inch backsplash?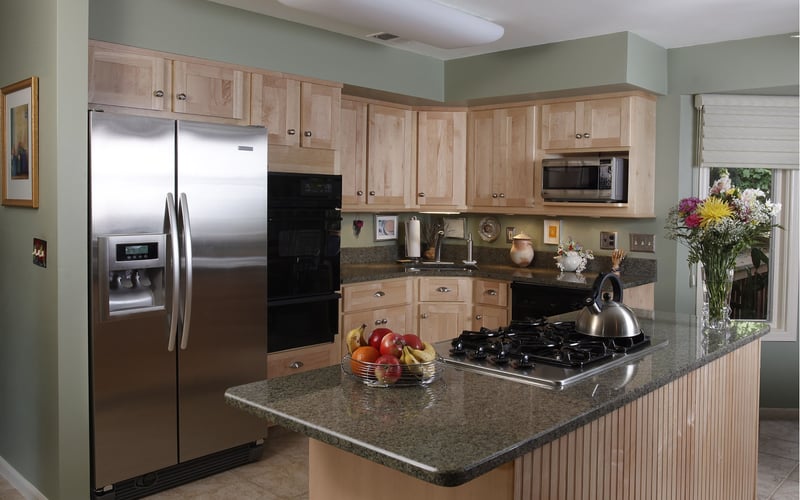 If you've decided that a 4-inch backsplash is the way to go, then you'll want it to reflect the updated look of your overall kitchen remodel. Here are some tips to help you achieve your goal.
Upgrade your countertop and backsplash
When you update the countertop surfaces with granite, quartz, a new solid surface, or laminate, you've taken the first step on your way to a fresh look. If your budget forces you to choose between a luxury countertop, or tile backsplash, you can choose the countertop, which often is a more sound investment. Add a matching 4-inch backsplash that looks lovely and is more cost-saving than a full-length one and works to modernize your entire space.
Stagger heights and mix-up backsplash materials
Start with a 4-inch backsplash using the same material as the counter, then add a different but complementing surface above it, one that leads up to the bottom of the cabinets. Materials such as Corian, glass, marble, ceramic, metal and stone will serve functionally, but also add interest as accent textures and colors. You can also stagger heights in your backsplash to mimic the lines created by the upper cabinets, to add geometric appeal. We would be remiss if we didn't give a shout-out to high-pressure laminate (HPL). The colors, textures, and styles have come a long way.
Be creative with backsplash materials
Get creative with backsplash colors and textures. Using non-traditional materials for your backsplash can be just the personalized touch you are looking for to complete your kitchen design. Tin tiles, stamped concrete and more are at your disposal. Ask your Kitchen Magic consultant to help you find the kitchen remodel, backsplash and all. Schedule your free in-home consultation today!.