The 4-inch backsplash had been a standard in general construction and prefabricated backsplash installations for many years. Then, the full tile backsplash took the kitchen design world by storm, and has held tight to the top position. Many homeowners today still consider the 4-inch backsplash to be the best option for new and remodeled kitchens, however it's received harsh criticism from kitchen designers, creating a negative stigma around this budget-friendly backsplash solution.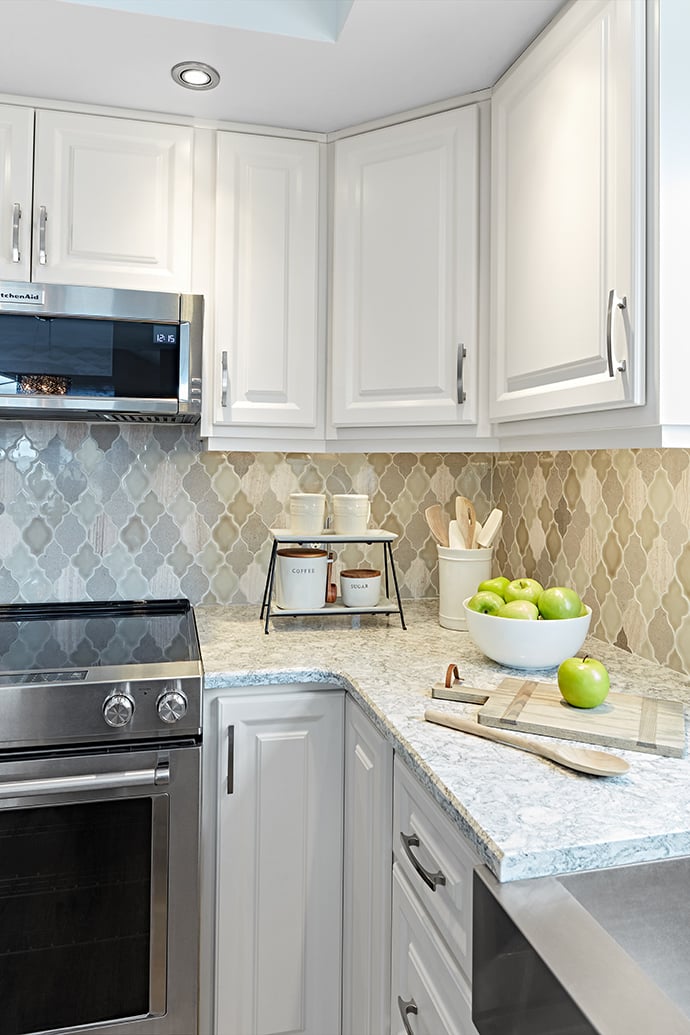 If you're not familiar with the concept, the 4-inch backsplash is an extension of the countertop that extends four inches, perpendicularly up the wall. It has both benefits and drawbacks, so before you select a backsplash for your upcoming kitchen remodeling project, consider these factors:
Pros
One of the main reasons homeowners still choose the 4-inch backsplash is cost. It is made of less material than a half- or full-height backsplash and costs less to fabricate and install.
It has a clean straight line design that complements many different types of kitchen themes.
When crafted from matching countertop material, it creates a clean and uniform look.
The 4-inch baksplash does provide protection for the walls, though perhaps not as much protection as a full backsplash can offer.
It can also make a large kitchen feel cozier. By covering part of the wall, its height alters perception and makes walls seem shorter and a ceiling seem lower.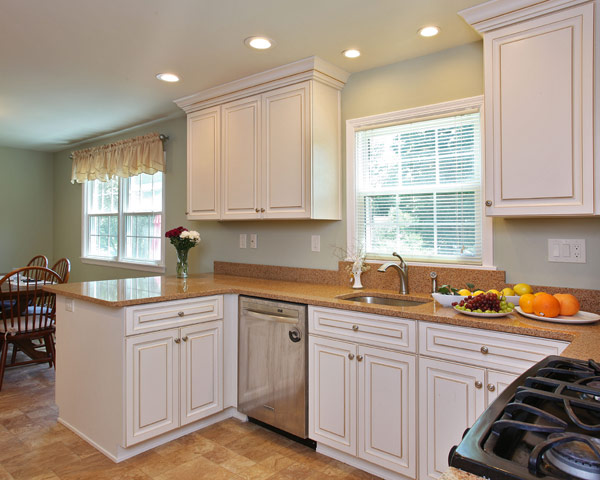 Cons
The biggest issue with the 4-inch backsplash is that its style can appear outdated.
Poor color matching can make it contrast too much with surrounding surfaces. Overly sharp or bright differences can also evoke older, non-retro themes.
It isn't high enough to prevent wall splashes when someone tall works near it.
If it doesn't have a bead of grout along its top edge, soapy water, sauce and oils can drip down the wall behind.
When crafted from matching countertop material, especially laminate, visitors to your home might think you ran out of material and couldn't afford more.
It can also make a small kitchen feel smaller because of skewed height perception.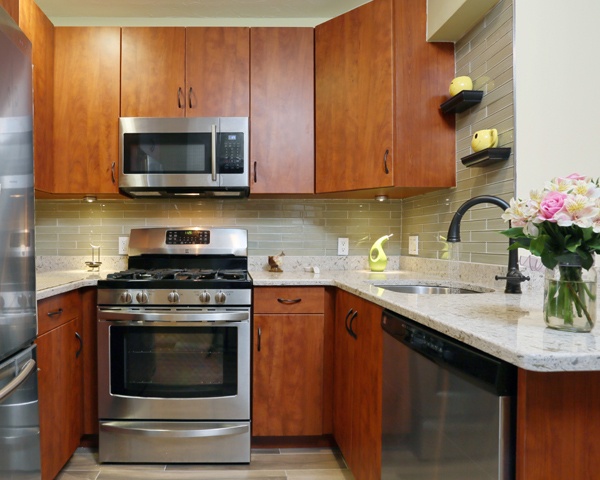 How can you modernize the 4-inch backsplash?
Worried that a 4-inch backsplash will look dated and thus defeat the purpose of a remodel? Au contraire! There are ways to contemporize 4-inch backsplashes, and stylishly incorporate them into your vision for your dream kitchen.
Go for the luxury countertop
If your budget forces you to choose between a luxury countertop, or tile backsplash—choose the countertop every time. It's a far more sound investment. Plus, a 4-inch backsplash looks lovely in natural stone surfaces like quartz and granite. The use of these materials will also go a long way in modernizing the shorter backsplash look.
Use staggered heights
As your budget allows, modernize the design by incorporating it into a half-, full-backsplash... or both! Create stylish visual interest, and frame the features of your kitchen, with the varied backsplash heights.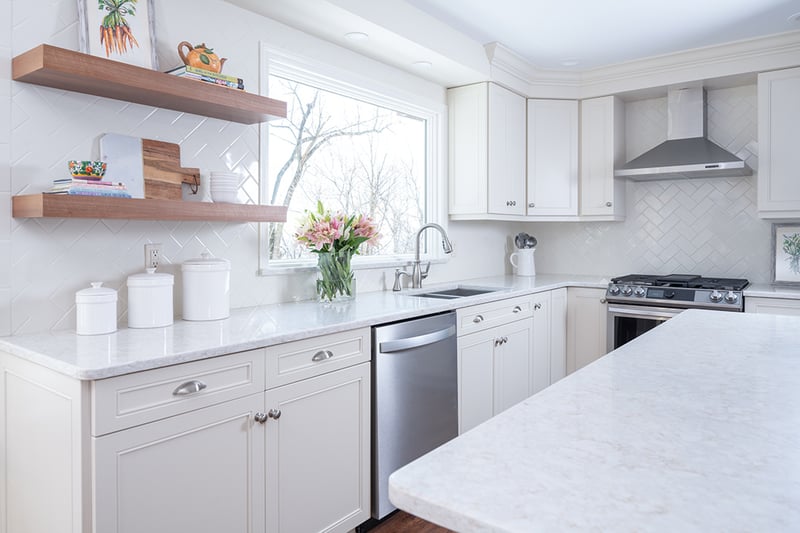 Switch materials
You can enjoy the best of both worlds by using the countertop material for the first four inches of your backsplash and a different material for the rest. You could go with tile, but some other budget-friendly options include corian, well-sealed shiplap, metal, vinyl, and there are other innovative materials out there that will instantly spice up a 4-inch backsplash.
Another alternative that many homeowner's find appealing is the routed corian backsplash. This backsplash solution includes a full slab of Corian, machine-routed to look like tile, that covers the entirety of the backsplash area. The incredible upsides of this alternative is that there is no grout, it's super easy to clean, and is extremely durable. While it will likely incur a higher price than a 4-inch backsplash, the routed Corian backsplash can be a more econimical option than traditional tile, depending on the dimensions and corian color selection.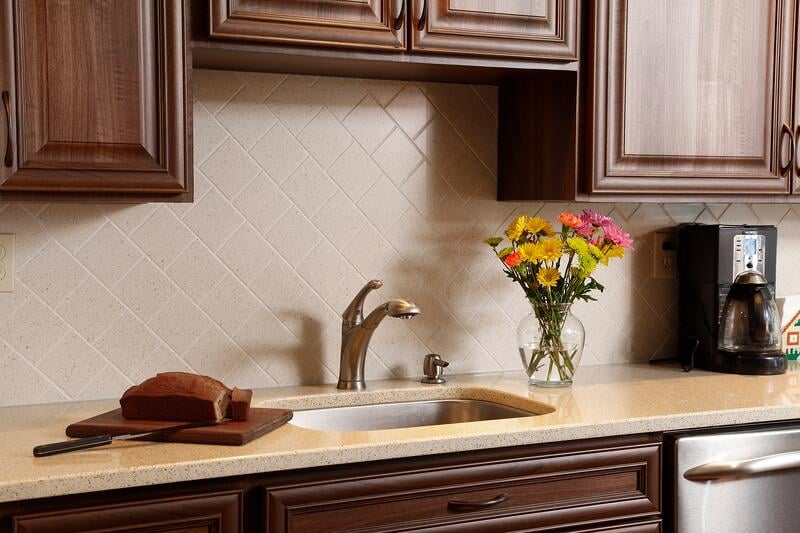 The 4-inch backsplash is a perfectly respectable choice for a financially saavy individual, and a budget-friendly kitchen remodel. It's not necessary to break the bank on a backsplash, in order to have a grand kitchen transformation—especially when new cabinets, countertops, and fixtures are also in order. Interested in more kitchen backsplash inspiration? Read our popular blog article: The Ultimate Guide to Backsplash Materials: Glass vs Ceramic vs Marble.
Ready to get started on your kitchen remodeling project? Schedule a free, no-obligation consultation with Kitchen Magic today!