If you thought decisions about cabinets and countertops were doozies, just wait until it's time to select a backsplash tile and pattern. You can find yourself in perpetual loops of indecision without the right guidance. This is especially true for those of you who aren't going for the one-color-basic-layout route.
10 Artful Patterns for Good ol' Ordinary Tiles
Fortunately, we've put together a list of 10 different, real-world backsplash patterns for inspiration. If the basic options just aren't doing it for you, these creative tile configurations may just be interesting enough to suit your fancy.
L-shapes on the subway
A simple L-Shaped pattern can be as subtle or as bold as you like. In this transitional Milwaukee kitchen, the same, neutral-colored subway tiles look more interesting with the alternating L-pattern. However, homeowners can easily use two-, three- or multi-colored tiles for a more bold effect.
Offset squares to diamonds
Another option is to use those square or subway tiles, but orient them on a diagonal - making a diamond - and then offsetting them a bit for added interest. This one here is an example from our Kitchen Magic Design Gallery.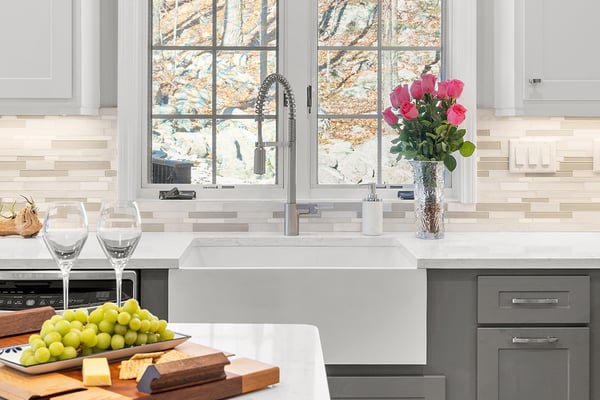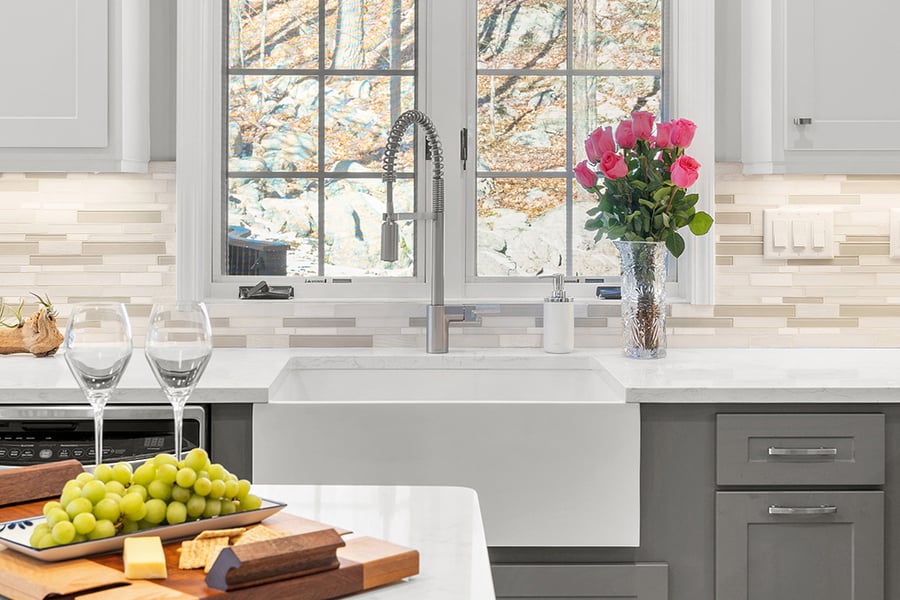 Go chevron bold
Chevron patterns have been an artisan favorite for millennia - and they continually find their way back into home designs and textiles as well. Check out this traditional Brentwood kitchen's backsplash, where beautiful blue-green tiles are on display using this herringbone version. A chevron layout makes a striking statement and works with both monochromatic or multi-colored tiles (as we shall see in an example below.)
Use a combination
You don't have to limit yourself to a single layout. In this traditional San Francisco kitchen, homeowners chose a linear installation for the bulk of their backsplash, and a vertical chevron pattern for the area behind the stovetop, framed by rounded trim pieces.
Same tiles, different sizes
Take a peek at this Mediterranean kitchen design and you can see how different sizes of the same tile can be laid to achieve a patterned effect - including the use of a focal point design. You can set the focal design once - or you can repeat it multiple times throughout the backsplash if desired...a great option for longer kitchen layouts to break up the monotony.
Incorporate squares & rectangles
Just as tiles of different sizes add interest, so do tiles with slightly different shapes. The combination of wider squares and narrower rectangles makes the backsplash in this contemporary kitchen design appear as a work of geometric art.
Tie a ribbon 'round your backsplash
When plain white subway tile feels a little bland, consider adding a band or two of smaller, coordinating tiles. In the Barnwood kitchen pictured below, the homeowners decided to do just that. The blend of neutrals in the thin ribbon of tiles picks up the cabinet and countertop colors, and ties the entire design together quite nicely.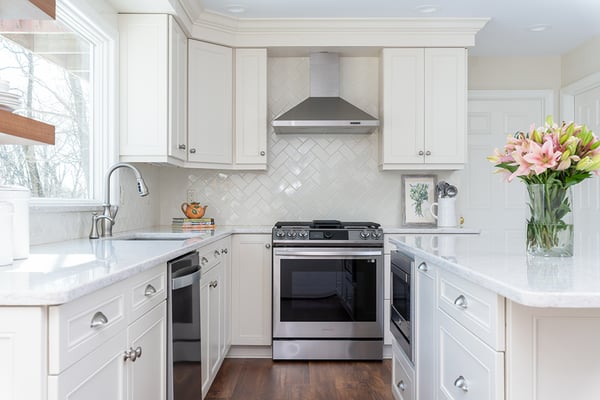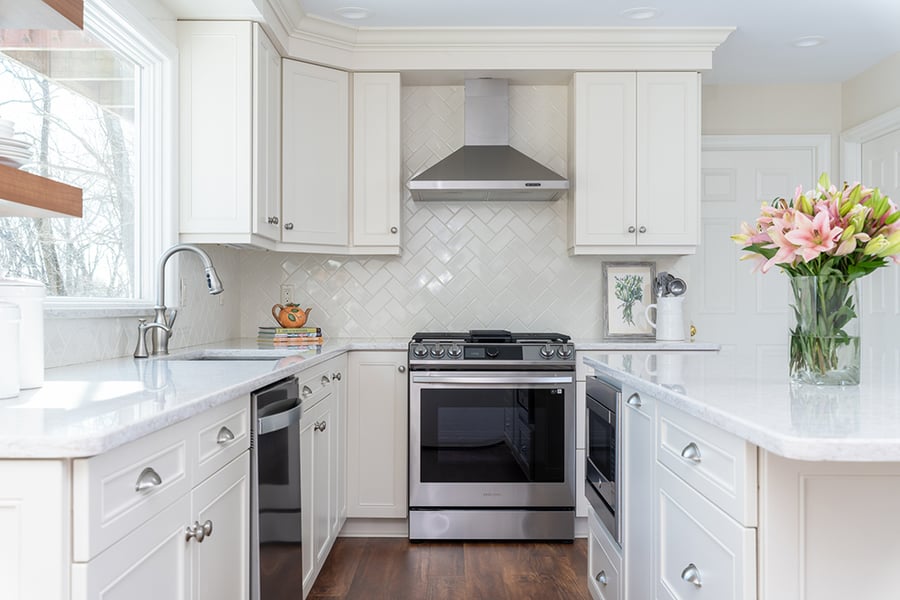 Pattern by color
While considering all of the many ways to lay backsplash tiles into patterns, remember that color can be just as impactful as shape. You can utilize different colored tiles of the same shape by organizing them into patterns by color. The Washington D.C. kitchen below uses earthy greens and browns in an eye-catching chevron pattern, which becomes the instant focal point for all who gaze upon it.
Think vertical rather than horizontal
Most of the time, homeowners associate backsplashes with a horizontal layout - and that's wise for those of you with smaller or narrower kitchens. However, with today's open concept kitchens, a vertical layout might be more attractive. We love the way the vertical tile layout in this modern Chicago kitchen adds a fluid, multi-tonal motion to the design.
Cascading color via scallops
Scallop tiles offer a realm of backsplash possibilities. Not the least of which is displayed in this contemporary Vancouver home, where white tiles dapple, intermingle, and then cascade into a sea of teal. Scallop tiles may not be considered an "ordinary" shape, but this concept could work with a variety of tile shapes. For example, square and vertical rectangular tiles would look great in this style of configuration.
Don't let backsplash indecision stymie your kitchen design. Come on by and chat with the design pros here at Kitchen Magic. We have all kinds of ideas for creative backsplashes that will look fabulous for years to come.