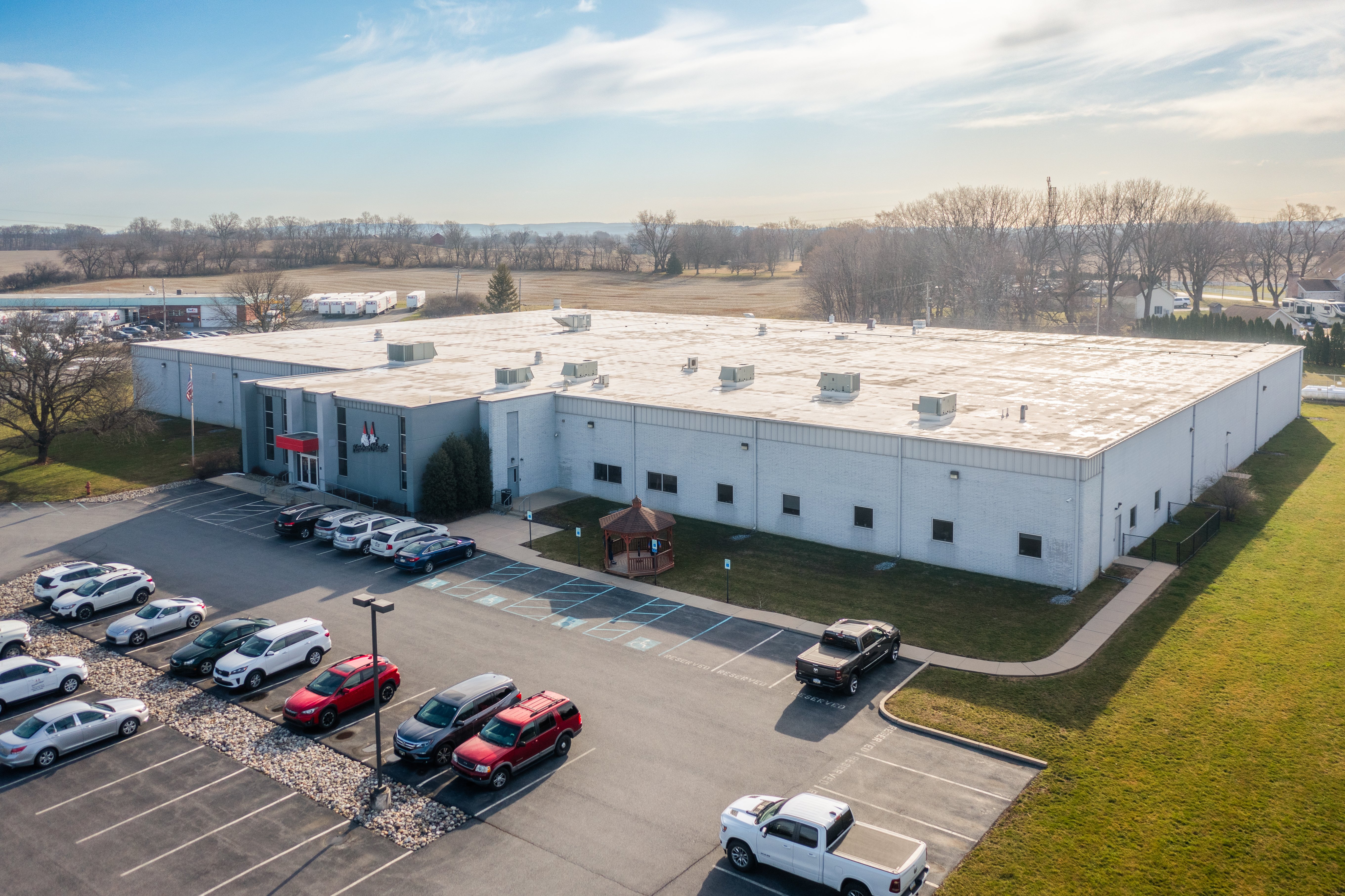 When choosing a company for your kitchen remodel, working with one that both manufactures and installs its own products has many benefits.
Kitchen Magic has been providing kitchen remodeling solutions for over 40 years. We're proud to give you a peek behind the scenes of why working directly with a proud USA Manufacturer who is right in your neck of the woods is a smart choice.
Streamlined Process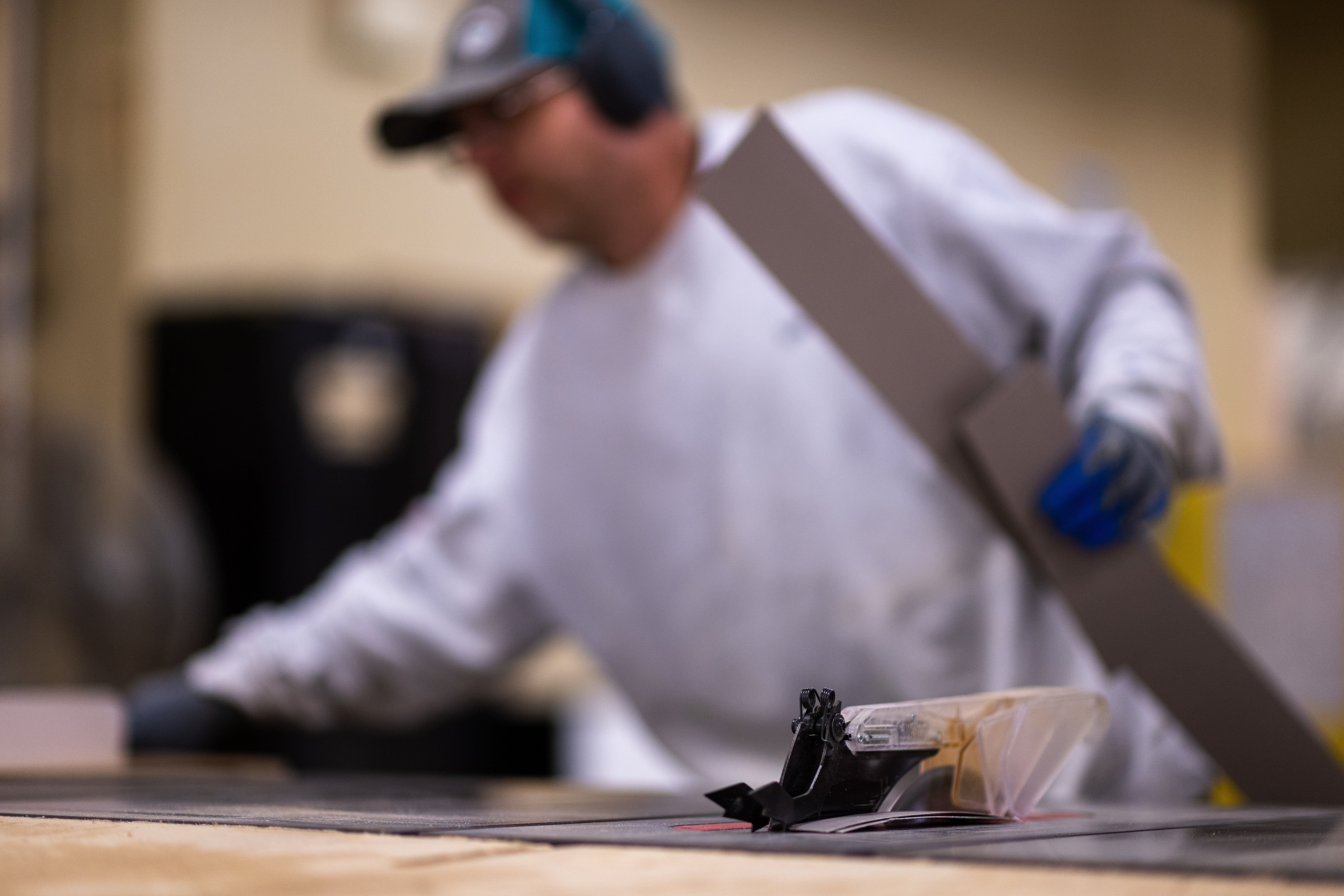 A project timeline depends on a multi-step process. Understanding that process can help you see the full picture of why a project that begins and ends with one source-from manufacturing to installation- is so important.
So, you may ask, how will my kitchen project get started?
First, of course we need the blueprint, or schematic for your kitchen remodel. Using a software called "CabinetVision", a draftsman will visit your home and take exact, detailed measurements of your kitchen and confirm all of your selections. From there a list of materials that will be needed to complete your project can be created. From this point, your blueprint will flow to several specialists. Project review ensures the product and project details are 100% complete and accurate. Then, on to purchasing to order the materials. From here, your order moves to processing, where it is uploaded to our manufacturing software and fabrication equipment. At this point, your custom order will arrive in manufacturing for production and fabrication.
Over the years, our processes have been continually refined to prioritize the safety of our factory employees (our 'gnomes'), and create workflows that are safe, efficient and ensure consistency and quality. Doing so has allowed our factory to schedule, complete, and deliver as many as 40 kitchens per week.
A Day in the Life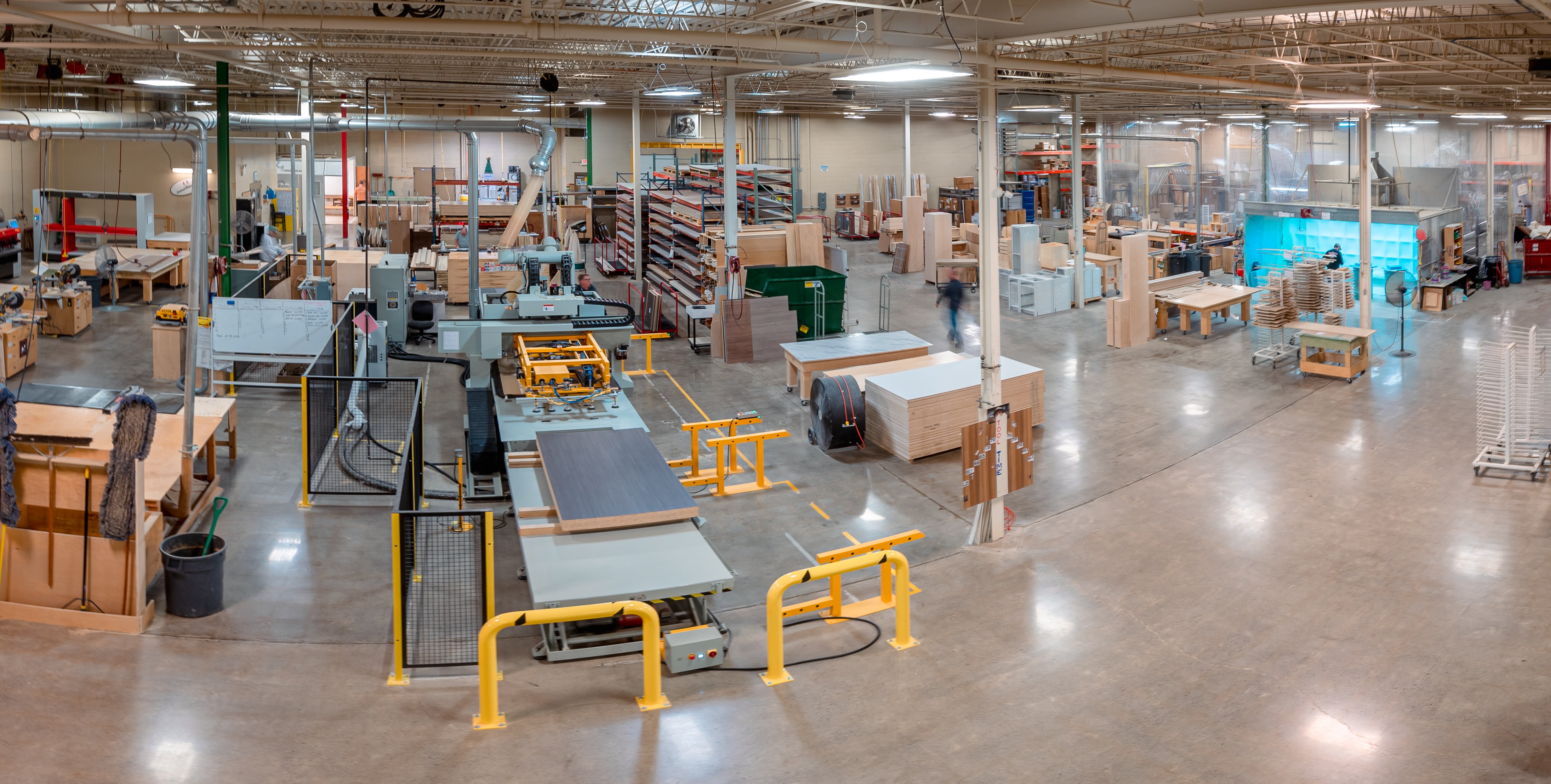 Here at Kitchen Magic, our manufacturing is phased into four distinct processes: doors, drawers, cabinets, and refacing. An array of equipment is used, from door presses to CNC machines to state of the art ventilation that enables our manufacturing practices to stay up-to-date in this industry. It's important to note that one of the biggest differences with a local manufacturer versus a giant stock cabinet manufacturer is all custom products and expertise. Our craftspeople are masters in their trade and focused on delivering exceptional quality. Pride in our work and the ability to deliver a unique, custom solution makes all the difference.
So, with that in mind, what does the manufacturing process look like at Kitchen Magic? Let's take a closer look at two of our main processes: cabinetry and doors to answer that question.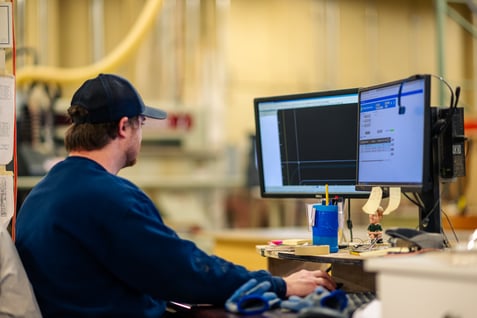 Cabinetry: Every dream kitchen starts the same way, on the chopping block. And our chopping block is a CNC Machine, a fancy word for a piece of equipment that is able to be programmed to cut precise measurements on wood boards to meet your project's specifications. From here, cabinetry can take two routes. We offer two different all-new cabinetry brands here - Classic and Barwen, and each require their own unique attention. For our Classic Line, the boards are cut on the CNC and assembled, keeping with a traditional all-wood assembly. Our Barwen line is our more affordable tier. After being cut, the boards are edge-banded which helps finish the edges of the cabinetry, and then assembled. Our classic line uses ¾" American-Made furniture grade plywood while our Barwen line uses ¾" two-sided melamine which provides homeowners with sturdy, high quality and durable cabinetry, while our competitors prefer ½" or 5/8", respectively.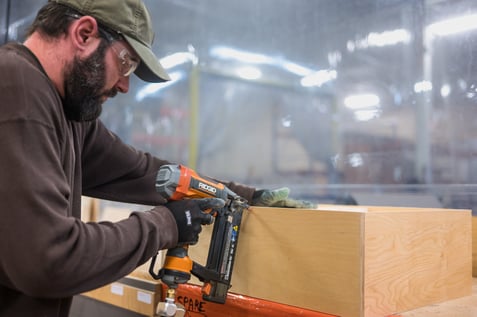 Doors: The most used part of cabinetry, doors go through many steps to ensure they're dream kitchen ready. Also starting their life as a solid board, they're cut on a CNC Machine and thermoformed, which is a process of applying a vinyl laminate to the furniture grade core of your cabinet door. After this step, the doors are cut out of the thermoformed laminate, wiped down, quality checked, and set up for delivery.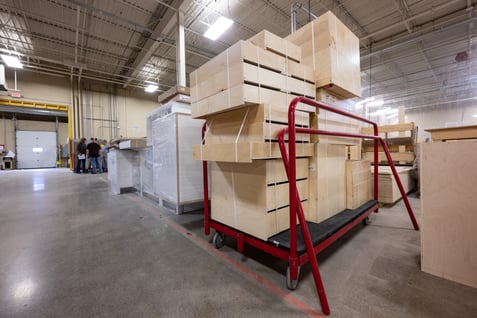 And while cabinetry and doors require the most steps, let's hear it for some notable mentions: drawers and refacing. Drawers are pre-cut, assembled, and palletized for shipment all in the same area for an efficient workflow. On the flip side, refacing is always done in the customer's home which means that the laminate that would be applied to your pre-existing kitchen and would simply be oversize cut here in our facility before being shipped out ahead of an installer arriving at your home.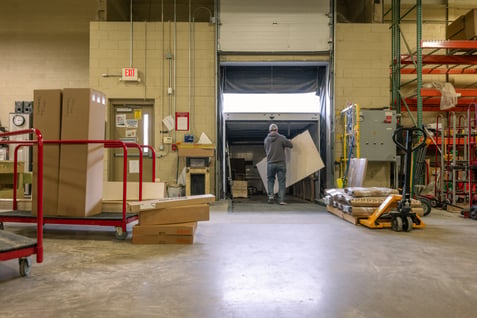 Considering the Benefits
Now that you may have a better idea of what goes into the manufacturing process here at Kitchen Magic, you may be curious…what does that mean for your kitchen remodel? So, let's take a deeper look at some benefits you have when choosing to work with a local business that can complete every step of your project in-house.
You're The Priority:

When going with a bigger box store, there's always the possibility that your project will get lost in the mix. It's worth noting that these stores have a formula that works. They turnover projects quickly and efficiently, but their volume of projects is also significantly larger. Going local means a business, at any given time, has a more modest number of projects in the works which allows your project to be a top priority. From the moment your packet goes through processing to manufacturing, your project is assigned a dedicated team that will oversee every aspect of your project. Quality control is conducted in between every major step and we offer a flexibility and personalization to your project that you might not get with bigger businesses. As we manufacture in-house, it's easier for us to make more unique accommodations to your project's needs.

Quick Timeline/Project Turnaround:

The one game no one likes to play is the waiting game. And the reality is that local manufacturers afford you the luxury of getting your project done in a more

reasonable

timeline.

Taking into

consideration

everything from the draftsperson going out to your home to delivery and installation, new kitchens can be completed within 6-

8 weeks

and refaced kitchens can be completed within 3-4 weeks.

And when your project is a priority, that means

you'll

be able to enjoy your dream kitchen

in no time.

Mistakes Happen:

It's always important to take into consideration room for error or unforeseen circumstances with your project.

This can mean anything from a door

not quite lining

up or any changes that occur during your timeline. One of the benefits of going with a local manufacturer is the ability to have a quick turnaround to remedy an issue as soon as possible, which can be as quickly as the next day. Bigger companies that may be working on many projects at once or ship their materials from overseas may not be able to remedy situations that

quickly

, which could leave you waiting weeks for what could be a quick fix otherwise.

Environmentally and Locally Aligned:

At Kitchen Magic, waste reduction is a top priority. Especially when working with materials that are tough to recycle - research has been meticulously conducted on how we can make a positive impact, not only on the planet but our community as well. Programming our equipment to cut our boards in a specific, precise way keeps excess wood

at

a minimum.

And

any wood pieces that we do have left over, we see as an opportunity to give back locally and donate to local schools to be used for any kind of projects as a way to spark some creativity but also raise awareness for the work we do.

Valuing The Work:

It all starts here in our

home-factory

.

From the first board being cut to the day the project is sent out for delivery, we value a sense of family at Kitchen Magic.

With a

team-oriented

approach, we w

or

k

to cross-train our shop's workers and meld them into

masters of

their craft

;

their work behind the scenes of a remodel makes it all possible. And safety always has been and always will be a top priority.

Through OSHA,

we're

proud to have upheld the SHARP status in our shop for many years.

From instituting safety measures and protocols for every machine to how everyone moves around the shop, we keep a safety-first mindset to take care of our family so we can take care o

f

yours

, delivering you your dream kitchen.



Making Dreams a Reality
Working with a kitchen remodeling company with in-house manufacturing affords a personalized experience where your project is cared for at every step of the process. Interesting in learning more about what Kitchen Magic could bring to your next remodel? Kitchen Magic has a team of the finest kitchen designers and offers a wide range of custom-fit solutions and installation services, including cabinet refacing, countertops, flooring, and backsplashes options for your kitchen space. Get in touch with us at 866-525-7999 or schedule a free design consultation here!