In some ways, kitchens haven't changed all that much: walls, floor, ceiling and stove. In other ways, they've changed a whole bunch: walls, floor, ceiling, stove, microwave, refrigerator,built-in coffee station, plumbed sink with hot and cold water as well as various spraying options, etc. While most of us could cook a meal just fine in the former (assuming you know how to stoke a wood or coal fire and can bake without any thermometer or temperature guages) we sure are glad we can deck out our kitchens in the latter style.
Use a Little Kitchen Magic to Travel Back in Time
and View 100 Years of Kitchen Evolution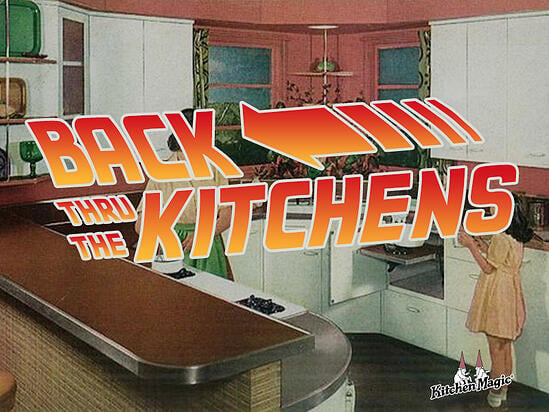 It's fun to look at what was considered "the next best thing" in kitchen design back at the turn of the century and see how far we've come. Of course, we know the wisest approach is to recognize that our great-great-grandchildren will look back someday and thinkour"modern" kitchenswere oh-so-lacking.
For all intents and purposes, we're talking about middle-class kitchens as our starting point.
Kitchens Prior to the 1940s - Hope You Like Wood Finishes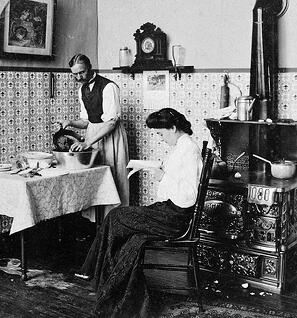 The American kitchen, prior to the 40s and Post WWII industrialization, meant a lot of wood. Cabinets were wood, floors were wood, countertops were wood and even your sink (aka a wood tub in many cases) and dishware were often made from wood. There's a good chance you built them yourself. In most cases, the eat-in kitchen was the norm and formal dining rooms were a sign of wealth.
The main reason for this being that your stove often doubled as the home's main heat source so you wanted to have one open cooking/eating/living area where everyone could be comfortable. Consider that reliable plumbing and electricity wasn't available to most Americans until well into the 20th century and you can see that kitchen design was pretty rudimentary at this point.
Kitchens in the 40s & 50s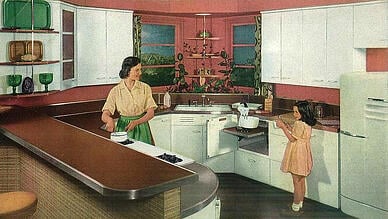 Regardless of your views on war and peace, war has been a major driver of innovation and industrialization world-wide, and American kitchens are no exception. By the post-war era, America was glamorous and everyone wanted a slice of the glittery pie. The return of soldiers on the home front, and the beginnings of what is now referred to as the Baby Boomer generation, meant women were spending more time in the kitchen again.
During this era, the American kitchen was revolutionized. Yourtypical, early post-war kitchenhad a gas cooker with hot plates, a refrigerator (say good-bye to the ice box), prefabricated cabinets and hardsurface countertops, and a stainless steel sink. By the 1950's things just got fancier.Kitchens also got more colorfulbecause synthetic materials were easier to maintain, and modernized appliances meant women had more time to care about kitchen design and aesthetics.
Kitchens in the 60s & 70s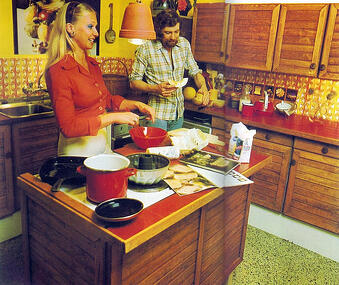 Now, we were pretty full of ourselves. The economy was still booming and innovative designs, including kitchen appliances, were moving forward at a rapid pace. Everybody who was anybodybuilt their kitchen for entertaining. Colors and patterns abounded and now there was a much larger delineation between the kitchen and the living room, even if there was an open floor plan.
While we can laugh at thefixtures and finishes used back then(don't laugh too hard, though, sinceretro kitchens are back in style), the roots of contemporary kitchen design - like the work triangle, islands, raised bars - were born of this era.
Kitchens in the 80s & 90s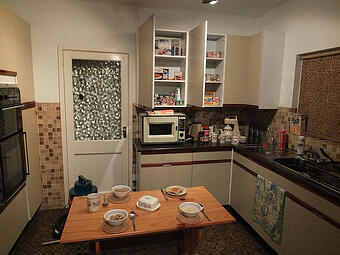 Here'sthe era we're all running away from now. Kitchens of the 80s and 90s were all about oak cabinets, frilly window treatments andcolor palates that are now considered gauche. In truth, the bones of the 1980s and 90s kitchens aren't all that much different than the kitchens we design today, it's the fixtures and color schemes that have changed the most.
Kitchens, This Century, Thus Far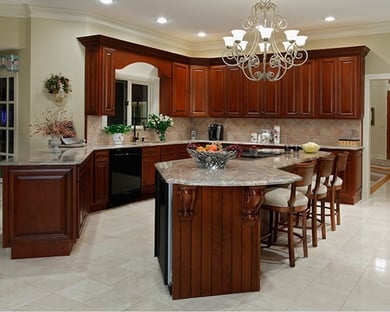 Notice we said, "thus far?" We know that the kitchens of 2014 will differ in style from the kitchens of 2034, but our goal is always to design the most aesthetically pleasing and functional kitchens possible for our clients, and we certainly hope they're timeless enough to last a while.
Traditional kitchens will have a few more frills, modern kitchens are all about clean lines and streamlined finishes and transitional designs fall somewhere in the middle. We try to take the best of what the past offers us and blend it with the latest and greatest innovations of the technological era. Where does your kitchen fit on the Kitchen Design Timeline? Is it time for an update? Contact the design experts at Kitchen Magic and we'll be happy to bring it into the 21st century for you.