When Barbara P. of Parlin in Middlesex County, NJ, wanted to update her dated '80s kitchen look (below), she went to the Internet, where she found some kitchen transformation pictures in the Kitchen Magic gallery. By refacing her cabinets, she found a low-cost alternative to a custom kitchen that gave her a fresh, updated look (above) for a fraction of what a full kitchen remodel would have cost.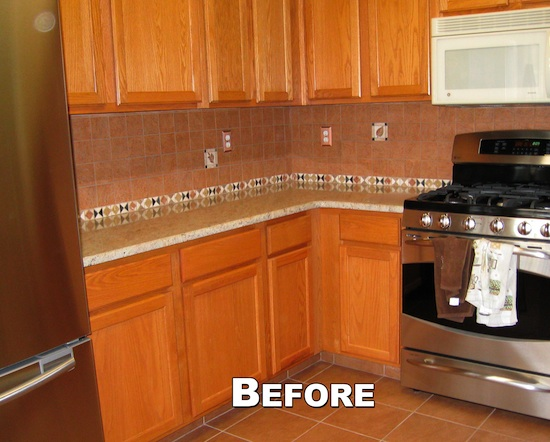 The original cabinet color was light blonde and the doors had no hardware. This had been a popular look in the mid-1980s, but now it seemed out of date.
Kitchen Magic left the cabinet structures, which were all still sound, in place. We bonded 1/4-inch plywood to the cabinet frames and then installed an outside layer of veneer in Classic Cherry. We then gave Barbara new hinges, drawers, drawer fronts and cabinet doors in Prestige Square style with Classic Cherry finish. As with all Kitchen Magic jobs, the work was completed on consecutive days by our own certified craftspeople, to minimize the disruption to the household.
The result was a kitchen that looks brand new even though it retains the same cabinets, countertop and flooring. And not only was the refacing job kind to Barbara's pocketbook, but it was also kind to the environment, since the jobs used just a fraction of the natural resources a full kitchen remodeling would, and sent less scrap to the landfill.