You know the feeling. You walk into a friend's old rental house, pass by their kitchen, and inwardly gasp as you notice their faux-wood Formica kitchen countertops. "My goodness," you think, "those are so 80's ago!"

While it may have seemed that Formica had come and gone, the same way we thought skinny jeans had, it turns out that Wilsonart, Formica, and other laminate countertop manufacturers have kept on trucking. Their designers have continued to transform their products into hip, attractive, and totally affordable kitchen countertops.

If you're dismayed by the top dollar prices of today's high-end finishes, like Corian and granite slab, worry no more. You can find a laminate countertop that is durable, easy to maintain, and will surprise you with it's visual appeal. Check out these products and tell us what you think.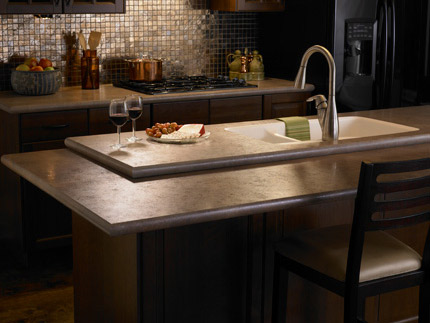 New Laminate Countertops Might Surprise You
As time marches on, so does technology. Along with all those technological advances comes the ability for Formica and Wilsonart to manufacture products that replicates some of your favorite higher end surfaces.
Wilsonart has created a wealth of products that mimic natural stone. Would you die for a granite slab countertop, but your partner would die if you drained the kids college funds to do it? Don't worry! Patterns like the Wilsonart HD River Gemstone are the answer to your prayers.
Were you thinking of something a little more exotic? How about their Custom Laminate Retro Prom Pattern. That will knock your socks off. And we would love to tour your home if you are able to make that pattern work!

If you're in the market for something subtle, yet classy, that can go with just about anything, take a peek into Formica's new laminate countertop designs. We love Frosted Leaves 7334. It's a gorgeous pattern, full of warm earth tones and will compliment any cabinet choice. You can also go with a tried and true solid color Formica kitchen countertop such as Graphite or Fossil for a more contemporary look.
Laminate Countertops Are Not Out of Style
We can show you hundreds of laminate countertops that will make your kitchen proud. So dig out an old pair of skinny jeans, download your favorite 80's MP3s, and head on over to our show room. To steal a famous quote: Laminate countertops are like a fine wine, they just get better with age. The new - and affordable - Wilsonart and Formica kitchen countertops are no exception!