Autumn brings crisp air, balmy breezes, and delightful aromas from spicy cinnamon to warm vanilla. While you're embracing all of the cozy colors and textures this season has to offer, check out our easy Thanksgiving decor ideas that are sure to amaze your guests.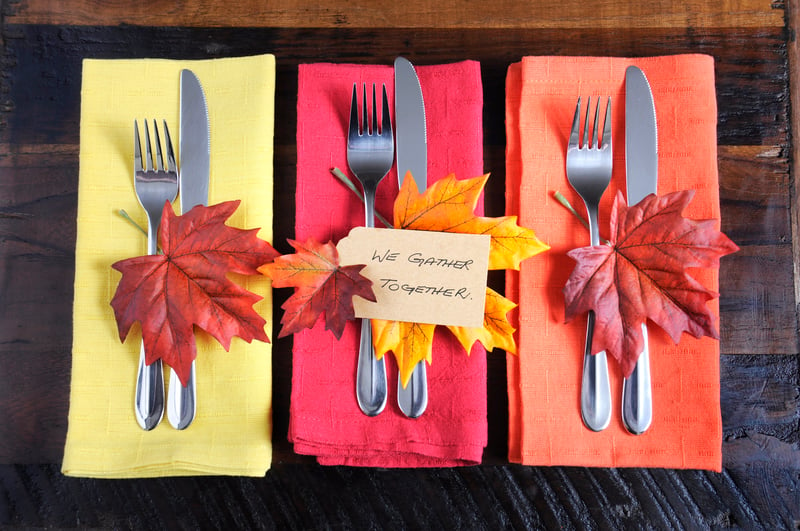 Fun and Festive Thanksgiving Decorations
Whether your personal style is traditional, rustic, contemporary or anything in between, our gnomes at Kitchen Magic have simple, DIY decorating ideas that not only look great, but will also save you time so you can enjoy Thanksgiving this year, as well as time with your guests.
Deck Your Cabinet Doors
If you're a fan of functional decor, you'll love this idea from the blog It All Started With Paint. This is a great way to dress up your cabinet doors. Our resident experts at Kitchen Magic do recommend using adhesives that can be easily removed, such as mounting putty or painter's tape, to avoid any damage.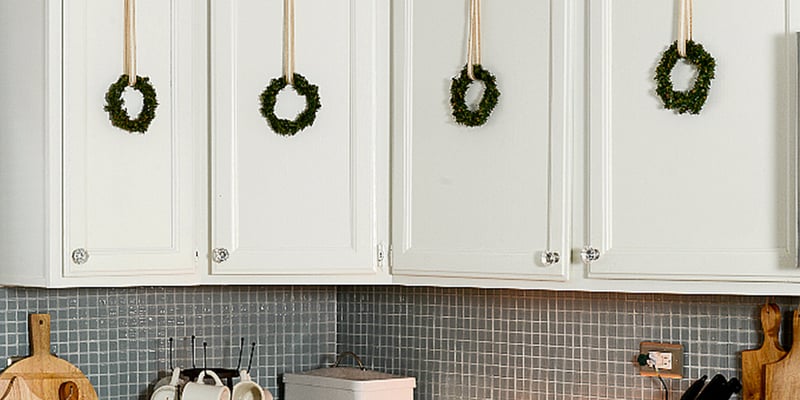 Go Natural
Here's an easy tip for anyone who loves the outdoors, or that's trying to achieve a more natural, rustic look for their Thanksgiving decorations.
"Use small branches, pine cones, leaves and mini pumpkins to decorate your dining room table, kitchen island or other areas to add a seasonal touch. You can even use leaves as place cards for your guests."

—Kelly D., Kitchen Magic Marketing Coordinator
According to the crafting blog Thriftyfun.com, you should make sure any branches, boughs or cones you bring in from nature are not dripping sap in your house or on your furniture. Some people recommend dipping cut ends of branches in candle wax to seal them, or making sure you give these items time to dry after been cut or collected from the great outdoors. Others simply make sure that these items are displayed on decorative plates or platters. Artificial ones are also an option to avoid sap.

Play With Your Food
Don't get too wrapped up in decorating your home when there's plenty of food to be dressed up as well!
"Incorporate colors of the season, for example orange, into your menu with festive items for everyone like cupcakes, clementine "pumpkins" and specialty cocktails."

—Linda F., Kitchen Magic Press Relations Manager

Warm Up With Lights
There are plenty of things to think about, but don't forget about lighting. Adding light in unexpected places can make your space more inviting and add a sense of warmth.
"Set the mood for your guests by using LED candles and string lights around the room, on tables, and even as accents on walls."

—Briana H., Kitchen Magic Field Marketing Specialist


Upcycle Pumpkins
If you're looking for an affordable and eco-friendly way to decorate, look no further than the pumpkins you already have outside of your front door!
"It's hard sometimes for me to find flower arrangements for Thanksgiving that have the colors I want. So, I carve out fresh pumpkins, stuff them with floral foam and then display seasonal bouquets of using flowers I like. They look great on the table or kitchen island."

—Margo T., Kitchen Magic Internet Marketing Manager

Appeal to All Your Senses
We sometimes forget how important our sense of smell is to our experiences. This is a simple, all-natural way to instantly add holiday cheer to your home from one of our own.
"Make a quick stovetop potpourri by simmering aromatics of your choice in a small pot with some water. Whatever is in your pantry will work including cinnamon, cloves, star anise, vanilla, fresh ginger, rosemary or even pine from outside! The aromas fill your home making it extra cozy and inviting."

—Alex D., Kitchen Magic Brand Manager

Bonus Tip: Get Organized Early
Try as you might, there's always a few items that just can't be stored away until the very last minute. For instance, your dining room table or kitchen countertop may house your collection of mail. If so, you'll love this tip to quickly move clutter out of the way, while still keeping everything in its place.
"To move items off of a table, simply stack everything in the center and wrap a table cloth around the stack to create a bundle. Then, you can easily move the bundle out of the way and unpack later in half the time!"

—Daniel P., Kitchen Magic Design Consultant
Looking for more inspiration? Check out our remodeled kitchens gallery. You don't have to just imagine how a kitchen transformation can change your life, either. Contact us today for a free in-home consultation.