Did you know there are at least 14 religious holidays celebrated in the month of December? No matter which holiday you're having guests over for this year, one nice-touch you can provide as host is a festive table setting. It may seem obvious or simple, but choosing a thoughtful table setting can effectively set the mood and get your loved ones right into the holiday spirit!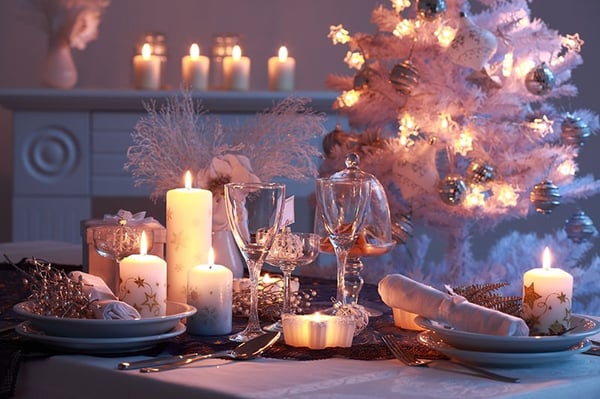 Simple Yet Stylish Holiday Table Settings
These days, with Pinterest and Instagram providing unending feeds of decor and craft inspiration, many hosts feel pressured to "up their game" when it comes to entertaining and decorating their home for the holidays. Be it Christmas Eve, the 8th night of Hanukkah, or any of the other December festivities to celebrate, we've got you covered in the table setting department! Read on for 5 stylish setting ideas that you can easily implement for your own dining table.
And, for all other things holiday kitchen decor, be sure to give Tips For Adding Cheer to Your Kitchen This Holiday Season a quick read, too.
1. Tasteful Red & White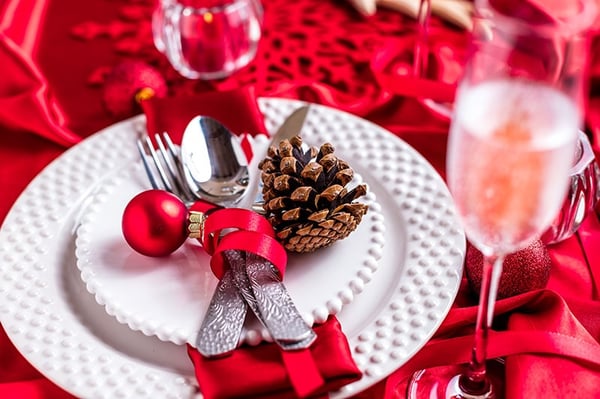 This simple and clean table setting is easy—and affordable—to achieve in no time. All you need are some plain, white china, simple silverware, a red and white table-runner and/or tablecloth, and some votive candles (most of which can be obtained at your local dollar store).
You can definitely take the red-and-white look to the next level, too. Above, the concept is held together with the addition of some red ribbon, beaded garlands, reindeer accents, and even little mini-terrariums to top off each individual setting. The bounty of votive candles creates a homey glow, and the table is given a fun and festive touch with bright green placemats.
2. Golden Elegance
For those of us who will have the honor of hosting a more mature holiday party this season, a version of this golden elegance table setting is a marvelous option. The key to re-creating this look with your own flair is going to be ornaments, lights or candles, and unique decorative pieces like the large vase above, or the golden tree-branch below. A large, over-the-top centerpiece brings aesthetic-drama to the feast, and makes for great conversation.
The individual table settings are uncomplicated; your best china (preferably gold accented), plenty of crystal glassware, and if you have gold flatware—this is it's time to shine! Each plate can be topped off with a unique item, a small tree-shaped ornament, or these neat Hanukkah candles, they can even double as a beautiful gift for your guests.
3. Rustic & Eclectic Gatherings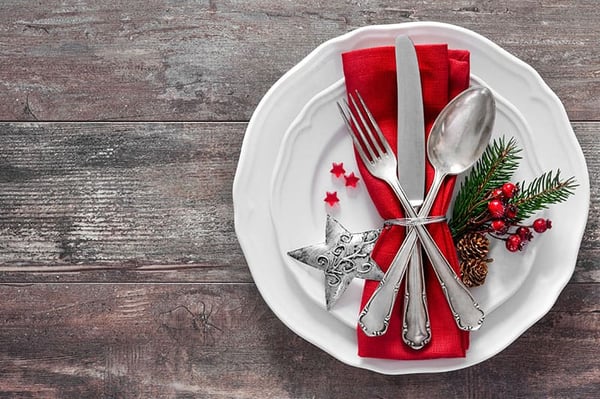 Whether you're spending the holidays in a warm environment, or you'd just like to breathe some fresh air into this (arguably) somewhat stuffy season, a rustic table setting like this one is a great idea—and very on-trend! Think plain, white tablecloths that can be dressed up with a simple wooden board, vintage hurricanes or mason jars filled with white and light green flowers, maybe a red ribbon or two, and some small votives with tea light candles.
For those of you who want a more modern approach to holidays, this angle is probably appealing to you. Have fun and get eclectic with it, too. The stylish table setting above makes use of different seating options, and manages to somehow marry upscale and rustic in a very classy way.
4. Fun for the Kids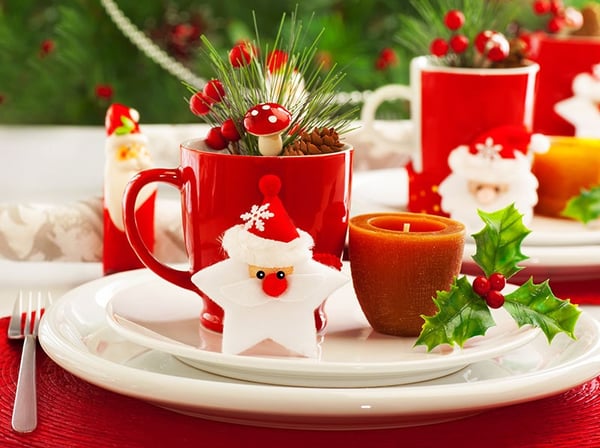 Most of the table settings we've seen so far are tailored for a more adult guest list, but the most popular December holidays are really for those who are are young in years, as well as young at heart!
While adult table settings tend to stick to a conservative color palate of two or three colors, children's table settings are all about the color. A bright tablecloth sets the stage for fun and festive plates and mugs—but a fun, colorful centerpiece (i.e. the candy tower above) can do the trick, as well.
Bonus Tip: Placemats are a good idea for kid's tables, and an even better idea is to make them a craft activity! The children can be entertained by making their own placemats with just some foam, scissors, glue and rhinestones or holiday themed scrap-booking supplies.
5. An Intimate Party
The holidays are a special time for family to come together and enjoy time at the table. Regardless of the size of your gathering, each table setting deserves to be beautiful and special.
Table settings for intimate gatherings should consist of 4-6 place settings that are both simple and tasteful. Accent your china with linens that bring in your chosen holiday colors, then bring in a textured or fabric placemats and simple glassware. Natural elements like boughs of holly, natural branches, or fresh flowers work nicely in these types of settings.
We wish you the very best of luck in your holiday hosting endeavors this year! May this article bring you helpful inspiration as you create a beautiful space to share with your loved ones.