Think of color as a tool that you can use in your kitchen design to achieve not only the style you desire, but also the mood you want to feel. Over the past few decades, the idea of color psychology has gained traction, and scientists have found that even though our perceptions of colors may be subjective, there are some colors that have universal meanings and effects on us.
Regardless if you have a dull kitchen that could use a boost of energy, or a hectic kitchen that desperately needs some tranquility, painting a wall or adding a decorative pop of color can mean all the difference – especially in terms of your sanity!
This is exactly why we talked to a professional kitchen remodeling company in Bucks County, and talked about eight colors you can use in your kitchen to create just the right ambiance.
How do you choose kitchen colors that are psychologically pleasing?
Selecting the perfect kitchen colors involves more than just personal taste and design trends - it's also about understanding the psychological impact of colors. Colors have the power to influence our moods and behaviors, so it's important to consider how they affect your kitchen design.
Are you well red?
Deep red ignites passion. Use this hue to overcome emotional blockages, or when you feel stuck in a rut. It can be helpful if you are having trouble expressing yourself, and can even liven up the libido! If you're feeling burnt out on cooking, for example, you could add some darker red decor to your kitchen to reinvigorate your culinary pursuits.
What do you think of pink?
Pink is connected to the heart. It is a soothing color that promotes love, tenderness, and appreciation for beauty. It can be a very comforting color, and works great in the capacity of increasing a person's willingness to be receptive and sympathetic. Flowers, throw rugs, and other decorative accents are wonderful ways to tastefully integrate pink into any kitchen.
Are you glad orange made the list?
Orange is the color of confidence, laughter and celebration. This vibrant hue can add youthful exuberance to your life, and literally make you feel a little younger. Orange also benefits your ability to confidently express yourself. If your kitchen isn't inspiring positivity in you and your family's lives, then add a warm terracotta colored wall, or perhaps some wall art, or just a nice orange vase can help to encourage more joyful and pleasant social interactions in the kitchen.
Yellow, is it me your looking for?
Yellow is a conversation stimulating color. It's known for bringing clarity to the mind, as well as enhancing intelligence. The kitchen is an essential social space of the home, so yellow makes a great accent color for when you want to encourage thought provoking kitchen conversations. This is another color that is best when used in subtle applications, as an excess of yellow has the potential to cause eye exhaustion and/or feelings of frustration. Similar to red, a good practice is to combine some cooler, more tranquil colors when decorating with yellow.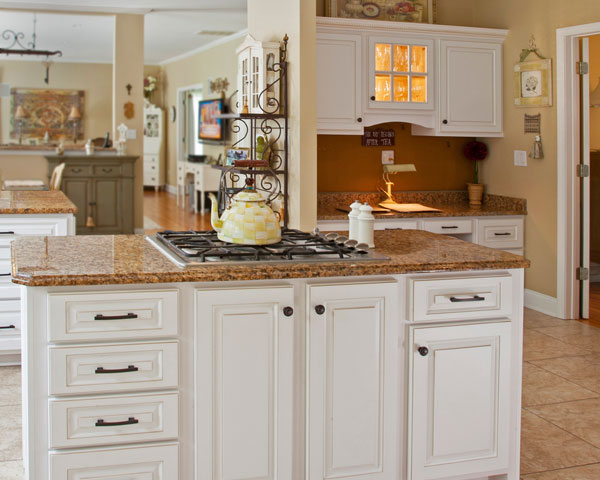 Why not go green?
Green evokes thoughts of nature, springtime, new beginnings, and wealth. It correlates the fertility of nature with the riches of life – in terms of finance, as well as in terms of general prosperity. Breathe new life into your kitchen by incorporating this popular accent color, in one of its many shades.
In darker hues, like forest or hunter, green can also be healing to both the body and the mind. It inspires stability, nourishment, and balance – helping your body to heal using its own immune system and autonomic abilities. It's a great idea to use dark green as an accent color in your kitchen if you or anyone in your family is struggling with a health problem.
Ready to take a dip into aqua?
Peace, tranquility, and trust are inspired by the color aqua. When you want to bring calm to a busy kitchen, use aqua accents around the room or on the walls. It will naturally help you and your family experience more peace and relaxation in your lives. Not to mention, this color complements natural wood cabinets exquisitely.
Feeling blue? Try this hue!
Blue is another 2-parter, first we will cover light blue. Like aqua, light blue encourages tranquility, but it also brings an element of harmony to life and to relationships. Aggressive tendencies can be quelled by surrounding yourself in light blue. If the tensions have been riding high in your kitchen, try incorporating some light blue into the décor.
Blue, in general, is a peaceful color. So, it's no surprise that deep blue carries this trait as well. However, the darker blues also promote efficiency. They encourage decision making, helping you to sort out the unnecessary details and make a clear-headed choice. Deep blue is an excellent choice for kitchens that suffer from clutter, allowing you to choose which items can stay and which can go. Use a combination of dark and light blue in your kitchen to enjoy the benefits of both colors.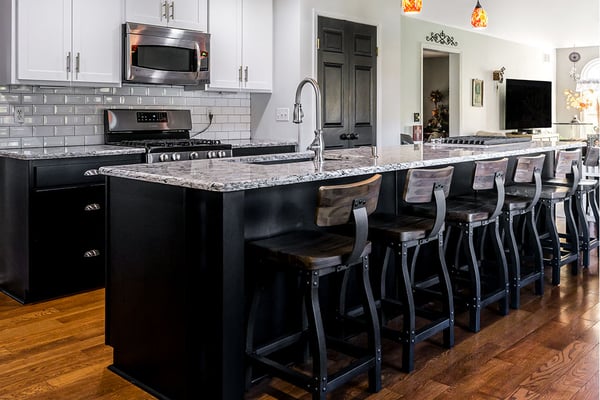 Do you love the look of lavender?
Lavender promotes fresh perspectives, especially with regard to emotional matters. By evoking reminders that there is a connectedness throughout humanity, it enhances spirituality and helps you reach higher levels of existential understanding. Use it in your kitchen to bring about compassion, as well as increase you and your family's consciousness and awareness.
There are a lot of reasons to keep a kitchen neutrally toned, and shy away from incorporating color into the design. We understand the concept that neutral colors retain better home resale value, and that some people's preferences do not lean towards bright colors. However, you now have a new little arsenal to add to your kitchen design tool-belt. Small accents go a long way, especially when the object will be experienced on a daily basis, as they are in your kitchen. An accent wall is great, but you can get the mood stimulating results you're looking for without that much commitment. Throw rugs, vases, flowers, small appliances, and other décor will serve the purpose fantastically.
Where can I find a reliable kitchen remodeling company in Bucks County & the area?
Yearning for a kitchen that's a true reflection of you? With Kitchen Magic, your dream kitchen is within reach. We're a family-driven enterprise, devoted to providing more than just a cooking area, but personalized culinary experiences. From superior craftsmanship to customized solutions, we are transforming homes across Bucks County, one kitchen at a time.
Get in touch with us today for a free, no-strings-attached in-home consultation, and let's cook up some magic together!