Often, we forget how much of an impact the color of our walls truly makes on the rest of the room. Sometimes, simply changing the paint color in your kitchen can change the whole feel of the space by making it appear larger or cozier.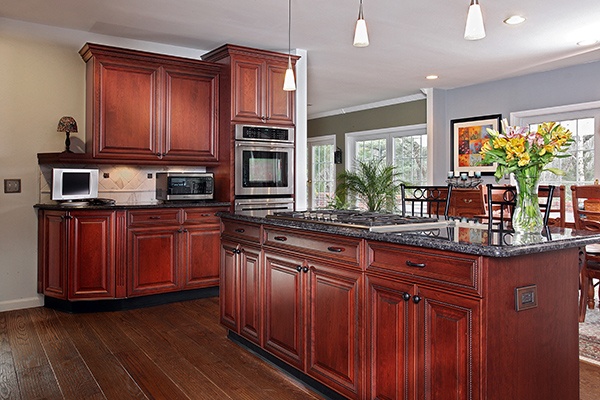 Whether you're planning a kitchen remodel, or just looking to spruce up your kitchen with a fresh coat of paint on the walls, you're probably contemplating your overall kitchen color scheme and wondering which colors to use. With cherry cabinets, you are automatically working with a strong element of warmth, from within the natural tones of the cherry wood. The next step in finding the best color to paint the walls is to decide whether you want to contrast or coordinate the existing cabinetry.
What wall colors work well with cherry cabinets?
When picking paint colors to pair with your cherry cabinets, you can go two ways: contrasting colors or coordinating colors. Contrasting will make both the cabinet and wall-color more predominant. On the other hand, coordinating colors will soften the impact of intense color-tones. Cherry cabinets can vary in tone, depending on the type of cherry species, stain, finishes, and glaze that may be applied to the exterior. Depending on the depth of color in your cherry cabinets, you'll want to match them to a wall color according to the following guidelines.
1. Choose contrasting color combination to bring out the warmth of your cabinets
Contrasting colors are colors that are opposite one another on the color wheel. They work well together because they appear cleaner and brighter than painting with simple neutral colors. The contrast of the paint on the wall with your cabinets will make the cabinets pop and give some depth to your kitchen.
If you're looking for contrasting paint colors, green is beautiful option. The shade of green that you choose all depends on the shade of your Cherry cabinets.
With darker cherries, you'll want to stick to lighter color ideas, such as shades of green, sage or thyme. With lighter colored cherry cabinets, like our Classic Cherry finish, you can get away with painting your walls a darker green to highlight the lighter, natural color of the cabinets. For the lighter cherries, try a true green or a forest green.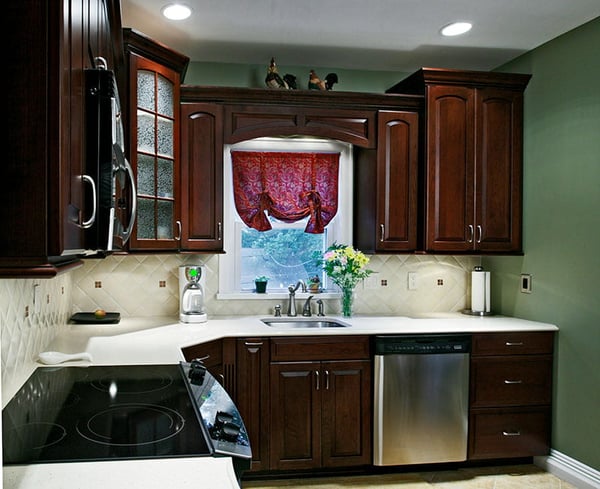 Blue is also an option for you, if green just isn't your cup of tea. The same color principles would apply; consider muted blues for lighter shades of cherry, and brighter or bolder blues for darker cherry cabinets.
2. Select coordinating colors to harmonize with your cherry cabinets
Proper color coordination is all about harmonizing with elements inside your kitchen to enhance the natural colors in the space. The best way to choose the right wall color for your kitchen is to pick it right out of an existing element in your kitchen, like a fleck variant in the countertop, or a shade present inside your backsplash.
When picking these features, don't go for a color that's metallic, too bold or too dark—these can compete with the colors you already have in your kitchen, and can make your space appear inconsistent or smaller than it really is. Instead, choose neutrals such as light grays, taupe or pale beiges, that will give your kitchen the impression of space.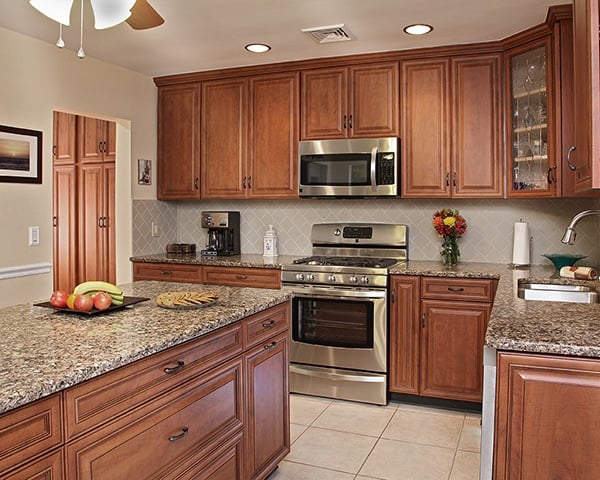 Where in Lehigh Valley can I find experienced kitchen cabinet remodel specialists?
Need help visualizing your kitchen's colors and design? Kitchen Magic can help. Thanks to over four decades of expertise, we specialized in every aspect of kitchen remodeling. Whether you're searching for expert advice on modern kitchen color schemes or you're in need of personalized cabinet solutions, we'll merge outstanding quality and innovative design to bring best results to homeowners in the Lehigh Valley area and beyond. When you're ready to get started with your kitchen project in Bethlehem and the surrounding region, schedule a free in-home consultation at your convenience, and get a same-day price quote.
If you're looking for more inspiration for your cherry cabinet kitchen, check out these relevant articles: