Analogous or Contrasting? That is the question. Your wall colors will either highlight the colors inherent in your cabinets and/or countertops - that is, pull out an existing hue to celebrate it - OR - they will provide pops of contrast that add another layer of energy and dimension to the design's overall design effect.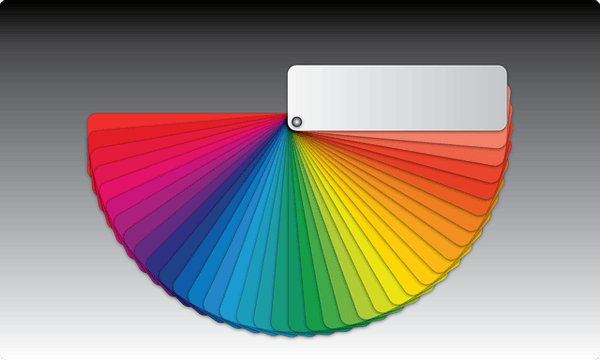 What Color Should I Paint My Kitchen Walls?
Before we get too deep into the art and science of choosing wall colors based on cabinetry, let's talk about colors in general. A little familiarity with the color wheel is a good thing, as is some background on how colors work together. This article on Color Theory is a great place to start. You can also read How to Design Your Kitchen From a Color Palette for more kitchen-specific guidance.
The first step is to determine which type of kitchen you're designing. Do you want a kitchen that has sharp contrasts? Blacks and whites or darker wood finishes and light accents? Or, do you prefer a monochromatic palate or softer transitions between the cabinets, countertops and walls? Answers to these questions will guide your options as you peruse paint samples.
Helpful Hint: The backsplash plays a key role in this process. So, if you're opting for contrasts, the tile accents you select can be helpful. For example, in this Cherry Sable Capri kitchen (below), the small, mosaic tile accents (4-to-a-square) make the contrast between dark and white a completely natural one.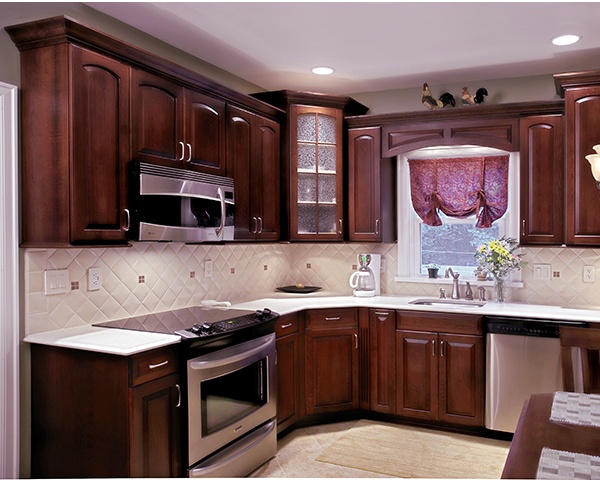 Complementary, Analogous & Monochromatic Colors
Another benefit to using a color wheel is the ability to recognize contrasting, analogous and monochromatic color schemes.
Contrasting Colors
In color theory, contrasting colors - also called complementary colors - are those that sit directly opposite from each other on the color wheel. They create a noticeable contrast that results in visual energy. To much contrast is overwhelming to the eye while a complete lack of contrasts will be dull. The goal, of course, is to strike the right balance.
If you are interested in creating contrasts in your kitchen, choose a wall color that complements your cabinets. Then your countertop and backsplash should tie them together.
Analogous Colors
An analogous color scheme uses three colors that live side-by-side on the color wheel. So, perhaps your cabinets would be painted one shade, the countertops would highlight shades of the second and your walls would be painted the third color. Another idea is to base cabinetry, countertops and wall paint around two of the colors and the backsplash would incorporate the third.
Monochromatic Colors
In this kitchen, the same shade will be used throughout the finish selections and the variations in shade will create visual interest. The key to keeping a monochromatic kitchen design from being boring is to use contrasting accents that draw the eye.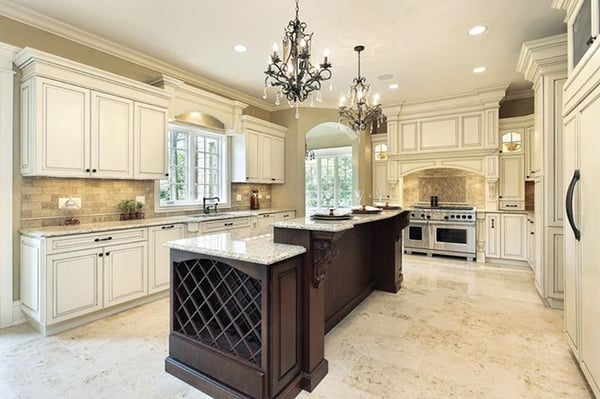 The White Walnut kitchen is a nice example of a monochromatic motif. The cabinets and walls are all different shades of the lightest colors found in the granite countertop. A walnut glaze continues to pull out the darkest of those light shades. The window coverings, black wrought-iron chair frames and the suspended light fixtures create a bold effect, they jump out from the background, and prevent the kitchen froUnless you've been around the kitchen design block a few times, it's more challenging than you think to select the best wall colors to coordinate with your cabinets and countertops. Bring your ideas to Kitchen Magic and we'll be happy to help you select the all color that will best showcase your current selections.m looking dull or washed out.
Complements & Monochromatic Options with Wood Finishes
Wood cabinetry works just the same way. Wood is never "one color." Rather, wood-grains are all different shades so you can opt to contrast or blend them, depending on your preference. For example, The walls in The Classic Cordovan Kitchen pull out the medium-tones of the cabinet's cherry wood grains while the dark countertops highlight the darkest shades.