A lot of attention gets paid to lighter, brighter color trends in kitchen designs today, but there are also some really inspiring styles using wood cabinets in darker hues—even in traditional cherry—which many people now associate with a dated look. We've gathered some great examples here, and explain how to incorporate darker wood, even cherry cabinets, into fresh, new designs.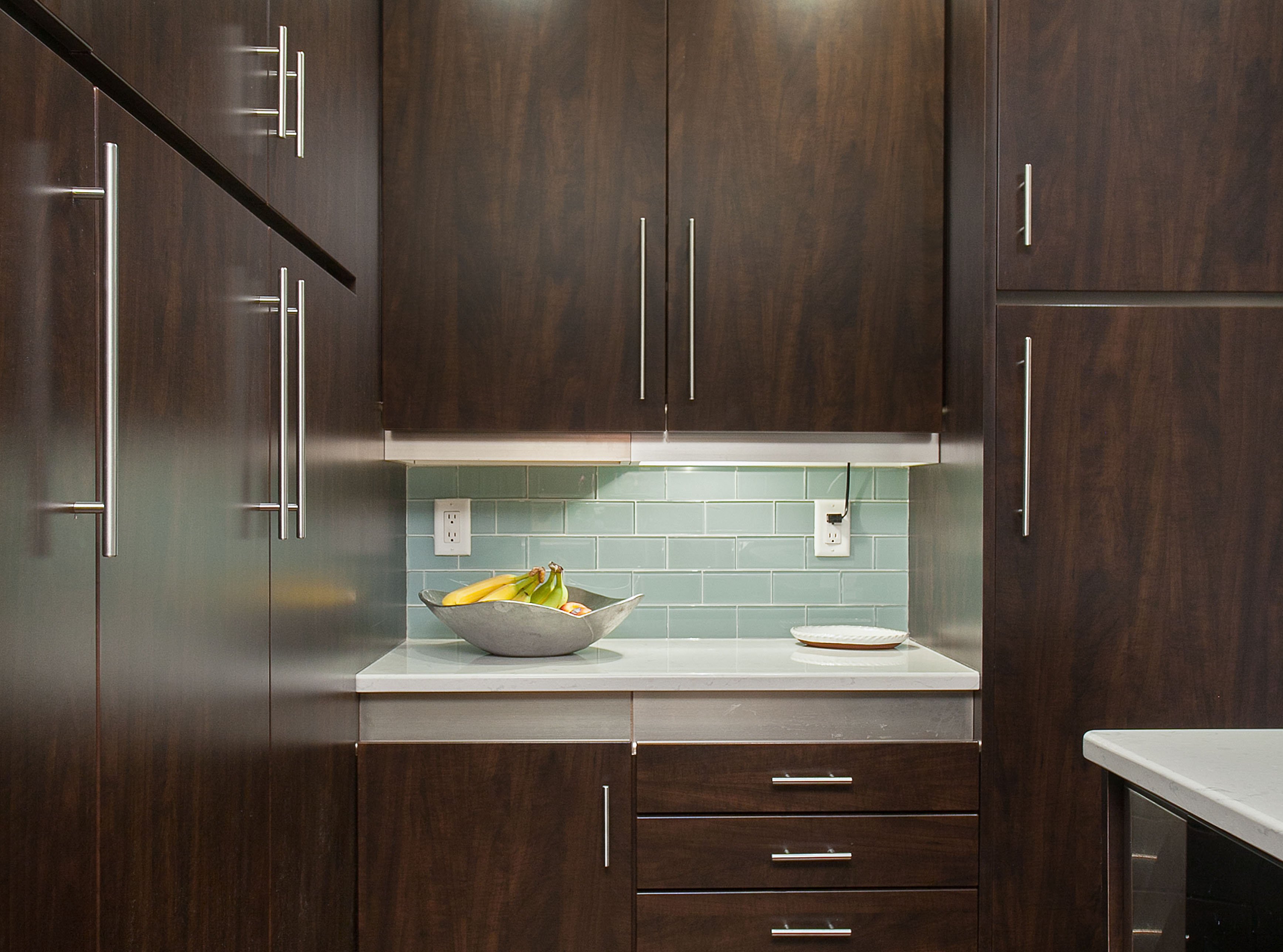 New Trends And Traditional Styles Work With Cherry Cabinets
When it comes to kitchen cabinet trends, it's more about style than color or finish. So if you love cherry cabinets, use them. Complement them with transitional elements and choose color palettes with neutral brown and gray undertones. According to the National Kitchen & Bath Association, cherry cabinets, and other defined wood grain finishes, are becoming more popular again in kitchen designs. Oak and maple cabinets can offer a rustic feel, and all wood grains can provide texture.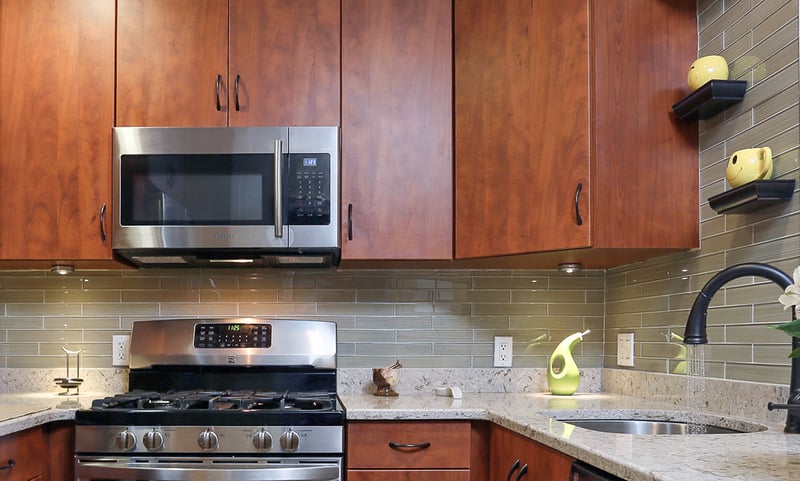 Other Dark Cabinet Finishes Are Trending Too
Dark cabinet finishes continue to see a trending uptick. This is great news for those who prefer a natural finish, or who simply have more traditional tastes. With cabinet refacing, you have the option to go darker or lighter without having to replace the entire cabinet box. This can shorten the remodeling project time, and save you up to 50 percent of the cost of completely replacing with all new cabinetry.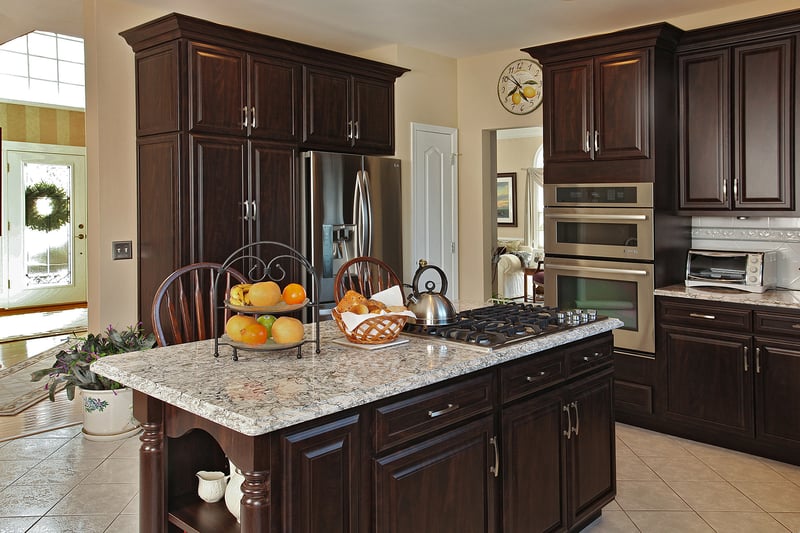 Mixing and Matching Kitchen Cabinet Finishes
Another kitchen trend on the rise is mixing-and-matching finishes. Color contrasts and/or kitchen designs that incorporate multiple color schemes are also rising in popularity. One of the most common ways to do this is to use wood-grained cabinets for the perimeter and a beautiful solid colors on kitchen island, or vice versa.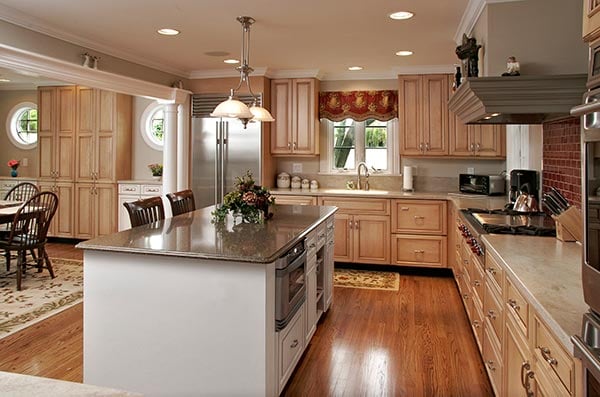 3 Ways Cherry Cabinets and Darker Woods Are Trending in Kitchen Design
Of course, selecting the right cabinets for your new kitchen means choosing more than just door colors. You have to take into the account the style of the doors, as well as the design of the overall project. Here are some trends kitchen designers and homeowners are seeing more of:
Shaker-style doors. Because it fits into several current trends, shaker-style cabinetry is very popular. They are versatile and timeless, and offer a simple, straightforward appearance that sets the stage for all manner of focal points and accents. (Check out our post, "How Shaker Style Doors Work With Any Design Taste" for more highlights this popular cabinet door style.)
Transitional kitchens.

The word "transitional" refers to being somewhere in between two phases or stages. In kitchen design, that means transitional style combines elements, often from contemporary and traditional designs. This can result in beautiful a one-of-a-kind creation.

(Read, "What Is a Transitional Kitchen" to learn more about this popular style.)
Contemporary kitchens. Contemporary is not as minimalist as modern design, but it does tend to focus on cleaner lines and accents. Homeowners today who want a more airy and spacious feel to their kitchens, are finding a lot to like in contemporary kitchen design. (For more on this style, read "Creating a Sense of Space with a Contemporary Kitchen Makeover.")

No matter what color or style kitchen cabinets you decide are right for you, one thing is for certain: kitchens are not for just cooking anymore. Kitchens have developed into multipurpose spaces that fit many household needs. Isn't it time you stopped imagining your dream kitchen and started enjoying it? Contact us today for a free in-home session with one of our design consultants.