Ask us to choose a favorite cabinet door style? Never! We do this for a living so we're emotionally invested in them all.
However, ask us to choose the most universal door style? That's easy: Shaker Style Cabinet Doors.
Shaker Style Cabinetry is an Enduring Kitchen Design Choice
Shakers were a spiritual community that celebrated their heyday in the mid- to late-1800s. They led lives dedicated to simplicity and practicality (they are similar to, but should not be confused with, our local Quaker population). Part of that dedication resulted in a penchant for homemade, wood furniture - and Shaker-built cabinetry became famous for its plain, rail and stile construction.
There are several reasons why we feel shaker cabinetry works with any design choice. Here they are, in no particular order:
Their look remains ageless
Shaker cabinets transcend trendiness; they are one of the tenets of a timeless kitchen design. The simplicity of shaker doors—almost like a flat-panel door but with a slightly raised border—are a large part of their appeal. It's a basic and straightforward look, with just enough detail to provide depth and interest. When you start with a basic foundation like that, your cabinets will look relevant for decades to come, with only a modicum of changes to their color, finish and/or hardware.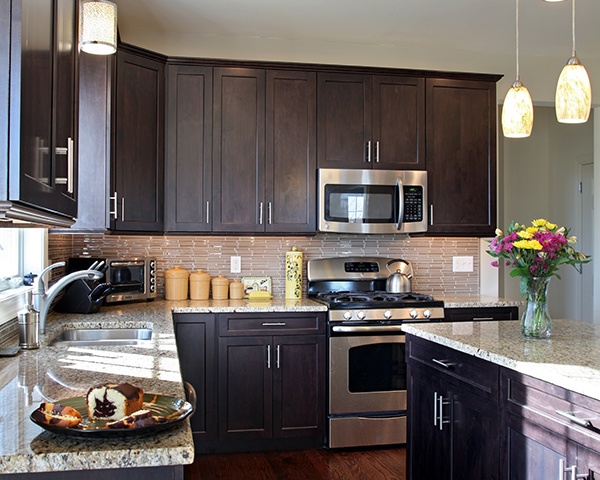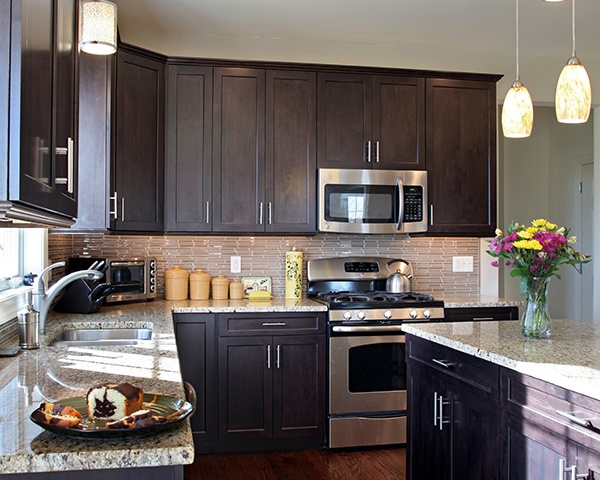 They are appreciated by all
Shaker cabinet doors are used by both traditionalists and modernists alike. Traditionalists appreciate the timelessness of their appearance, and can opt to use slightly more ornate door handles and drawer pulls if they're hankering for more detail. Modernists, on the other hand, enjoy their clean lines and unfettered appearance. Not surprisingly, a transitional kitchen design will often implement Shaker doors as a way to marry the simplicity of a modern design with decorative columns or accoutrement on the kitchen island, the hood or elsewhere.
They look great in color or stain
Shaker doors take paint or colored laminate very well, and both can produce gorgeous results to help you achieve your desired design style. On the flip side, the broad panels on the door serve to emphasize the beautiful natural wood grain patterns, so wood stains are a deservedly popular finish choice as well.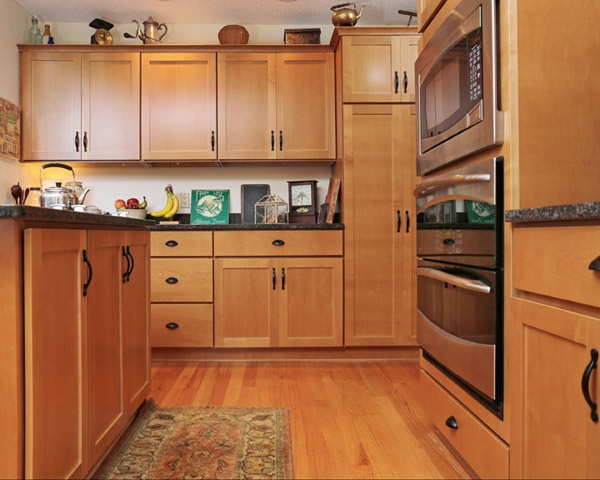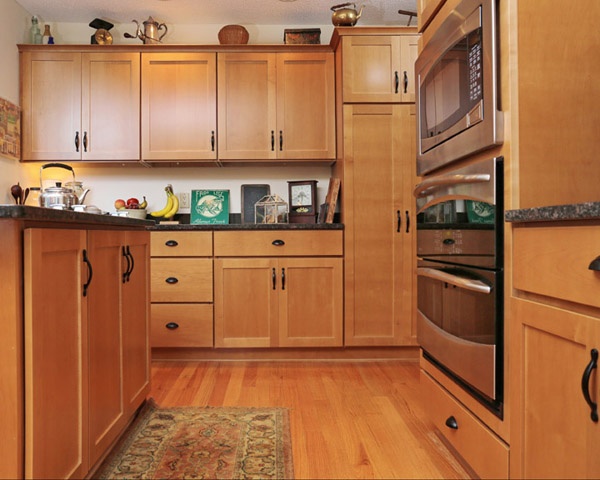 They are easy to maintain
For busy families and professionals, "low-maintenance" is one of the most desired attributes of any kitchen selection. The simplistic design of Shaker doors lends itself to easy cleaning. Without the copious ridges found in more traditional doors, which are known to trap dust, grease residue, and debris, a quick wipe-down cleans Shaker cabinets with minimal effort. If a low-maintenance kitchen design is high on your priority list, we recommend selecting cabinets with a laminate finish. They can take a beating, and are not nearly as picky as real wood doors when it comes to cleaning and polishing requirements.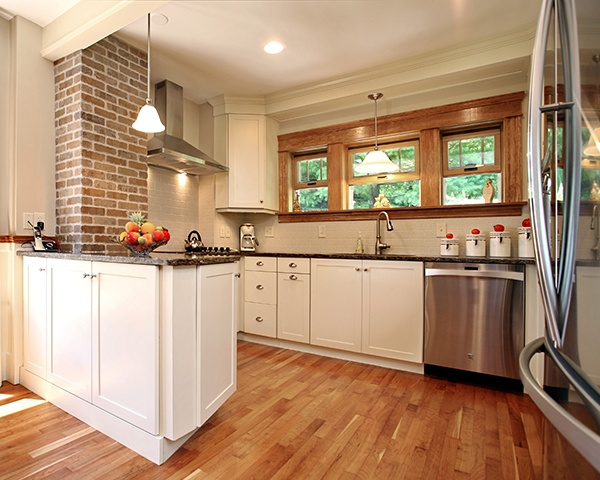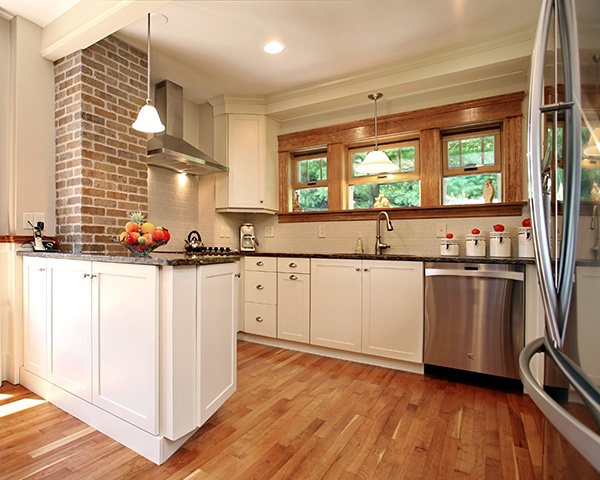 Their cost is reasonable
Typically, this cabinet door style won't blow most budgets. The price point tends to fall right in the middle-range, thanks to their simplistic construction. Not to mention, their aforementioned timelessness makes them a wise investment that is likely to save you the cost of a future remodel, as the design trend tides change.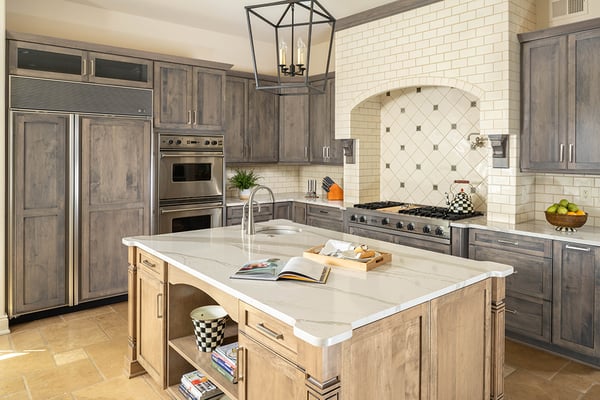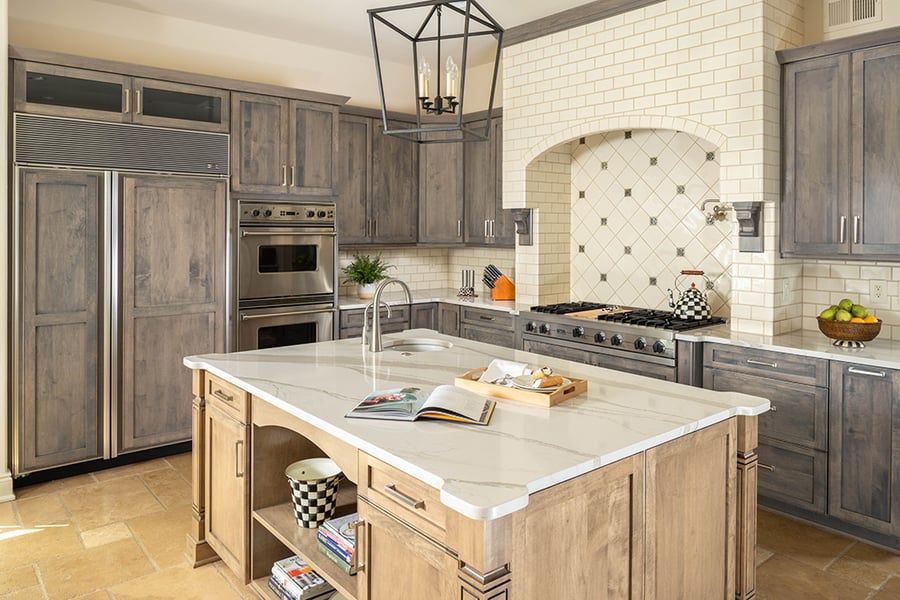 If Shaker style cabinet doors had a highschool yearbook, they could have easily been voted "most likely to succeed." Regardless of your design style, they will stylishly coordinate with the look you want and endure the test of time. Not sure if they're the right fit for you? Visit Kitchen Magic and peruse photos of real-life kitchens using Shaker style doors.