It's that time of year again. Time for our annual fall trends report, where we give you the latest and greatest in kitchen design, functionality and style. And oh boy, have we got a lot of great trends to cover! So many, in fact, we have enlisted the assistance of our very own design specialist, JT Norman. As someone with his finger on the pulse of all things kitchen design, his top eight trends for this season make up the very informative and fun list below.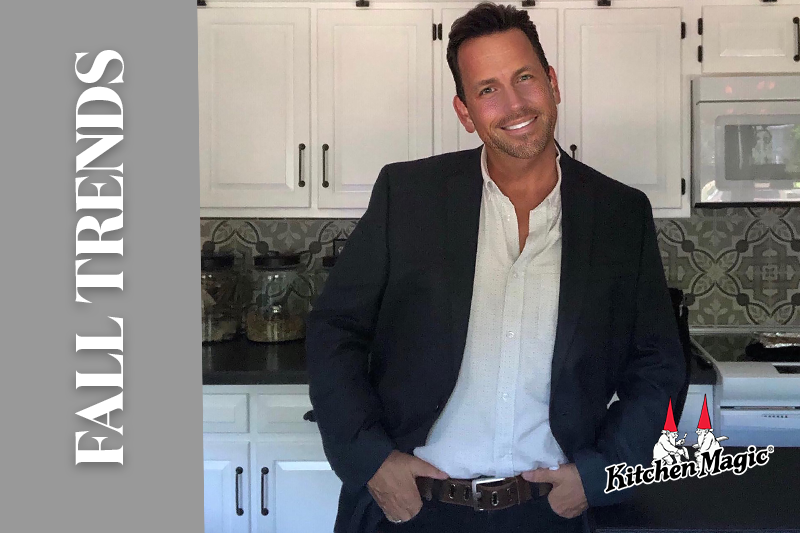 Trend #1. Single-Level Multipurpose Kitchen Islands
"Kitchen islands are no longer an afterthought in design. They have become the hub of the kitchen. One big trend emerging is the use of single-level, larger-sized islands that offer multiple functions. Since we are seeing less wall cabinet space, the island has offered up additional storage for homeowners. At the same time, islands are commanding big visual impact and design statement within the kitchen." —JT Norman, Kitchen Magic design specialist
---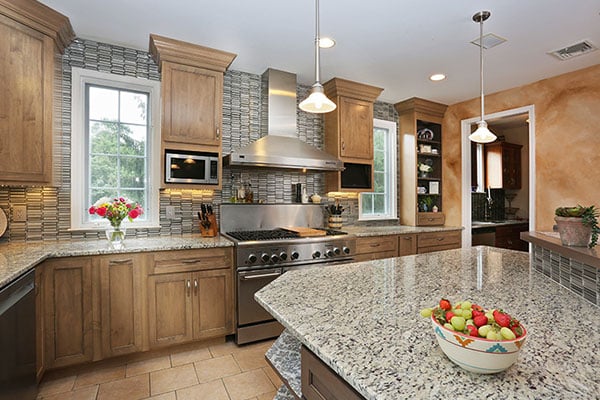 Kitchen islands are truly jacks-of-all-trades. They are wonderful cooking workspaces. They can be fitted with various under-counter appliances, while also providing seating–serving as a casual dining and/or drinking bar. We rely on them for storage. It only makes sense that we are seeing a trend toward bigger and more elaborate kitchen islands. How sure are we that the kitchen island is here to stay as a design element? Well, The 2019 Kitchen Design Trends Study found that only 2 percent of designers surveyed created a kitchen without a center island in the past year. We, like The Washington Post and the influential home design blog Freshome, are very comfortable in saying that the kitchen island is not going anywhere anytime soon.
To accommodate their increased size, we are seeing a tendency for the kitchen island to extend into family-room spaces in homes with open plan designs. This ensures the kitchen island can be multi-functional without cluttering up space in the kitchen. We're even seeing a trend toward not one, but two islands in the kitchen. Homeowners can rely on one for food prep work and the other for gathering while entertaining friends and family.
Trend #2. Bold and Beautiful Backsplash Trends
"Backsplashes can be one of the most personalized parts of the kitchen. However, they always seem to have a revolving door of new trends and styles. The key is to put a bit of extra thought into the tiles, colors and fashions you choose. Choose something you will like not just now, but five or 10 years from now." —JT Norman, Kitchen Magic design specialist
---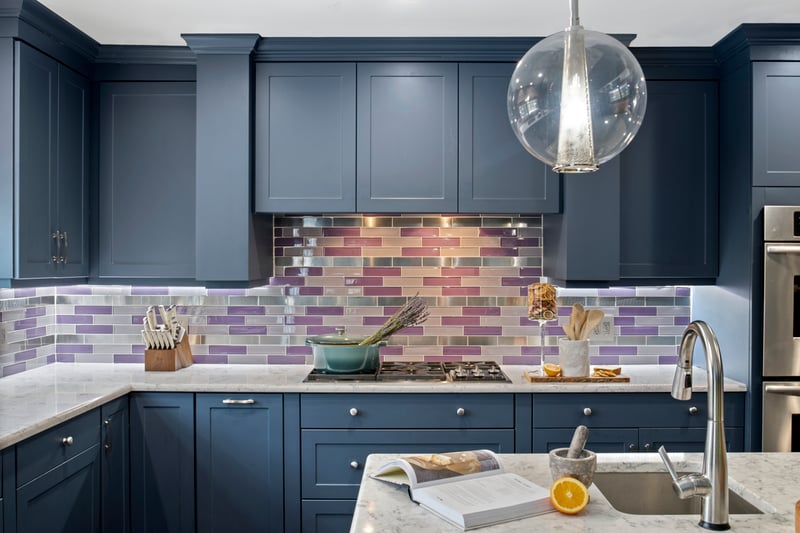 PHOTO CREDIT: RAYON RICHARDS, 2019
A pop of color in your backsplash would be very trendy right now and allows you to get more creative with your design, just be sure the color suits your personal style overall and isn't just a fad. You are always safe with neutral patterns with natural textures, which are a great option for those looking for a classic look.
Other things to consider when selecting a backsplash:
Textures or patterns have never been more important in backsplash designs. Thinks beyond all white, glossy tiles and make a statement.
Large slabs are taking over. A big change we're seeing in tile backsplashes is that their size and the portion of wall they are covering. Marble, quartz, wood, copper, stainless steel, glass…the possibilities are endless!
Backsplashes are rising to the ceiling. With upper cabinets on their way out, homeowners are left with more wall space to decorate, and tile backsplashes are a popular choice for this.
ATTENTION SUBWAY TILE ENTHUSIASTS: Keep in mind that trends these days are moving towards larger, not smaller tiles. This includes your beloved subway tiles.
Trend #3. Darker Cabinet Colors Are Having a Huge Comeback
"Hold on to your hats, folks. Darker-colored cabinets doors are making a kitchen comeback. Although white cabinets are still a prevalent classic look that can be used in almost any kind of kitchen style, I'm starting to see them slowly decline in popularity. I expect white to start declining in popularity throughout 2019 into 2020." —JT Norman, Kitchen Magic design specialist
---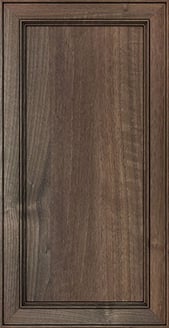 Wood-colored cabinets are going to be a big trend in 2020 and beyond. Even for those homeowners who still want an all-white-cabinet kitchen, expect to see pops of color in islands, paint colors or wood stain colors. The most popular of these pops-of-colors will be:
Shades of blue and green will create inviting gathering spaces.
Neutral natural shades give kitchens a sense of calmness and openness.
Dark jewel tones, like black, navy, emerald green and even plum are a fresh look. These dark kitchen cabinets can enhance a kitchen space with a dramatic and luxurious feel that lighter options just can't pull off. Just be careful that the dark elements don't not overpower the room, making it feel perpetually dark.
Trend #4. Streamlined Designs, Materials and Textures
"While styles like farmhouse and mid-century modern are still popular, homeowners are getting more streamlined in their overall aesthetic, designs and use of alternative materials for kitchens." —JT Norman, Kitchen Magic design specialist
---
This makes sense. Soothing simplicity is very popular, and that is what modern clean lines are all about. They will continue to be a huge hit throughout 2020 as well. Ways to add a streamlined aesthetic to your kitchen design include:
Removing upper wall cabinets has become a growing trend in the last few years. It opens up the visual space, making the kitchen appear much larger and brighter. It also allows you to utilize the countertop space more productively while offering plenty of opportunities for a focal-point element to pop on the wall or shelving above.
Consider materials with texture to add interest. If you are using open shelving, rough cut wood can bring in natural elements, or metal tubing can offer a more industrial attitude. Floor tiles in a natural stone or backsplash tiles that are sculpted, beveled, or stacked can also make for interesting textures that are different than the usual polished or glossy finishes we see everywhere.
Consider a ceiling treatment to bring in unique appeal. The Seattle Times says that statement ceilings are one of the hottest trends in home décor. Coffered, tray, and wood beams are some fantastic choices to consider for the kitchen.
Trend #5: Quartz Is Still King…for Now
"For high-end kitchen countertops, quartz still reigns supreme. And it only makes sense: the material is extremely hardy, can last virtually forever, is a breeze to maintain and is also anti-microbial." —JT Norman, Kitchen Magic design specialist
---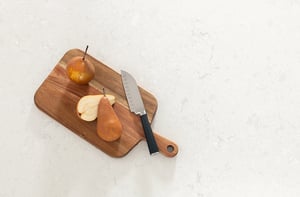 When quartz countertops first came into the market, the main worry was lack of color and finish variety. Thanks to technology, today's quartz countertop manufacturers have provided a wide range of colors to choose from, as well as realistic stone patterns. You can even get quartz finished with elaborate swirls and large veining to imitate other materials like natural stone. These unique styles have become immensely popular. Granite, the main competitor in the high-end bracket, requires slightly more maintenance, but is still a popular choice.
Some new notable trends in quartz countertops:
Softer and more neutral colors are gaining in popularity, as more and more homeowners opt for colors like grey, taupe, cream or white finishes.
Pattern preferences have changed from particulates to veining in recent years. This follows the trend towards cleaner styles seen in most home spaces.
Trend #6: Integral and Composite Sinks Are a Hot Item
"The rising popularity of integral and composite sinks, which are made from the same material as the countertop, is an exciting trend. These sinks create a cleaner, uniform look, and they are much easier to clean and maintain than traditional kitchen sinks." —JT Norman, Kitchen Magic design specialist
---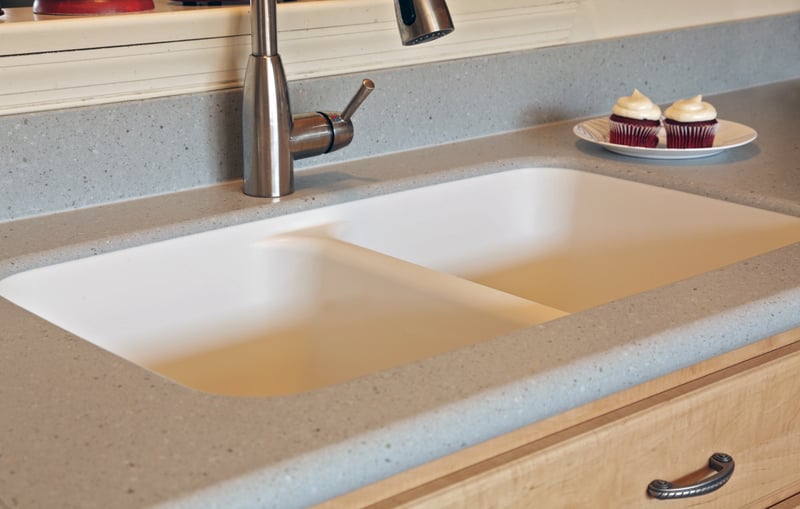 Seamless lines and easy clean-up make integral sinks a great addition to any kitchen. Integral sinks are available in a wide choice of materials, including solid-surface and quartz composites, and they look as if the countertop and sink are one unit, one-piece comprised of the same material. According to Realtor.com, integral sinks are a rising star in kitchen design.
This is not to take away from the still very popular stainless steel and farmhouse sinks, however. Things to consider when selecting any style of new kitchen sink include:
Durability, stainless-steel doesn't stain, but it can scratch. Porcelain is beautiful but can chip and stain more easily.
Double or single sinks designs fit different household needs.
Cooking habits are important but often over-looked when choosing a sink style and location.
Trend #7. Effective Storage Solution Cabinetry
"Unnecessarily wasted space is one of the biggest annoyances homeowners have with kitchen cabinetry, and more and more of them are demanding better storage features. In fact, storage solutions are one of the most popular upgrades we have seen in our cabinet refacing and kitchen remodeling projects over the last year or so." —JT Norman, Kitchen Magic design specialist
---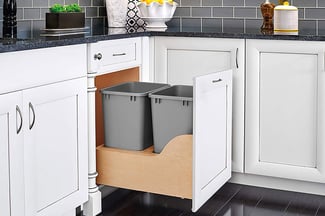 One of the foundations to a functional kitchen is kitchen storage. If it is inadequate or ineffective, you will be faced with endless frustrations and challenges. To counter these storage challenges, homeowners are starting to look for better storage solutions within the cabinetry. And it's no wonder: the way most basic kitchen shelves and drawers are structured leaves a lot to be desired. Available space is often too small for some of your larger things, or too wide to properly and efficiently organize the space. This fall, we are seeing a big trend towards new kitchen storage options throughout the whole kitchen–focused on making daily lives more effortless and making cooking fun.
Beyond just adding deeper drawers, kitchen upgrades can include:
Appliances garages for small appliance
Drawer dividers for cutlery & utensils
Pull-outs for spices, tray dividers
Roll-out trays and caddies for pots & pans
Wastebasket cabinets for garbage and recyclables
Trend #8.

Smart Kitchens

"Smart kitchens are an evolving aspect of design. In fact, a lot of kitchens today are built smart from the ground up. For older kitchens, sensors, technology-enhanced gadgets and other devices can be added to for convenience to the homeowner." —JT Norman, Kitchen Magic design specialist
---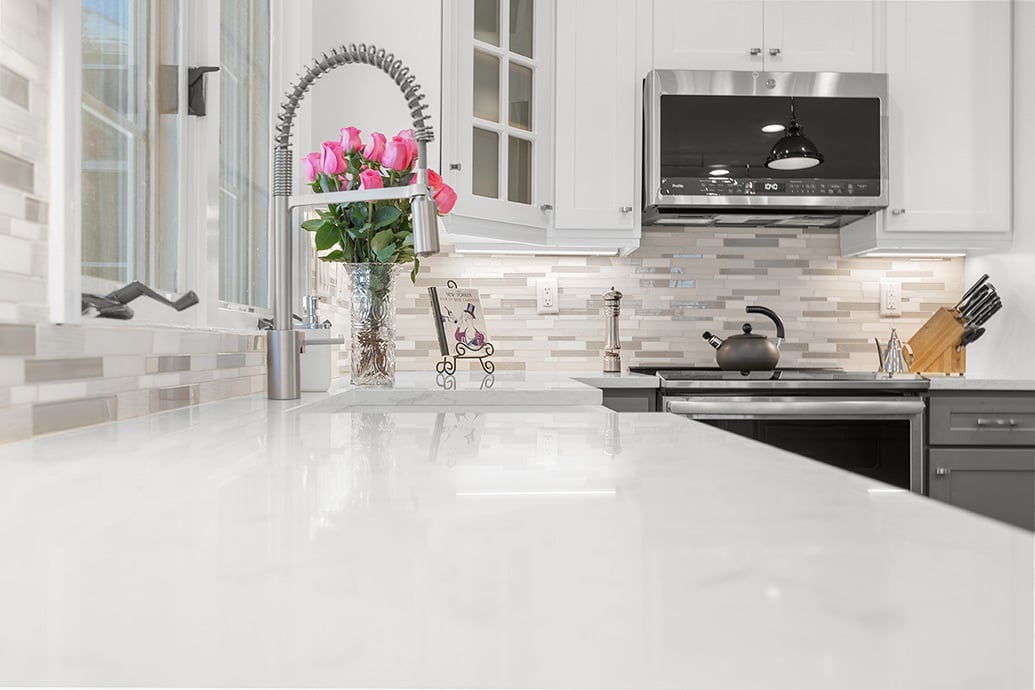 Technology has adapted itself into our daily kitchen routines, and not just in the appliances and devices we use. It's integrated into everything, from faucets to refrigerators to lighting. These elements make up what we call a smart kitchen. According to The Washington Post, the top three technological innovations set to dominate kitchens over the next three years include smartphone app controlled appliances, voice-activated devices and systems that provide safety alerts to cell phones. Here at Kitchen Magic, we are seeing more and more homeowners who are saving money with cabinet refacing choosing to upgrade their kitchen designs with these smart elements:
Motion-sensor-equipped kitchen faucets that can sense the presence of hands underneath and will come on automatically or try a one-touch feature.
Refrigerators that can communicate with your shopping service via Wi-Fi and smart screens
Coffee makers programmed to have your coffee ready when you wake up.
Egg monitors that tell you which ones are almost going bad
Smartphone-connect lighting and audio systems allowing you to control all the lights from your smartphone or tablet.
Kitchens are not for just cooking anymore, they have developed into a multipurpose space for all household needs. The fall trends for 2019 reflect this mindset and will likely remain popular for years to come, too. Isn't it time you stopped imagining your dream kitchen and started enjoying it? Contact us today for a free in-home session with one of our design consultants.