The warmth of a traditional kitchen is still a valued characteristic for the heart of the home for many homeowners. On the other hand, the simple, clean lines of a contemporary-style kitchen tend to offer a more workable feeling space, and function is also highly valued by those who spend a lot of time cooking, dining in and using their kitchen.
If you want to create a space that reflects your personal aesthetic for your upcoming kitchen remodel, here are some tips to help you choose one style over the other for your home. Let's take a look at how to do it!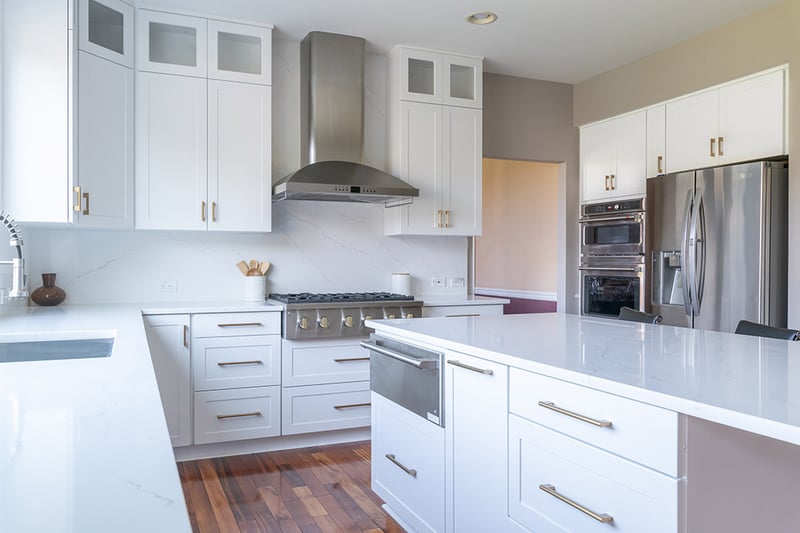 What defines a transitional kitchen style?
What exactly is transitional kitchen design? A transitional design aims to balance the comfort of a traditional style and the sleek cleanliness of a contemporary kitchen. The word "transitional" refers to being in between two phases or stages. In the kitchen design sense, that means transitional style combines elements, usually from contemporary and traditional designs, with the end result being a one-of-a-kind creation blending the two. For your Lehigh Valley home, you're combining the best of both worlds without an unsavory clash of styles.
When done correctly, mixing and matching is a great way to create your very own masterpiece. If you're looking for ways to seamlessly combine these design thoughts, then here are some tips.
1.
Cabinets shouldn't steal the show
Cabinets are what take up most of your sight line in the kitchen, so it's a big part of your design. To create a transitional style, you'll want to ensure your cabinet choice is streamlined and subdued. Cabinets in this design style tend to be low profile. Keep it simple with a shaker-style door, or one without any intricate carvings. Clean lines are best here.
Likewise, your hardware should be minimal and modest. Your cabinets shouldn't take away from the design, they should enhance it naturally. Keeping clean, uniform lines throughout your entire kitchen space will give a nod toward a contemporary look as well.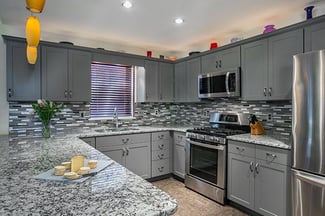 2.
Combining the traditional with the contemporary
Traditional kitchens feature a lot of decorative elements, while contemporary styles usually have none of these intricacies. But the name of the game here is blending. So, you'll want to incorporate something to meet the traditional needs but keep it minimal, as the contemporary style dictates. Transitional kitchens should have simple accents, such as small crown molding, and minimal use of corbels and wainscoting. The clean, geometric lines of a transitional kitchen area are appealing, so the less fancy and elaborate the design, the better.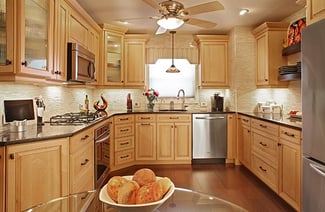 3.
Go for visually rich space
A transitional kitchen is a timeless kitchen because of the color palette you're working with. Those fans of the monochromatic look will be happy to know that in this design you're usually using whites, grays beiges or soft subtle woodgrains. Keep the colors neutral and sophisticated. That doesn't mean you can't add a splash of color here and there, either through accent pieces or your countertops. This can create some contrast in color to break up that uniform space. Go for a white cabinet with a dark quartz countertop, or gray cabinets with a lighter granite countertop . Either way, the results are stunning.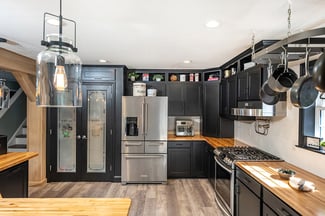 4.
Accentuate your kitchen with style
If you're finding that you like one style more than another, there are ways to capitalize on all of your tastes. Areas, where you can add more design elements, are in the embellishments and accents. Usually, a transitional space will include natural or man-made materials, so you can add a little flair and personality with a natural stone granite countertop, or by incorporating some glass cabinets.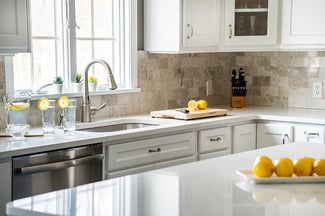 5.
Mix different materials together
You can also add texture to your space to give it some personality and vigor. With creative material selections, you can have a little fun, too. Think about including some polished marble or tumbled stone for the backsplash. And then there's sleek quartz or a honed granite for the countertops. With tile flooring, the world is your texture oyster. Blended correctly, these elements will bring the room together but also produce some character in your home.
6.
Bring old and new together
Transitional kitchens are a great choice for the homeowner who is having a hard time deciding on a design style, whose taste may include both contemporary and traditional elements. If you have an open concept space that includes a dining or living room, transitional kitchens can also help make the style of the space flow between rooms.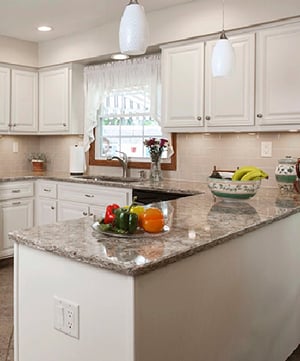 As we stated, the basis for transitional design is about blending traditional and contemporary elements. That typically means that we are combining old and new into one. The best part about this is you can decide what you want to include. Which characteristics of the traditional design do you like? Is it the warm and homey feel you get from the muted colors? Maybe it's the intricate patterns and designs you can include on the molding or cabinet door carvings.
Where can I book expert kitchen remodel in Lehigh Valley and surrounding areas?
What do you like best about the contemporary style? Is it the sleek, minimalist layout? How about the dark wood cabinets paired with fresh light countertops and stainless-steel appliances? With the Kitchen Magic skilled and talented team, you can incorporate them into your kitchen design. Our expert kitchen remodeling team will provide you with a customized space that you will be proud to call your own.
If you've got ideas for how to transform your cooking area into a transitional retreat, then schedule an appointment with Kitchen Magic today. Our design consultants will work with you to design the kitchen of your dreams!