Today, we bring you a study in contrasts. Contrast is an important part of interior design. Even a monochromatic design should include contrasts, typically in the form of accents or transient objects that pop from a neutral background. Simply put, contrast is used to highlight differences between objects in the same space.
In the world of interior design, we typically think about contrasts in terms of color, angles, or texture. So, for example, using dark cabinetry and light countertops, adding a rounded hood or arched trim in a kitchen that is largely comprised of 90-degree angles, or using a textured, pounded-metal backsplash in a kitchen with a majority of sleek or glossy surfaces.
3 Examples of Contrast in Kitchen Design
The trick is that contrast should be so naturally done, that it's hardly noticeable. The following are three ways you can use contrast to enhance your kitchen design.
Use Contrast to Allow Dark Cabinetry in a Small Kitchen
Using light colors is one of the most standard rules for designing small spaces, but what if you're a fan of dark colors? Not to worry. You can still enjoy dark colors and accents in a small kitchen design by working some contrast mojo.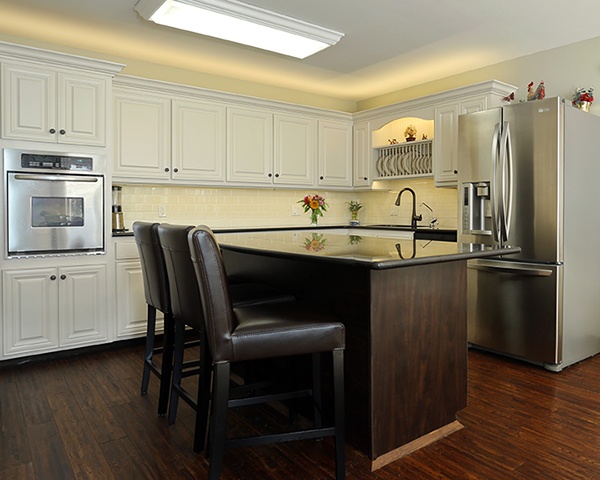 In our Black and White Chocolate Kitchen, the island is finished in a rich Chocolate Pear. However, the white perimeter cabinetry contrasts beautifully to open things up. Notice the addition of the skylight? Natural light is another bonus in small spaces and will support the addition of darker accents.
Another way to go about it is to use lighter flooring, backsplash tiles and wall colors, so the perimeters are opened up and darker cabinetry creates the anchor. Read, Can I use Dark Colors in a Small Kitchen for more on this topic.
When contrasts are well-balanced, dark features won't contribute to a shrinking of the space, or the claustrophobic feeling people worry about when they envision dark colors in small rooms.
Use Contrasting Colors for Your Kitchen Island
Mix-and-Match cabinetry is a popular way clients add contrast to their kitchen design. Using a contrasting color for your kitchen island is one of the simplest methods for doing this.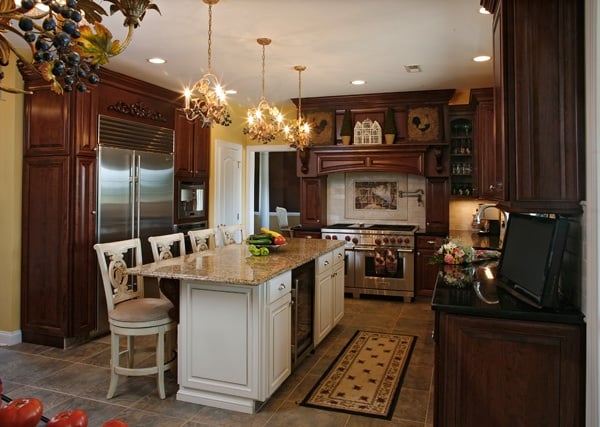 The White Walnut Island in Cordovan uses both the island cabinet and raised-bar seating to create contrast. In the Black and White Wellington, owners selected a charcoal black paint for their kitchen island. The addition of the glass-paneled doors allowed for a contrast-within-a-contrast effect, as the result of the white dishware displayed within.
You can also use your island as a vehicle for more bold or bright colors. Even if your style preferences change down the road, island are easier to repaint than the entirety of your perimeter cabinets.
Create Drama With Contrasting Textures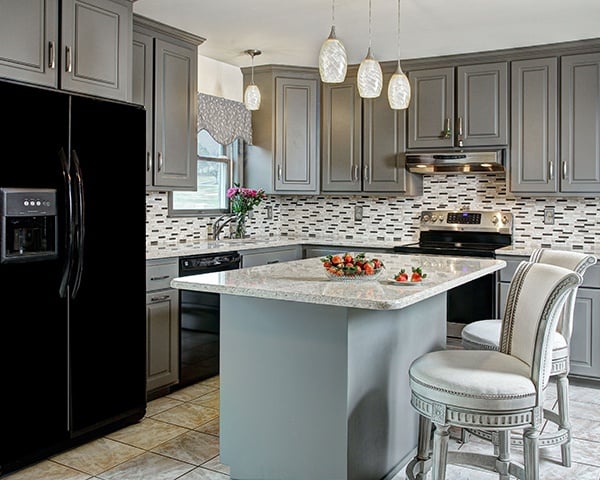 Darlington's Suede Gray Kitchen
If you aren't careful, your kitchen can become a sleek, shiny showpiece...that falls flat because it lacks textural contrasts. Some of the ways you can use texture in the kitchen include:
Backsplash tiles. Things like pounded metal or tile patterns in bolder colors will create a little texture between the smooth countertop surfaces and cabinet faces. In our Darlington's Suede Gray kitchen, the backsplash adds both color contrast and texture.
Mixing finish elements. Look how the combination of wood, stone and painted cabinets keeps things more visually dramatic in this Frosty White New England Kitchen.
Distressed finishes. You can add texture with something as simple as a warm glaze on white cabinetry, or you can create bold textural accents by choosing a distressed cabinet finish.
The design team at Kitchen Magic is happy to discuss multiple ways you can balance contrasts in your upcoming kitchen remodel.