Remember when "Formica" was like "Kleenex"? (only in a word sense, of course). People would talk about Formica countertops regardless of the manufacturer. Then, HGTV, and the granite slab craze, hit center stage. The laminate kitchen countertop gracefully faded into the background, blotting her wounded tears with wadded Kleenex...er, tissue. Well - move over Granite, and clear out Corian, because laminate kitchen countertops are back.
There is a laminate countertop option for just about any interior decorating scheme. We have had an influx of customers lately who are forgoing the ultra-modern appeal of sleek and shiny kitchen designs, opting instead for a more muted, earthy, and - well - rustic look. If that sounds like you, here are suggestions for attractive and affordable laminate kitchen countertops that will make your rustic kitchen design "pop". Or perhaps, "creak"...?
1. Stone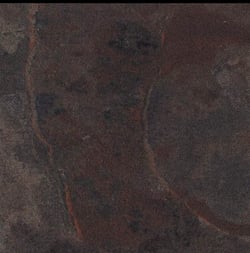 When we think "rustic" we think earthy. That means that a stone pattern can be a great choice to contribute to rustic appeal. What type of stone you choose depends on the color scheme. For example, this Wilsonart Rustic Slate sample is good way to add natural stone appeal with an unpolished appeal. If your kitchen has a lot of darker exposed wood, or paint, you may want to opt for one of the lighter Soapstone samples shown below. They will lighten the overall color and keep your kitchen's rustic look - without taking us back to the cave dwelling era.

2. Detailed Natural Patterns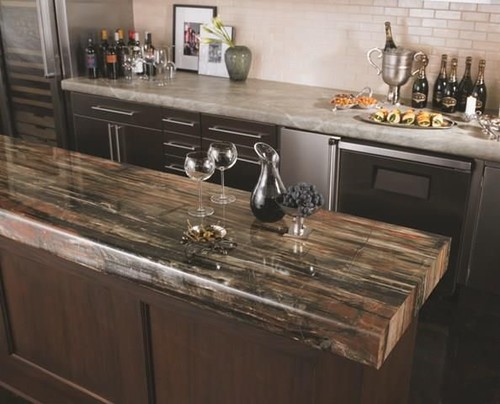 The Wilsonart HD (high definition) line offers natural stone samples with ultra-detailed patterns. You can go for a more monochrome stone effect, such as the Salentina Grigio, or you can go for a more complex granite-esque look that incorporates a variety of colors and patterns, like the River Gemstone. We really love Formica's Petrified Wood. It's unique and combines the best of natural and colorful.
3. Detailed Decorative Patterns
Perhaps your kitchen reflects "rustic" but you still want to incorporate a little artistic license, dare we say "flair", and make your kitchen countertop memorable. Newer laminate countertop patterns incorporate enough earth tone-friendly colors to make a statement without totally standing out. One fun example is Formica's Beluga Beige. Or perhaps Charcoal Boomerang is more your style.
The right laminate kitchen countertop choice can help your rustic kitchen become that much more inviting for family and friends. Give us a call anytime at (855) 573-3223. We would love to help you select the best laminate countertops to create the look you want.