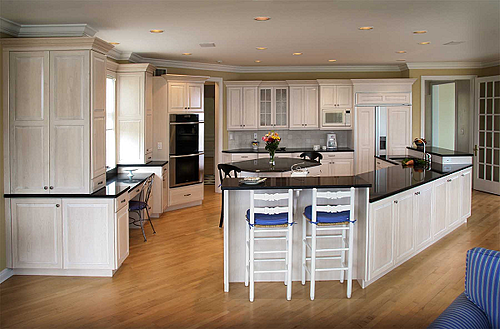 The kitchen is not only the gathering center of the home, but the space where much of the work necessary for everyday life is done. Thus, a kitchen should be both a comfortable and attractive space, and a place where tasks can be accomplished easily and efficiently. A contemporary kitchen, with its spacious design and smooth surfaces, easily fulfills the dual needs of a kitchen in a modern household.
Simplicity and utility combine to create a look that is both beautiful and convenient
The smooth lines of frameless cabinets without jutting hardware are attractive, but also easy to clean. This theme is carried throughout kitchens with a contemporary design, as the minimalist style removes obstacles to movement and keeps the work spaces clear, while creating clear, flowing visual lines that please the eye.
What Materials Should I Use?
When choosing materials for a contemporary kitchen, steel, chrome, glass, and concrete are solid choices for grounding your kitchen. Bringing in granite countertops or wood cabinets can add a touch of natural warmth to a contemporary kitchen, and a splash of bright color from small appliances or plastic or acrylic accent pieces make the room lively and personal. Small articles of red or yellow make very effective visual counterpoints to the cool feel of most contemporary design materials.
Lighting is an important component of contemporary kitchen design.
Large, clunky, or obvious light fixtures would feel out of place in the sleek lines of a contemporary room, but plenty of light makes working in the kitchen easier and safer, and shows off the beautiful surfaces of the stainless steel industrial appliances and smooth counters. Recessed track lighting offers plenty of illumination while keeping the light sources themselves invisible, and can be installed under rows of cabinets to provide additional lighting on the most commonly used work spaces. Halogen lights offer both a visual warmth and a wealth of illumination, making them an excellent choice for contemporary lighting.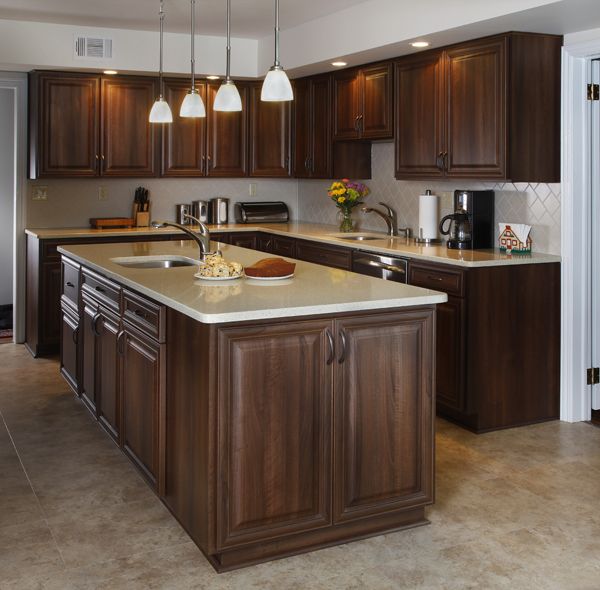 Layout
One of the essential elements of kitchen design is its layout. A triangle formed by the sink, cooking appliances, and the refrigerator is favored by most cooks as the optimal arrangement for efficient kitchen work. Keeping the lines of movement between these three points uncluttered, and making sure to have plenty of counter space between them, makes it much easier and more comfortable to accomplish tasks in the kitchen, and preserves the minimalist beauty of contemporary design.