If you plan to spend the kind of time most Americans spend in their kitchen each day, you need a comfortable place to sit down. According to the BLS, the average American spends 1.76 hours in the kitchen cooking, eating, drinking and cleaning up - and that doesn't include time spent sitting, chatting, doing homework or bills, etc.
Creative and Comfy Kitchen Seats You Won't Want to Leave
There are a wide range of seating options, depending on your kitchen's size and layout, and we want to share some of the most creative and comfy options as you throw the finishing touches on your kitchen design.
The good ol' fashioned arm chair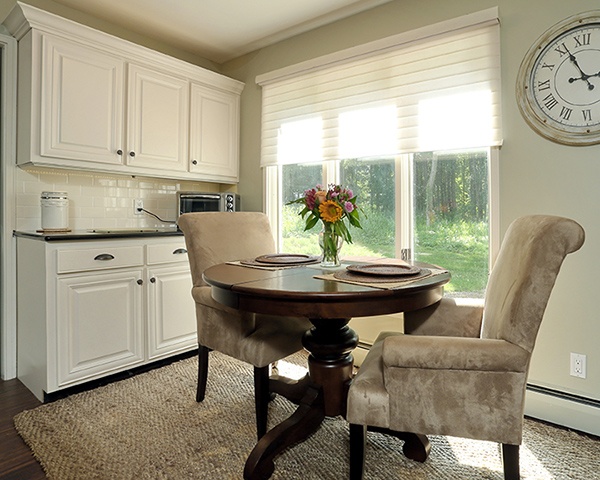 Newer homes are larger than they used to be, and that means you probably have a nice, open floor plan with room to transition between the kitchen and adjacent living area. If not, you may find it's time to open things up by removing or re-thinking the formal living room.
With more space available, you can use comfortable arm chairs - wingback or modern, your choice. If your expanded space allows, give everyone their own arm chair around the eat-in area. Otherwise, arm chairs are a nice addition to your custom breakfast nook or coffee bar.
Design a banquette worth of your bottoms
We've all experienced the "barely-there" cushions of rigid banquette seating - and it's no fun. Scrap that outdated version and design a plush, custom banquet seating option for your kitchen eating area instead. The right cushion and upholstery will leave everyone happy, and hinged seats increase storage options for seasonal items or lesser-used dish and servingware.
Why use bar stools when you can have a loveseat?
Raised bars require raised stools, but extended kitchen islands or peninsulas give you the opportunity to select a stylish and comfy love seat. Choose one that suits your kitchen style - be it traditional, transitional or modern. Then, we recommend selecting leather or using a stylish outdoor fabric so it's easy to keep clean. Adding a loveseat to a kitchen certainly punctuates the idea that the kitchen is the heart of the home.
Choose raised bar or cocktail seating for long-term sitters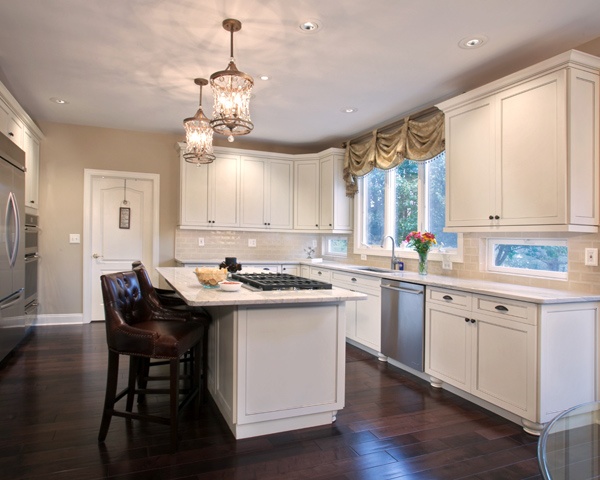 Obviously, we believe looks matter - but function and comfort should always come first. There's nothing worse than sitting down to chit-chat with a drink as your friends prep dinner...only to feel that telltale ache in the tailbone or back. That's the result of bar seating selection that prioritized aesthetics over comfort.
When you go shopping for raised bar seating - physically put the chair or stool options to the test. Sit in it for at least five minutes, preferably longer, to see if your body is still happy. Can you easily tuck your feet onto a resting rail or platform? Would you want to sit in the chair or stool for a meal? If you answer yes to all these questions, you've found winners.
Make that a breakfast booth for 2 or 4
Have room to bump out a wall a bit? Install a breakfast nook and deck it out with booth-style seating. Use more ornate wood details for a traditional look or keep it streamlined for more modern kitchen designs.

Don't leave kitchen seating as an afterthought. You and your guests deserve a creative and comfortable place to sit down a while. Need some help with your selections? Contact Kitchen Magic and we'll show you our gallery with hundreds of attractive seating options.