Did you know online reviews can be paid for? Did you know contractors' licenses expire? Were you aware many companies claiming to be "design-builders" are actually well-intended contractors (no real design panache to speak of...) beefing up their descriptors.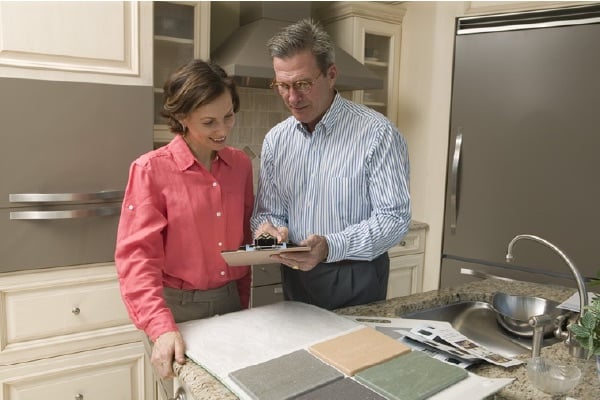 25 Questions to Help You Hire the Best Kitchen Contractor
Thus, we're giving you an easy list of 25 questions to take with you at your free consultations (DO take advantage of free consultations; they're the best way to figure out who's the best fit for your style and personality).
Can we see proof of your current business license(s)? Seeing business/builder/etc., license numbers on websites or business cards isn't enough. You need proper proof. Checking in with your local building department will verify if a local contractor's license is current.
Are you insured and bonded? Insurance and bonding is your "insurance" that if they perform shoddy work or leave you high-and-dry, you'll be covered.
Do you have liability insurance? If one of their workers is injured on the job, or a neighbor trips on the builder's poorly flagged scaffolding, the contractor's liability insurance is liable so your homeowner's insurance premiums aren't on the line.
Do you have worker's compensation? It's the law - failure to have it is proof your kitchen contractor isn't as reputable as they seem.
Are You a BBB member in good standing? Top-quality businesses are, and should have no pending "unresolved" issues.
How long have you been a BBB member? Longevity is a stronger sign of reputability.
Are you affiliated with industry organizations? Affiliations with local building associations, the National Kitchen & Bath Association (NKBU), National Association of the Remodeling Industry (NARI), etc., are additional signs your remodeler is "in the know."
How long have you been affiliated? Longer affiliations indicate a dedication to keeping in touch with industry standards and trends.
Are you a kitchen specialist? If you're remodeling a living room, a general contractor is fine. If you're remodeling a kitchen, you need a contractor with specialized kitchen experience so nothing is overlooked.
How long have you been in business? While everyone has to start somewhere, you don't want to hire a fly-by-night company and regret it. A respectable industry track-record bodes well for workmanship and customer satisfaction.
How many kitchens have you completed? As a point of reference, Kitchen Magic has been in business since 1979 and have completed more than 50,000 kitchens.
Do you provide recent, local references? Who needs a reference from a client circa 1990? Times have changed so you want references from recent customers with comparable kitchen designs.
Do you manufacture and install your own products? While a good kitchen design-builder will source your supplies from anywhere, knowing you can have custom stuff designed in-house will save you $$ in the long-run.
Do they provide a written warranty? Your manufacture-supplied items will have their own warranties, but the builder should offer a written warranty of their own to back the quality of their craftsmanship.
Are they financially stable? This can be more difficult to suss out, however a list of subcontractors/vendors yields valuable contact info. Speak with those contacts' accounts payable offices, asking if your prospective firm pays its bills on time.
Have they ever declared bankruptcy? Asking is the best place to start. If you question their answer, you may be able to find more information in the public record via the county bankruptcy court and/or the Securities Exchange Commission.
Do they have financing options available? Most larger and/or more established firms do, which may help you to increase your remodeling budget a bit.
Are experienced staff on-hand to answer questions? The company you want to hire answers questions expertly and in a timely manner.
Is there a project management team? Experienced kitchen design-build teams utilize project management teams as part of their conscientious quality-control and to improve customer service.
Have they won industry awards? Industry awards are third-party stamps of approval. Look for "badges" on their website from Houzz, Angie's List, and other recognized professional organizations.
Got company delivery trucks? Do the builders and materials arrive in a dinged-up family minivan or professional, company-labeled delivery trucks? Presentation matters - it they care about theirs, they'll care about your kitchen's.
Is there a guaranteed start date for your project? You deserve to schedule your life accordingly so it shouldn't be a mystery.
Do they work consecutively until the job's done? Even the smoothest kitchen remodels puts your kitchen out of commission - and your home into turmoil - for a bit. Faster, consecutive work means less headache for you.
Do they clean up after themselves? The construction zone should be safe and tidy at the end of every workday.
Are their installers certified? Whether it be flooring or cabinetry, appliances or kitchen organization systems, installers should be certified - proof they're educated, trained and experienced.
Download our 25 point checklist and print out your own copy so you have it on hand to ask your contractor these important questions.