Going through a kitchen remodel? You've chosen the perfect combination of cabinets and countertops and it's all coming together. But now you've got to focus your attention on the smaller, yet still important, accent pieces that seamlessly blend your design together. If you're installing a kitchen island or peninsula bar, you're also probably in the market for "the perfect" seating option. It's not just about aesthetics though, comfort is key. Here are some considerations for finding the right furniture for your home.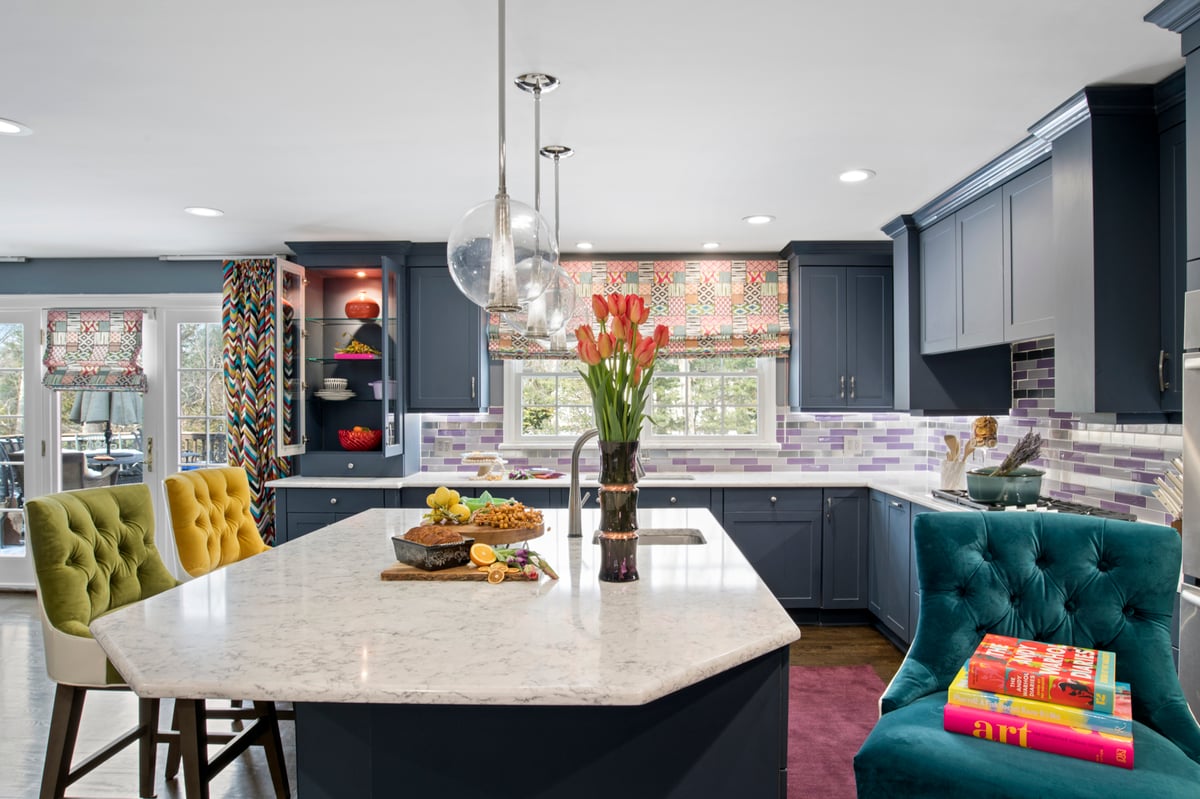 Kitchen Barstool Seating: How to Find the Perfect Place to Park Your Posterior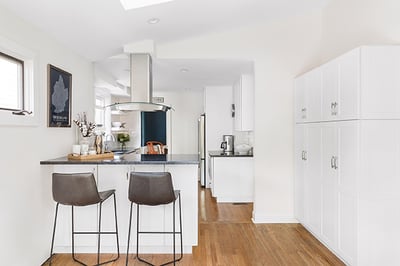 Any time you kick back and give your feet a rest, the last thing you want to think about is whether you'll end up with pain in your back or behind from sitting too long. Anyone who's sat in an uncomfortable chair for too long knows how unsatisfying it is to finally get off your feet only to struggle in a painful chair or barstool.
As you flip through page after page of seating styles and design choices online or in catalogs, use these tips to help you wade through the seemingly infinite selection and find the right barstools for you.
Make Both Form and Function Work for You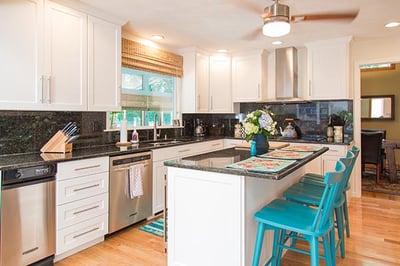 No one wants to sit down on an awkward or hard chair. That's why when you're going through the process of finding the best barstools for your home, you'll want to prioritize comfort over anything else.
Still, the chair style you select makes a visual impact too. In transitional kitchens, for example, the chair style at the kitchen bar may be the contrast that keeps the kitchen from looking "too modern" or "too traditional," helping your kitchen strike that middle ground. Finding the right balance is key in your search.
Repurpose Kitchen Stool Seating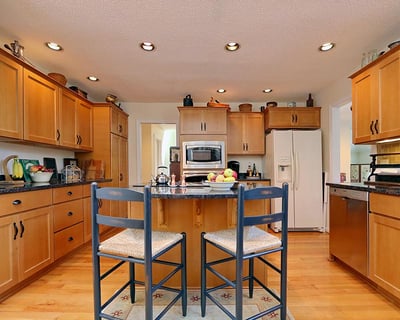 Do you currently have comfortable seating options in the kitchen? The desire to have "out with the old, and in with the new" is understandable. But remember, new doesn't always have to mean brand new. With a little effort and some creativity, you could repurpose what you already have into something magnificent. If you're satisfied with the barstools or chairs you're using now, think twice before replacing them.
High-quality and cozy bar seating isn't cheap, so upgrading what you have may be the smartest and most economical move—it's like the barstool equivalent of cabinet refacing! Plus, refurbishing can be an eco-friendly option. Take a minute to think through what you could do. A new coat of paint with a distressed finish for a little splash of color goes a long way. You could also reupholster choosing a new fabric. Don't be afraid to roll up your shirt sleeves to get exactly what you want.

Dock Your Derrière in a DIY Kitchen Seat
A traditional oak bar seat will become a retro showpiece when coated in black or a bold-colored lacquer. That modern wrought iron set will have a softer look by spray-painting it in a lighter shade and reupholstered with soft, textured material. "Today you can buy spray paint-primer combos in a variety of colors, so this DIY project is easier than ever to do," say JT Norman, Kitchen Magic's design specialist. Your kitchen designer can help you think of ways to repurpose the seating you have so it works seamlessly in your new kitchen design.
Think Comfort, Then Style, for Barstool Seating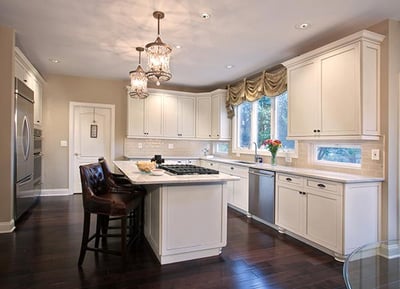 We've all been there. You walk in to a friend's house, happily accept a glass of wine and sit down at the counter to chat while they put the finishing touches on dinner. Within five minutes, your bum aches and your spine is hurts, as your legs dangle awkwardly because the few rungs available are in the wrong spot to tuck your feet in comfortably.
People should really start shopping for bar seating while blindfolded, going only by sense of feel. What's the most comfortable to sit on after more than a few minutes? After that criteria is met, you can look at style, color and other features of just the barstools that you feel would be nice to sit on for long periods of time.
Barstools With Backs and Cushion Have a Certain Advantage

For the ultimate in soothing seating, a barstool with a back is the way to go. Sure, the backless option could be funky and fun, but sometimes you need a little support. Take the back higher up for maximum care, or keep it just short enough to get the job done. After a hard day's work, you'll enjoy your kitchen downtime more with this kind of supportive seating. Choose quality cushions for additional comfort—with plenty of soft and welcoming material, you may never want to get up!
Pop or Blend: The Big Decision When Choosing Your Kitchen Seating Accents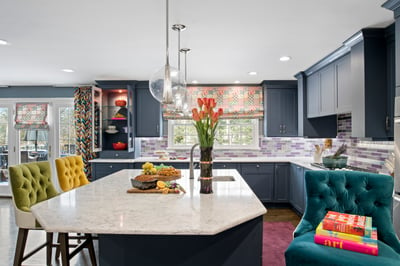 Do you want to make a statement? Or, would you prefer your chairs blend more demurely into your design? There are pros and cons to each. A bold, stylized chair will stand out, but may be harder to blend into your overall future kitchen design. On the other hand, overly matched colors or styles can make your barstools all but visually disappear into the room. Sometimes, taking the middle ground works best.
Crafting Contrast With Kitchen Bar Seating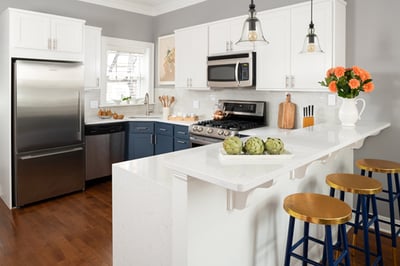 If you're mixing and matching cabinet colors or countertops between the island and perimeter, you'll need to decide how you want to style seating within the design. Should the chairs match the island to create a blend there, but a contrast elsewhere? Or should they blend seamlessly into the entire room?
You've got some design room when it comes to the seating in your kitchen. As long as you include comfor as a factor to consider, you'll make the right decision, whether you go groovy and wild, refined and subtle, or somewhere in between.
If you're thinking of a kitchen remodel or upgrade, schedule an appointment with a design expert at Kitchen Magic today. Not sure which bar-seating style is right for your kitchen design? Our design gurus will be happy to lend a helping hand.