Sometimes (ahem...almost all the time) embarking on a "simple remodel" feels more like opening a barrel of monkeys. This design decision requires a change over here, and that one requires some changes to be made here, here aaaaand here.
Thus, this might be a great time to see how you can bring about a barrel of positive changes via a single remodel or renovation. In older homes, we recommend exploring the possibility of an open floor plan.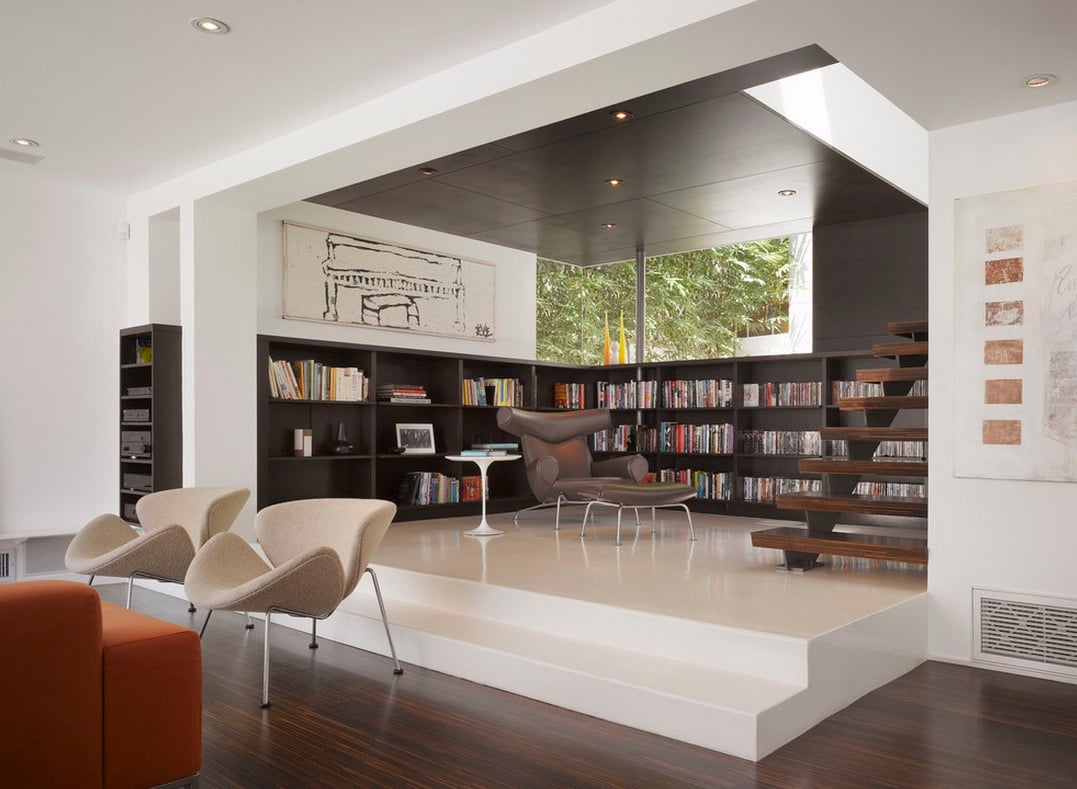 photo from Freshome
5 Benefits of An Open Floor Plan
Here on the east coast, many older homes have decidedly "broken up" interiors and they were designed this way intentionally. Heating was not easy before central, forced-air systems were the norm and fuel has always been a precious commodity. Thus, houses were built with rooms that could be closed off from one another to direct heat where it was needed.
Now, appliance energy efficiency, more effective insulation and efficient window products mean we can open the house - literally - for more spacious and user-friendly interiors. Here are some of the benefits of opening up that galley or back-of-the-house kitchen to enjoy an open floor plan.
1.

It feels more spacious

This is of particular benefit for those who have smaller homes. Open floor plans, without the division of walls, doorways and full partitions, can make even a tiny home seem spacious when it's efficiently designed. It's like adding an addition - with a much smaller budget.
2.

Enjoy ample natural light

Just as walls, closed doors and partitions block your view, they also block available light from reflecting and refracting off your interior surfaces. Once you've opened up the space, natural light availability will seem to have doubled. You can increase those benefits by incorporating skylight and/or solar tubes into your new design, which also leverage available daylighting. Natural light is always the first choice because it is healthier on the eyes and is typically the best for showcasing an interior design. A conscientious lighting design will take care of the post-sunset aesthetics.
3.

Expand your kitchen without moving an exterior wall

Perhaps one of the greatest benefits of an open floor plan is the ability to expand your kitchen without adding on or having to mess with exterior wall structures. You can easily knock out non-load bearing interior walls and then create a kitchen design that incorporates the kitchen and main living area(s) of your home. A raised peninsula bar or kitchen island will divide the two spaces nicely while also accommodating extra seating and room for food platters for holidays and larger family functions.
4.

Change your kitchen layout

Without an open floor plan, your kitchen's layout is pretty fixed by your current structural limitations. That all changes with an open floor plan, which increases the space and simultaneously provides the freedom design a layout that's customized to your needs.
5.

Be more sociable

If you like to entertain, an open kitchen and floor plan are the way to go. The hostess-with-the mostest can be a part of things, rather than stuck behind the scenes in servant-mode. Open floor plans optimize overall flow and provide plenty of areas to converse and socialize. If your kids are the social ones, an open floor plan gives you a direct visual line of sight when they're hanging out in the living and/or family room.

Think about your home's living areas in a whole new way. Schedule a consultation with Kitchen Magic and we'll help you determine whether or not an open floor plan is the right move for your upcoming remodel.