What is the first thing you think about when you're about to make an investment, large or small? If you said, "Price," you are 100% correct.
Talking about how much things cost (including a kitchen renovation) can be uncomfortable and frustrating, but the reality is, everything comes with a price tag. The bigger question is whether it will be within your budget, and how much you are willing to invest in the remodel depending on your unique situation.
It is our mission to make sure you are armed with all you need to make a smart, informed decision about how much you should spend on your renovation. To make it easier for you, we've discussed a few of the main factors that affect your dream kitchen price with expert kitchen remodel contractors. So, let's dive right in!
Cabinets play a major role in any kitchen, so what are your options?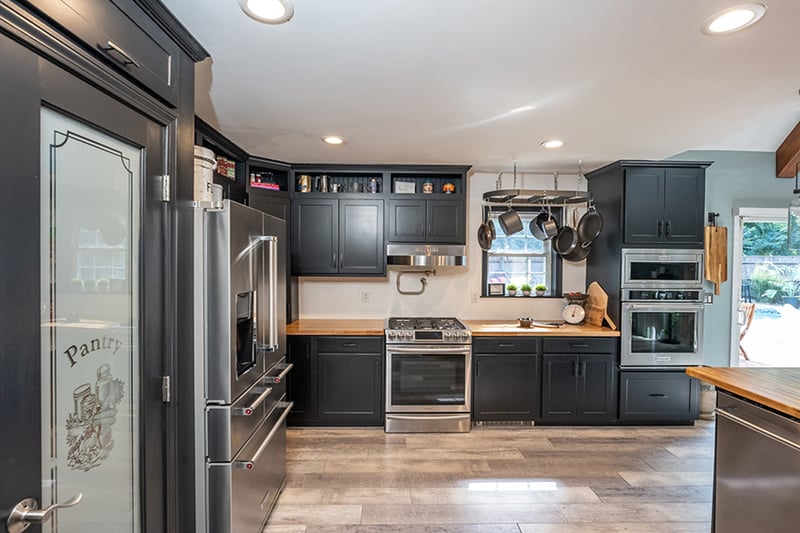 While this may be obvious to some, cabinets are often the most expensive renovation component. Aside from the fact that they occupy the most space in your kitchen, they also require the most labor. We offer customized solutions here at Kitchen Magic.
From least to most costly, the following options are available:
Cabinet doors & drawers replacement
This service includes installing all-new doors and drawer fronts on your existing cabinet boxes. It is the quickest and most budget-friendly way to give your kitchen a refreshed look. With this option, your existing cabinet boxes will remain unchanged; doors and drawer fronts typically make up more than 80% of what you see in a kitchen.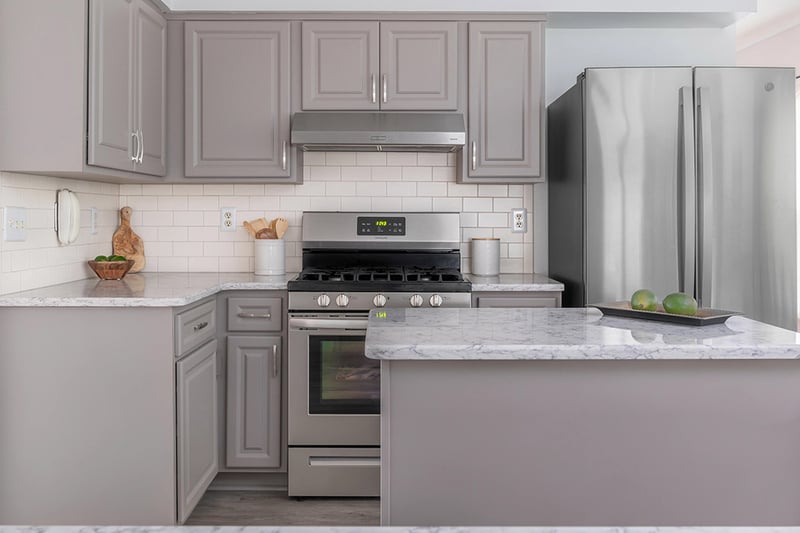 This service includes installing all-new doors and drawer fronts on your existing cabinet boxes. It is the quickest and most budget-friendly way to give your kitchen a refreshed look. With this option, your existing cabinet boxes will remain unchanged; doors and drawer fronts typically make up more than 80% of what you see in a kitchen.
Cabinet refacing
The process for cabinet refacing is cost-effective, and the project timeline is fairly brief (usually only a week)
First, the cabinet doors and drawer fronts are removed.

The cabinet frames are sanded down (if the surfaces are not already painted) to a fresh wood surface.

An engineered surface (and in some cases a ¼" luan plywood subsurface) is applied to the exterior cabinet frames.

New accessories, moldings, drawers, and

doors of your choice

are installed.
Keep in mind, there are many variables that affect the cost of refacing, including the number of units (doors and drawer fronts), the door style and material, as well as the size of the room.
Brand new cabinets—Classic or Barwen Cabinet Collections or a hybrid solution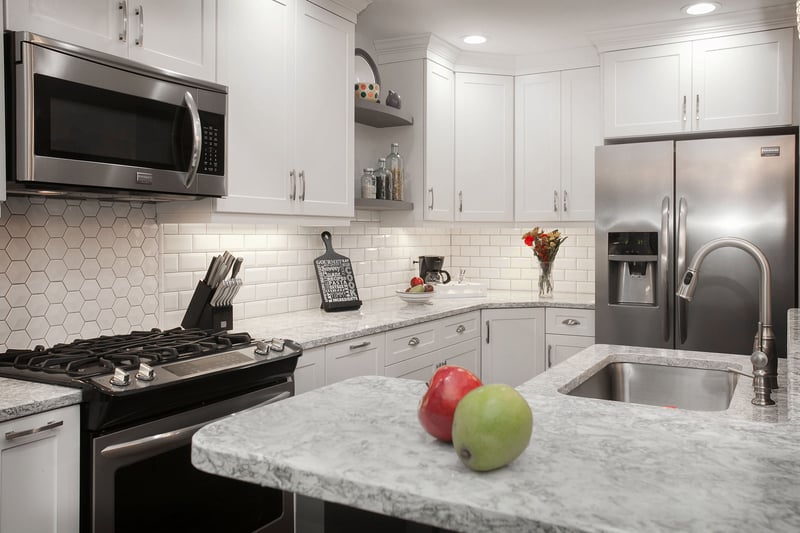 Kitchen Magic manufactures two cabinetry lines, the Barwen and gorgeous Classic collections, both of which we offer as options for all-new cabinets.
Our Barwen Cabinetry collection is made from ¾" furniture-grade cabinet board and is more budget-friendly. The Barwen line is available in our 4 most popular colors. You may go with this option if your cabinets are not good candidates for refacing, or if you want a complete gut and remodel but do not want to spend what you would on the next-level cabinetry, the Classic Collection.

Our Classic Cabinetry collection is also hand-assembled and custom-made for each kitchen project. The main differences are that the construction of the Classic Collection cabinetry is ¾" birch North American plywood, and it is available in any of our dozens of cabinet colors and door styles. It is a low-maintenance, clean finish that is safe for your family, as it lacks chemicals (like formaldehyde), which other less expensive plywood is made with.

A Hybrid Remodeling Solution is a combination of cabinet refacing and new cabinetry. It offers great value for homeowners, and it also gives you the option to add an island, pantry, or additional storage space. It combines both refacing and custom cabinetry so you can achieve everything you want for your kitchen while still having an affordable project.
A note to remember
"Project" refers to any and all aspects of a kitchen remodel project as a whole. This might include any of the following:
1. Countertops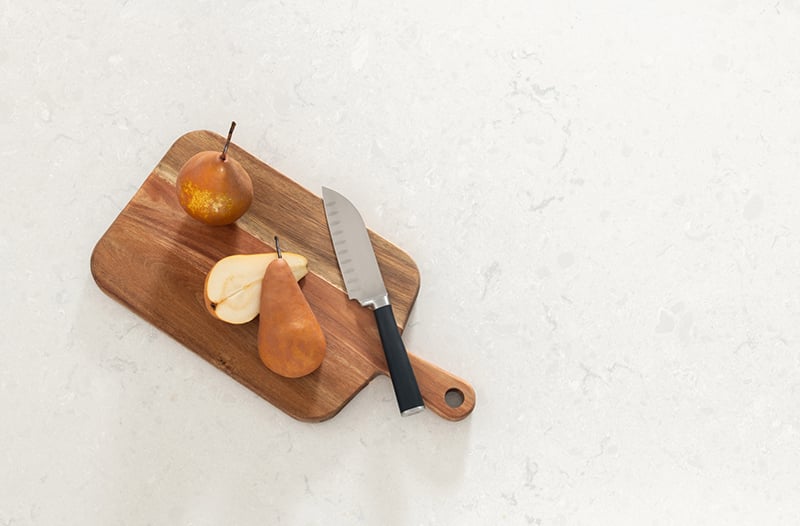 Countertops are the next biggest investment when it comes to renovating your kitchen space. When you are replacing your cabinets versus refacing them, you will end up needing a new countertop, so take this into consideration when you are deciding which route to take for your renovation.
The type of material and brand you choose for your countertops, as well as other factors such as sinks and faucets, the overhang on your kitchen island, and the size of your kitchen (and therefore the size of your countertops) will determine how much is added to your final investment. We offer four types of materials for countertops. According to their price, there are:
While quartz and granite are both stunning choices, they are not always the most economical. Luckily, more affordable countertops can be just as beautiful. The engineering and manufacturing process for laminate countertop products, such as WilsonArt, have become so sophisticated, realistic, and durable that even experts are unable to distinguish a laminate countertop from a natural stone.
2. Backsplashes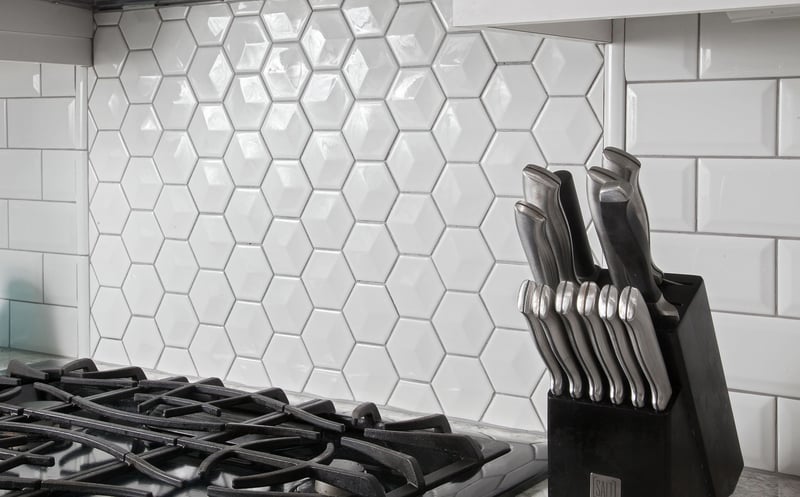 The type of material you choose for your backsplash has a considerable influence on your final cost as well. Also, the price of your backsplash will depend on the material of the tile, the size of your kitchen, how high you take the tiles up the wall, and how intricate the pattern is. The price added to your final investment typically ranges from $2,300-$5,000. At Kitchen Magic, we offer the following options:
Porcelain

Ceramic

Glass

Corian (solid surface)

Mosaic Blends
3. Flooring
Although we do not offer flooring as a standalone service, we do offer it as part of a remodel that includes refacing or new cabinetry. As beautiful as they are, hardwood floors have become a thing of the past. There are tons of quality options, including engineered vinyl plank flooring, that are just as durable as hardwood, if not more. What is even more exciting is that you can purchase these types of floors at a similar price to hardwood. The final price will, however, depend on the size of the kitchen and the style or design you choose, but typically, you can expect to pay anywhere from $2,700-$4,500.
4. Storage & Accessories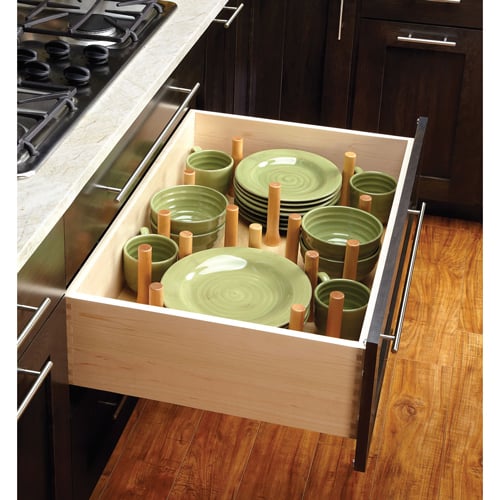 Accessories and storage options will also cause your bottom line to fluctuate. While accessories and storage options may not make a huge dent in your wallet, they will, as with everything else you choose, bring your final cost up. These "bells and whistles" could include:
Decorative accessories (corbels, molding, etc.)
Accessories and storage options add space optimization and functionality. The cost will vary depending on the number of items you add, the kind of items you add, and the size of your kitchen.
So how much should I spend?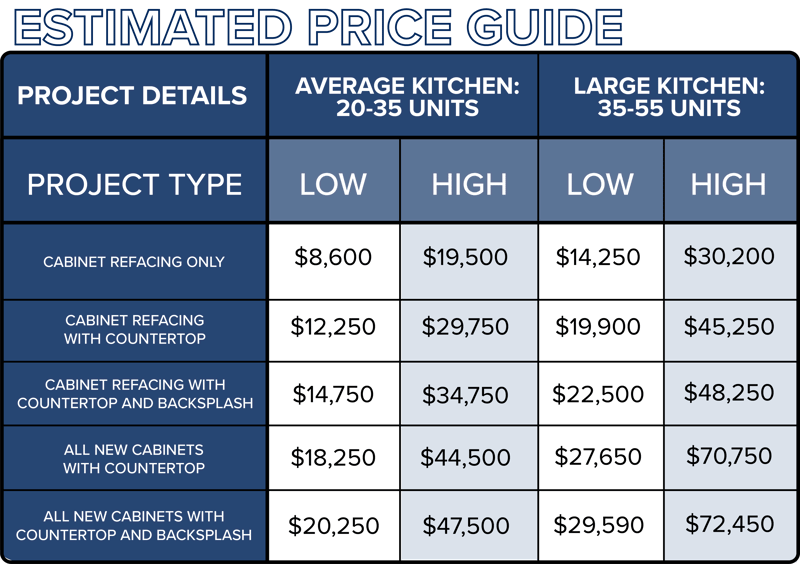 When it comes to any home improvement project, everyone wants to know the same things: what will my budget be, and will I get exactly what I want? Our advice is to work out a budget for your remodel and a number you feel comfortable spending. Then, you can go about deciding where and how to allocate that money throughout your project and what you might add to the renovation. Your investment will vary depending on what you choose to do during your remodel, involving the numerous factors we've discussed throughout this article:
How many aspects of the space do you want to be changed (moving walls, doors, windows, appliance location, etc.)

How small or large the kitchen is

The brands and materials you choose for cabinetry, countertops, backsplashes, flooring, etc.

The accessories and 'bells and whistles' you decide to add
Whether you want/need new appliances

What type of warranty you'll get
While we know the numbers and information can be intimidating, Kitchen Magic has dedicated our business to giving our customers the highest quality in all aspects of a kitchen makeover. All personnel who enter your home have been background checked and trained in-house so they can safely and properly install our products in your home.
Kitchen Magic also offers a few warranty options, one of which is our Lifetime of Home Ownership Warranty ensuring the quality of your kitchen for as long as you own your home, and our "Made in the USA" materials are used to handcraft the products we sell right in Nazareth, PA.
Make an informed decision with Kitchen Magic
Being a well-informed and educated buyer is your greatest asset, your superpower if you will. The time you invest now will result in a kitchen you will be proud of for years down the road. Our job is to provide you with expert advice, to help keep your project costs manageable.
So, call Kitchen Magic at (866) 525-0012 to schedule a Free Design Consultation so that our team can measure your space, help you choose products, and guide you through the process. With us, you'll know exactly what your investment will be so you can set off on your path toward a kitchen of your dreams!