With televisions, computers and cellphones all boasting High Definition pictures, why not make your next kitchen remodel a truly technological sight? No, High Definition countertops are not surfaces made of television screens, but they are laminate countertops that offer richer color and deeper patterns than traditional laminate countertop materials.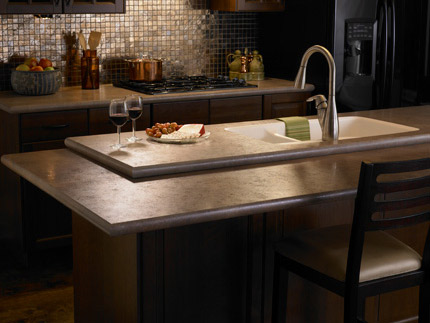 Wilsonart High Definition laminate countertops simulate the look of granite countertops, but cost less than natural stone countertops.
Laminate countertops are the smarter choice in comparison to natural stone countertop materials, or even other materials, such as wood or glass. For starters, they are less expensive than natural stone countertop materials—but how much will you actually save with this swap? Laminate countertops are more than half the cost of purchasing granite or quartz countertops, and are not as heavy as their natural stone counterparts, making the installation process less expensive as well. If you're looking for a cost-effective way to transform your kitchen and add value to your home (aren't we all) then laminate countertops are the right choice for you.
Laminate countertops offer you even more benefits beyond just saving you some bucks. They are highly resistant to wear and tear, making laminate countertops the perfect material for a kitchen that gets a lot of use and abuse. Granite and other natural stone materials, on the other hand, can crack, chip and stain easily; their porous nature tends to absorb stains, which are nearly impossible to clean. Not to mention, natural stone countertops require grout, which is difficult to clean and requires maintenance over the years. Laminate countertops are grout-free, giving you a seamless countertop with a grout-free, worry-free guarantee!
But traditional laminate countertops did not offer the same luxurious look and feel as granite countertops—that is, until now. High Definition countertops give you the look of granite with the durability and price of laminate. The new High Definition laminate countertop collection has hundreds of colors and patterns to choose from, giving you the depth and texture of granite at the cost of laminate. Laminate countertop materials offer more edge choices that other materials, and you can create your own custom look by edging your High Definition laminate countertops with another material, like stone or wood.
Let's face it; we're all searching for the most luxurious look with the cheapest cost. High Definition countertops have the look and feel of granite or other natural stone countertops, without the price—and they will stand the test of time.