We love hardwood flooring; and, in the big picture, hardwood floors are considered durable. However, their durability exists within certain realities—a heftier price tag than other comparable options, plus hardwood is still vulnerable to scratches, dents, and moisture damage and it requires sanding/refinishing every 10-years or more (depending on household wear-and-tear). Read, Pros & Cons of Hardwood Flooring in the Kitchen, for more about that.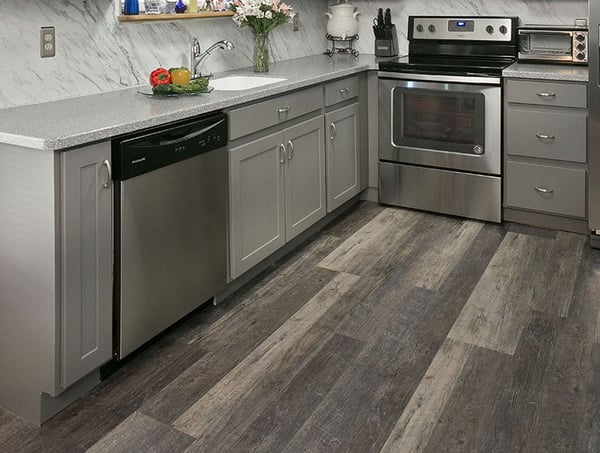 Super-Durable Alternatives to Hardwood Flooring
If hardwood kitchen floors are your first choice for looks, but last choice for maintenance and longevity, keep reading because the following hardwood alternatives are not only super-durable and easy to maintain—they also have an uncanny resemblance to real hardwood!
Porcelain Tile "Wood" Planks
Have you seen porcelain tile "wood flooring" in person? It's incredible how real it looks, including just-like-real-life woodgrain and texture. In fact, when we've shown people samples in our showroom, they have to really get in there and feel it with their own hands because it looks so much like wood. Another benefit, because it's fabricated, you have a wider variety of finish options available to you.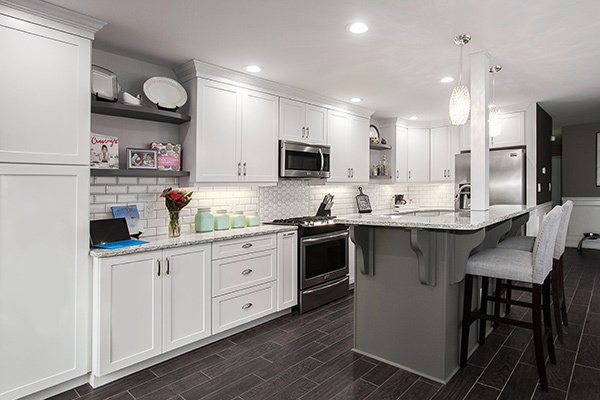 Porcelain plank tiles are by far the most durable and long-lasting, non-wood—but like wood—option. It's easy to clean, requires no refinishing ever and provides a luxury look for a reasonable price. Wood-look porcelain tiles are also impervious to moisture, making them ideal for kitchens, baths and basements.
One thing to note: this product requires a special saw and industry-specific know-how so it isn't the best DIY material. If you are planning to do a DIY kitchen remodel and you want to install porcelain tile planks, it's worth using a professional for that part of the project.
Laminate/Pergo Planks
In the beginning laminate flooring was simultaneously celebrated and disparaged—celebrated by those who appreciated their hardwood likeness and durability, but disparaged by luxury designers due to their newness on the market and kinks all newer-to-the-market products must work through. Now, in their second decade of mainstream application, laminate planks (Pergo) are installed in home remodels at every price point, and luxury lines are almost identical to real-wood flooring at first- and second glance.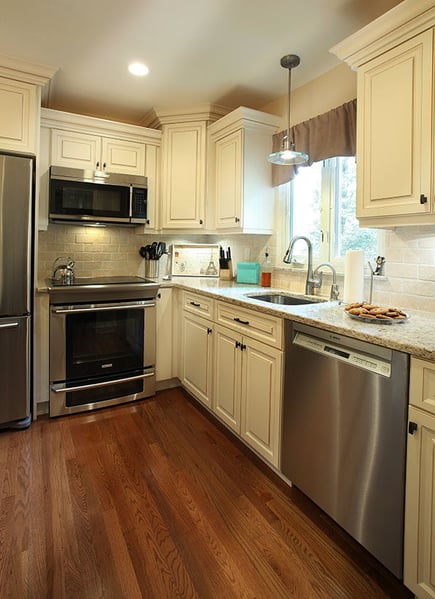 Laminate flooring options span the gamut of wood types and finish options. They're water-resistant to a point (not like porcelain, but markedly more than hardwood) and easy to install. This makes them a favorite for the DIY crowd or those who have handy friends/family willing to do it for them.
Do note laminate flooring at bottom-level pricing tiers is lower-quality, so you get what you pay for. If you're opting for this as a permanent installation, invest in higher-quality options.
Vinyl Planks
One of the benefits of vinyl planks over laminate options is that grain patterns are more textured (like porcelain). They come in sheet and plank styles, but planks are best if you desire a real-wood look.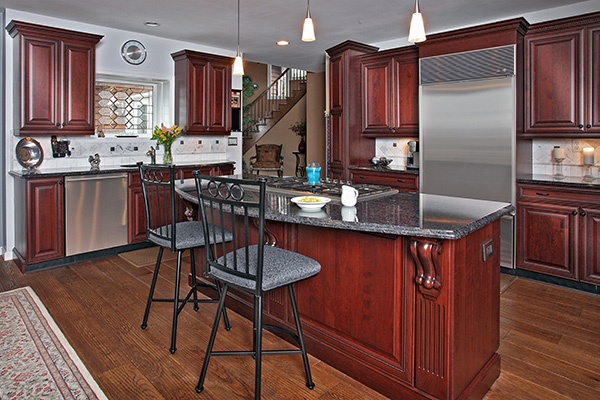 In addition to the low-maintenance, high-durability benefits, many homeowners appreciate the softness factor as this product is easier on the feet and more forgiving of dropped dishware and other breakables (not the case with porcelain). Vinyl is also quieter when it comes to footsteps and the pitter-patter of little paws. That being said, Vinyl is known for having a higher VOC content, something to be aware of if you have small children and/or chemically-sensitive people living in the home.
Vinyl Peel & Stick Tiles
These are the lowest-cost option and something most designers don't install. Like vinyl planks, they contain VOCs so take that into consideration if you have the concerns mentioned above, or if you're interested in eco-friendly materials. The benefits are their impressive ability to mimic real woodgrain patterns. All you need is a measuring tape, a sharp utility knife and a serious commitment to accuracy and detail. If tiles aren't laid correctly, the results are an uneven, unattractive mess. Again, you get what you pay for so if you go this route, invest in higher-quality options.
Want some help choosing the best flooring for your kitchen remodel? We're happy to weigh their pros and cons with you. Schedule a free, in-home consultation with Kitchen Magic, and one of our expert design consultants will bring the showroom to you!
If you're still looking to learn more about kitchen flooring, check out these relevant articles: