We try keep our blog posts by basing them on questions we get from real clients. The way we see it, if one person asks a question, others wonder about it too.
Client Question of the Week: Would it be weird if my countertops and floors were the same color?
Answer: The only thing that would be weird about having a countertop and floor that are the same color is if they were so alike, you couldn't tell which surface to walk on. Ha ha ha. Just kidding.
In truth, we're guessing the author of this question is a fan of monochromatic interior design. That means that rather than having a color scheme, involving a main color, an accent color and a complimentary lighter color (a tenet of basic color design) - a room is decorated in almost entirely one hue.
We see this quite a bit in modern designs or in all-white kitchens, for example.
Things to Think About When Selecting Flooring and Countertops
This monochromatic idea might be what you're going for in a kitchen where flooring and countertops match, and that will be just fine. The key in this case is to figure out how you're going to incorporate visual interest, depth and texture. Without those elements, a kitchen design winds up looking washed out and boring.
There are two scenarios involving the cohesiveness of countertops and floors.
You're keeping your current flooring
Perhaps you love your floors, perhaps your kitchen remodeling budget doesn't accommodate replacing them - either way, if your current flooring will remain in place, it will play a role in what you can and can't select based on how it all fits together.
What kind of flooring do you have? If you have a very specific tile pattern (black-and-white-checkerboard) or sand-and-finish hardwood with really distinct grain patterns, then you'll want to make sure that while the colors are consistent, the countertop pattern is more muted. In this case, choosing a busy countertop pattern will double the impact of the busy floor - and that can be a bit much. Here, you'd want to choose a countertop with a more muted pattern to create a more restful final product.
On the flip side, if your floors are attractive, but don't take much attention away from other kitchen features, you can play with a countertop that has more texture or pattern in its appearance, in order to spice things up. If you don't like dramatic patterns, that's fine too - but then you'll want to choose a cabinet finish that adds some kind of contrast between the floor/countertops and/or make sure your backsplash adds the pattern/texture/contrast you need to add interest.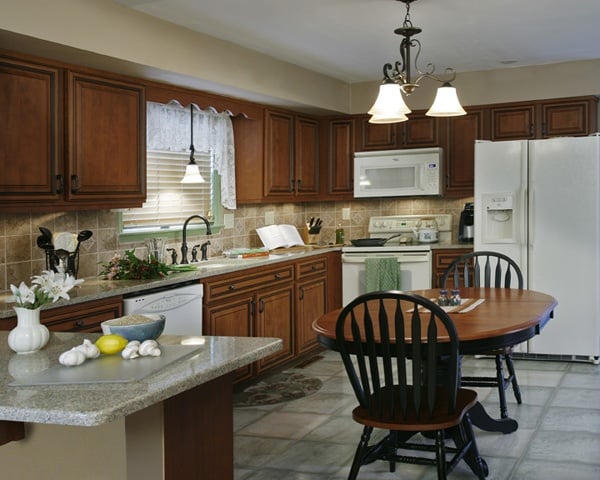 Our Classic Cherry Tea kitchen is a beautiful example of this. The countertops and flooring have a classic grey/white pattern and are similar in their look and texture. Therefore the owners used a beautiful, natural wood finish on the cabinets to break that up and add some warmth.
You're choosing new flooring
If you're replacing both your flooring and countertops, we advise you to choose your countertop first. The countertop is often the largest, overall expense in a kitchen design - so it deserves to be a feature item. Once you select the countertop, you can work backwards to select flooring from there.
Have a busier countertop? Then choose flooring with the same foundational color but with a more muted or monochromatic pattern so the two aren't in competition. Did you go with a more muted countertop pattern? Then feel free to live it up a little on the floor to add interest or a decorative pattern.